Logged forest in Malaysian Borneo. Photo by: Rhett A. Butler.
The impact of logging on tropical forest species has likely been exaggerated by statistical problems, according to a new study in Conservation Biology. Reviewing 77 studies on how logging affects tropical biodiversity, scientists found that 67 percent were flawed by a technical problem known as 'pseudoreplication.' The debate over logging in tropical forests has garnered significant attention recently as some scientists argue that well-managed logging areas can actually retain impressive numbers of species, while others say logging does irreparable harm to the ecosystem's ecology.
"Essentially [pseudoreplication] means the failure to distinguish the effects of a treatment (e.g. logging) from pre-existing differences," lead author Benjamin Ramage with the Department of Environmental Science, Policy, and Management at the University of California at Berkeley explained to mongabay.com "So, for instance, imagine that one forest compartment was selectively logged 10 years ago and an adjacent compartment has never been logged. If a study samples both of these compartments and concludes that the differences between the two are due entirely to logging, that study is guilty of pseudoreplication."
Looking from above, tropical forests often resemble a giant, unbroken, unvaried mass of green. Even hiking through a forest an untrained layperson may notice nothing but a wall of green, however tropical forests are actually astoundingly heterogeneous (as opposed to homogenous); species communities and ecosystems can change quite rapidly even in seemingly small areas.
| | |
| --- | --- |
| | Rainforest timber in Gabon. Photo by: Rhett A. Butler. |
"Many scientists seem willing to believe that two or more pieces of tropical forest are near identical when in fact there is considerable evidence to the contrary. Almost every patch of forest has its own unique character—indeed this variation is one of the reasons that most tropical forests are so rich in species," co-author Douglas Sheil, previously director of the Institute of Tropical Forest Conservation in Uganda, and currently with Southern Cross University Australia, says.
Therefore when researchers compare a logged area to a nearby pristine area, they are possibly comparing two very different parts of the forest—even without factoring in logging. It then becomes difficult to tease what shifts in biodiversity are due to already exisiting ecosystem changes and what is due to logging.
In their research the scientists found that "for the most part, no efforts were made to distinguish pre-existing differences from logging effects," says Ramage, who adds that "collectively, these studies likely exaggerate logging effects overall, while simultaneously obscuring the relative merits of different management practices and landscape configurations."
In addition to finding that 68 percent of reviewed studies were marred by pseudoreplication, Ramage and his team found that only 7 percent were free of pseudoreplication, while a determination could not be made about 25 percent.
Still, Sheil is quick to point out that their findings should not used as an excuse to suddenly start logging old-growth tropical forests.
"It is important to highlight that our study in no way says that logging does not or cannot cause serious impacts for biodiversity," he says, "but what we are saying is that in the contexts where such impacts have been assessed and published many of the true impacts, indeed a majority, are likely to be smaller to some unknown degree than the figures reported."
What's needed now, according to the researchers, are more rigorous studies that either avoid pseudoreplication entirely or employ different statistical models.
"Perhaps most importantly, applied ecologists need to become more familiar with basic ecological research in tropical forests and think more critically about the multiple potential explanations for why two areas might have different ecological communities," Ramage says. Sheil adds that science students and journal editors must become more aware of the pitfalls of pseudoreplication and be prepared to do the heavy-lifting to acquire—or demand—good data.
"Rain forest studies are difficult to do well," Sheil admits. "While 'some information is better than none' this is true only if we do not allow ourselves to be misled. Often there is pressure to make strong claims based on limited studies where budgets are constrained. Well designed studies on the effects of logging need to be large and are thus likely to take a lot of time, effort and resources. We have to be wary of shortcuts."
For Sheil the results of this study—and other logging research—has direct impacts on how conservationists, governments, and corporations work to preserve or exploit tropical forests. Sheil argues that allowing well-managed logging in some tropical forests means avoiding what he sees as a much worse fate: conversion to cropland or cattle pasture.
"The idea is to maintain much larger areas of forest than might be possible if we focused on strict protection alone. Production forests are an alternative to other land uses such as oil-palm or sugar cane and they can support a much higher level of forest species than these alternative non-forest uses. But certainly we need to know which species these production forests can maintain, under what conditions and how to achieve that."
To those who argue that the time has come for all tropical forests to be off-limits to logging, Sheil says while the idea "is something to work toward perhaps," it's simply not practicable at this time.
In addition well-managed logging in rainforests doesn't always have to end badly; in fact, when conservationists take the long view than logging now—with possible protection down the road—may be a better strategy than losing the forest entirely.
"Much of the anti-logging thinking is based on worst case situations in any case. Certainly there are bad loggers and badly managed forests, but many forest management companies are protecting large areas of forest and are willing to try and do what they can to support better conservation outcomes," Sheil says. "I worked for several years in the Bwindi Impenetrable National Park in Uganda. That is a world heritage site famed for its biodiversity and home to half the world's remaining Mountain gorillas. The reason that that forest [remains] is that it was (until 1991) a Forest Reserve, managed and protected as a production forest—the gorillas don't mind logging as they like the open gaps caused by local forest disturbance."
CITATION: Ramage BS, Sheil D, Salim HM, Fletcher C, Mustafa NZ, Luruthusamay JC, Harrison RD, Butod E, Dzulkiply AD, Kassim AR, Potts MD. Pseudoreplication in Tropical Forests and the Resulting Effects on Biodiversity Conservation. Conservation Biology. 2013 Jan 2. doi: 10.1111/cobi.12004.

Logging truck in Borneo. Photo by: Rhett A. Butler.
Related articles
Experts: sustainable logging in rainforests impossible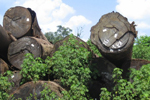 (07/19/2012) Industrial logging in primary tropical forests that is both sustainable and profitable is impossible, argues a new study in Bioscience, which finds that the ecology of tropical hardwoods makes logging with truly sustainable practices not only impractical, but completely unprofitable. Given this, the researchers recommend industrial logging subsidies be dropped from the UN's Reducing Emissions from Deforestation and Forest Degradation (REDD+) program. The study, which adds to the growing debate about the role of logging in tropical forests, counters recent research making the case that well-managed logging in old-growth rainforests could provide a "middle way" between conservation and outright conversion of forests to monocultures or pasture.
Industrial logging leaves a poor legacy in Borneo's rainforests
(07/17/2012) For most people "Borneo" conjures up an image of a wild and distant land of rainforests, exotic beasts, and nomadic tribes. But that place increasingly exists only in one's imagination, for the forests of world's third largest island have been rapidly and relentlessly logged, burned, and bulldozed in recent decades, leaving only a sliver of its once magnificent forests intact. Flying over Sabah, a Malaysian state that covers about 10 percent of Borneo, the damage is clear. Oil palm plantations have metastasized across the landscape. Where forest remains, it is usually degraded. Rivers flow brown with mud.
Diverse forestry stands better than monocultures, finds study
(01/11/2013) Growing a diverse array of tree species for timber production contributes a broader array of valuable ecosystem services compared to industrial monocultures, reports a new study based on field work in Sweden.
Dead tigers, dead people: logging by paper industry worsens human-tiger conflict in Sumatra, alleges report
(01/10/2013) Destruction of rainforests and peatlands on the Indonesian island of Sumatra by the pulp and paper industry is worsening conflict between tigers and humans, including fatal encounters, alleges a new report published by a coalition of environmental groups in Riau, Sumatra. The report looks specifically at five concessions operated by companies that supply wood to Asia Pulp & Paper (APP) and its corporate parent, the Sinar Mas Group (SMG). The report says that the majority of human-tiger conflict incidents in Riau between 1997 and 2009 occurred within these concessions.
Paper giant breaks pledge to end rainforest logging in Sumatra, says group
(12/26/2012) Pulp and paper giant Asia Pacific Resources International Limited (APRIL) continues to destroy large areas of rainforests and peatlands despite a commitment to end natural forest logging by 2009, says a new report issued by a coalition of Indonesian environmental groups. The Eyes on the Forest report finds that APRIL and its suppliers cleared at least 140,000 hectares (346,000 acres) of natural forest between 2008 and 2011 in Riau, accounting for 27 percent of all forest loss in the province during the period. Some of the area cleared by APRIL and its subsidiaries consisted of deep peat swamp forest, which stores massive amount of carbon.
Amazon has nearly 100 million km of roads
(12/08/2012) The Amazon Basin has 96.5 million kilometers of roads, nearly two-thirds of which are unpaved, reports a comprehensive new atlas of the region, which contains the world's largest rainforest.
Global decline of big trees in old-growth forests worrying, argue scientists
(12/06/2012) The decline of large trees is putting biodiversity and forest health at risk globally, warn researchers writing in the journal Science.
Illegal logging, mining worsened impact of Philippines' killer typhoon
(12/06/2012) According to Filipino officials, rampant illegal logging and mining were likely a part of the cause for the high casualty count from Category 5 Typhoon Bopha (Pablo), especially in the Compostela Valley where government officials had warned people to stop the illegal activities. So far, 370 people have been found dead on the island of Mindanao with another 400 missing. Waters rose so high even emergency shelters were inundated.
Asia Pulp & Paper hires top U.S. lobbyist to help 'green' its image
(12/05/2012) Indonesian forestry giant Asia Pulp & Paper (APP) has hired a top U.S. official to help it work through trade and environmental issues. In November, APP announced it had retained Stuart Eizenstat of Covington & Burling, a U.S.-based law firm, to help 'ensure APP's trade and sustainability compliance in North America'. Eizentstat's hiring is notable because he led the U.S. delegation that negotiated the Kyoto Protocol and has served in a number of high-level government positions, including U.S. Ambassador to the European Union; Under Secretary of Commerce for International Trade; Under Secretary of State for Economic, Business and Agricultural Affairs; and Deputy Secretary of the Treasury in the Clinton Administration.
Foreign loggers and corrupt officials flouting logging moratorium in the Democratic Republic of Congo
(11/08/2012) In 2002 the Democratic Republic of Congo (DRC) announced a moratorium on commercial logging in a bid to save rapidly falling forests, however a new report by Global Witness alleges that industrial loggers are finding away around the logging freeze. Through unscrupulous officials, foreign companies are abusing artisanal permits—meant for local community logging—to clear-cut wide swathes of tropical forest in the country. These logging companies are often targeting an endangered tree—wenge (Millettia laurentii)—largely for buyers in China and Europe.
Agriculture causes 80% of tropical deforestation
(09/27/2012) Agriculture is the direct driver of roughly 80 percent of tropical deforestation, while logging is the biggest single driver of forest degradation, says a new report funded by the British and Norwegian governments. The report presents an overview of drivers of deforestation to inform policymakers involved in developing the REDD+ mechanism, an international program that aims to reduce emissions from deforestation and forest degradation.
Conservation areas failing to protect forests better than logging concessions in Sumatra
(06/28/2012) Areas zoned for conservation suffered deforestation rates similar to logging concessions in Sumatra between 1990 and 2000, but maintained forest cover more effectively than lands allocated for agricultural conversion, reports a study published in Conservation Letters.