Camera trap image of tapir in Madidi-Tambopata Landscape. Photo by: WCS.
Over 14,000 lowland tapirs (Tapirus terrestris), also known as Brazilian tapirs, roam an Amazonian landscape across Bolivia and Peru, according to new research by scientists with the Wildlife Conservation Society (WCS). Using remote camera trapping, thousands of distribution records, and interviews, the researchers estimated the abundance of lowland tapirs in the Greater Madidi-Tambopata Landscape Conservation Program made up of three national parks in Bolivia (Madidi, Pilón Lajas and Apolobamba) and two in Peru (Tambopata and Bahuaja Sonene).
"The Madidi-Tambopata landscape is estimated to hold a population of at least 14,500 lowland tapirs making it one of the most important strongholds for lowland tapir conservation in the continent," said lead author Robert Wallace. "These results underline the fundamental importance of protected areas for the conservation of larger species of wildlife threatened by hunting and habitat loss."
This is great news for a species that is currently listed as Vulnerable by the IUCN Red List, and remains hugely imperiled by habitat loss, poaching, bushmeat hunting, and competition with livestock.
A bit bizarre-looking and unarguably massive, tapirs are megafauna that survived the Pleistocene extinction that took out most of South America's other big mammals, such as giant sloths and smilodons. The lowland tapir, the second-largest animal in South America after Baird's tapir, can weigh up to 661 pounds (300 kilograms). Despite this heft, tapirs can still fall prey to jaguars, caiman, and anacondas.
Using camera traps along Tuichi River in Madidi National Park, researchers found that lowland tapirs populations are on the rebound after decades of unsustainable hunting. Tapirs are common targets for hunters in South America—and an important source of protein for indigenous groups—given their massive size. However, a low breeding cycle means the species can rapidly be wiped locally out if overhunted. Growing populations and a rising commercial market for bushmeat have pushed many tapir populations to the brink.
There are three species of tapir in Latin America: the lowland, Baird's tapir (Tapirus bairdii), and the mountain tapir (Tapirus pinchaque). A fourth species, the Malayan tapir (Tapirus indicus), is found in Indonesia, Malaysia, Myanmar, and Thailand. The mountain tapir, Baird's and the Malayan are all listed as Endangered on the IUNC Red List.

Tapirs are excellent swimmers. This individual was photographed in the Madidi-Tambopata Landscape. Photo by: Mileniusz Spanowics/WCS.

Camera trap image of tapirs in Madidi-Tambopata Landscape. Photo by: WCS.

Camera trap image of tapirs in Madidi-Tambopata Landscape. Photo by: WCS.

Bird uses tapir for landing pad in the Madidi-Tambopata Landscape. Photo by: Mileniusz Spanowics/WCS.
Related articles
Loving the tapir: pioneering conservation for South America's biggest animal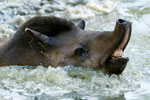 (09/11/2011) Compared to some of South America's megafauna stand-out species—the jaguar, the anaconda, and the harpy eagle come to mind—the tapir doesn't get a lot of love. This is a shame. For one thing, they're the largest terrestrial animal on the South American continent: pound-for-pound they beat both the jaguar and the llama. For another they play a very significant role in their ecosystem: they disperse seeds, modify habitats, and are periodic prey to big predators. For another, modern tapirs are some of the last survivors of a megafauna family that roamed much of the northern hemisphere, including North America, and only declined during the Pleistocene extinction. Finally, for anyone fortunate enough to have witnessed the often-shy tapir in the wild, one knows there is something mystical and ancient about these admittedly strange-looking beasts.
Key mammals dying off in rainforest fragments
(08/15/2012) When the Portuguese first arrived on the shores of what is now Brazil, a massive forest waited for them. Not the Amazon, but the Atlantic Forest, stretching for over 1.2 million kilometers. Here jaguars, the continent's apex predator, stalked peccaries, while tapirs waded in rivers and giant anteaters unearthed termites mounds. Here, also, the Tupi people numbered around a million people. Now, almost all of this gone: 93 percent of the Atlantic Forest has been converted to agriculture, pasture, and cities, the bulk of it lost since the 1940s. The Tupi people are largely vanished due to slavery and disease, and, according to a new study in the open access journal PLoS ONE, so are many of the forest's megafauna, from jaguars to giant anteaters.
Photos: new mammal menagerie uncovered in remote Peruvian cloud forest
(10/03/2012) Every year scientists describe around 18,000 new species, but mammals make up less than half a percent of those. Yet mammal surprises remain: deep in the remote Peruvian Andes, scientists have made an incredible discovery: a rich cloud forest and alpine grassland ecosystem that may be home to no less than eight new mammal species. Although most of these new mammals are currently under study—and have not been officially described yet (a process which can take several years)—lead scientists, Horacio Zeballos of Peru and Gerardo Ceballos of Mexico are certain they have uncovered a small forest, surrounded by deforestation and farmland, that shelters a remarkable menagerie of mammals unknown to scientists until now.
Pictures: Bolivian park may have the world's highest biodiversity
(09/12/2012) With over 90 species of bat, 50 species of snake, 300 fish, 12,000 plants, and 11 percent of the world's bird species, Madidi National Park in Bolivia may be the world's most biodiverse place, according to new surveys by the the Bolivian Park Service (SERNAP) with aid from the Wildlife Conservation Society (WCS).