Scientists have discovered a new population of the Belalanda chameleon (Furcifer belalandaensis), boosting hope for one of Madagascar's rarest chameleons.
While the species was known only from a handful of trees in two Malagasy villages, researchers from the University of Kent's Durrell Institute of Conservation and Ecology (DICE) have discovered another population near a third village.
According to DICE professor, Richard Griffiths, the discovery is "very important for [the Belalanda chameleon], which is probably one of the world's rarest reptiles."
Griffiths adds that, "Habitat loss and degradation is the main threat to chameleons and biodiversity in general in Madagascar. Our teams are working closely with local communities and our partners to raise awareness of the plight of these amazing creatures."
Related articles
1000 rare tortoises poached each week in Madagascar
(09/30/2010) One thousand endangered tortoises are being illegally collected each week in southern Madagascar, reports WWF.
Top 25 most endangered turtles: Asian species in crisis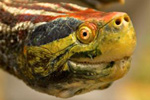 (02/23/2011) Surviving hundreds of millions of years on Earth have not saved turtles from facing extinction at human hands. A new report by the Wildlife Conservation Society (WCS) and the Turtle Conservation Coalition, identifies the world's 25 most imperiled turtles, including one that is practically assured extinction: 'Lonesome George' the last Abdington Island tortoise in the world. The list includes four turtle species from South and Central America, three from Africa, and one from Australia. But Asia is the hotbed for turtles in trouble with 17 of the top 25 species, or 68%. The numbers are even more alarming if one looks only at the top ten: eight of the top ten are in Asia, and six of these in China.
World's rarest snake making a comeback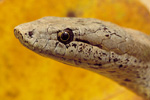 (11/02/2010) The Antiguan racer (Alsophis antiguae) shares a similar story with many highly endangered island species. Invasive mongoose killed every racer on the Caribbean island of Antigua, leaving only a small population on nearby Great Bird Island. Confined to 8 hectares, this final population was being killed-off by invasive Eurasian black rats. By the time conservationists took action, only 50 Antiguan racers survived in the world. But here's where the story turns out different: 15 years later, a partnership between six conservation groups has succeeded in raising the population tenfold to 500 snakes and expanded its territory to other islands through snake-reintroductions.