The Ruby-eyed pit viper (Trimeresurus rubeus) was discovered in the forest of Vietnam's Cat Tien national park. Photograph: Peter Paul van Dijk/Darwin Initiative.
Some 126 new species were described in Asia'a Mekong region last year, notes a new report published by the World Wildlife Fund (WWF).
Extra Terrestrial — a follow up to last year's Wild Mekong report that described 208 newly described species — aims to raise public awareness of the region's high levels of biodiversity as well as threats to its native ecosystems. The Greater Mekong region covers five Southeast Asia nations — Cambodia, Laos, Vietnam, Thailand, and Myanmar — as well as China's Yunnan province.
Extra Terrestrial tallies species described for the first time in academic publications during 2011. It counts 82 plants, 13 fish, 21 reptiles, 5 amphibians and 5 mammals. The report highlights several charismatic species, including the demonic-looking Beelzebub's bat; a new 'walking' catfish from Vietnam, a minuscule (2 cm long) fish from Thailand; a blind cave fish from Laos; a frog with a bird-like call; and ruby-eyed green pit viper from Vietnam.
The yin-yang frog (Leptobrachium leucops) was one of five new amphibian species discovered in the Greater Mekong region in 2011. Photograph: Jodi J. L. Rowley/Australian Museum
The report notes that 1,710 new species have been described from the Greater Mekong region since 1997.
Beelzebub's tube-nosed bat (Murina beelzebub) from Quang Tri province, Vietnam. Photograph: Gabor Csorba/WWF
"The Mekong region has a breathtaking array of biodiversity, but many of these new species are already struggling to survive in shrinking habitats," said Dr. Barney Long, WWF Manager of Asian Species Programs, in a statement. "It's vital that we increase our support for protected areas and greener economic development if we want these new species protected and to ensure that other intriguing species are discovered in years to come."
Extra Terrestrial says that large-scale dams — notably the Xayaburi dam in Laos — are a major threat to the Mekong's aquatic biodiversity. Meanwhile many species in the region are vulnerable to poaching for the wildlife trade.
The tiny Boraras naevus from southern Thailand. Photograph: Peter Maguire


The pygmy python (Python kyaiktiyo), a 1.5m-long snake from the Kyaiktiyo wildlife sanctuary in Myanmar (Burma). Photograph: George Zug of the National Museum of Natural History-Smithsonian


Blue skink (Larutia nubisilvicola). Photograph: Michael Cota


A new blind cave fish (Bangana musaei) from underground karst formations in central Laos. Bangana musaei. Photograph: Helmut Steiner



Quang's tree frog (Gracixalus quangi) from Vietnam is notable for singing a different call each time it vocalizes. Photograph: Jodi J. L. Rowley/Australian Museum
CITATION: WWF Extra Terrestrial Dec 2012.
Related articles
Controversial dam gets approval in Laos
(11/07/2012) Laos has given approval to the hugely-controversial $3.5 billion Xayaburi Dam on the Mekong River, reports the BBC. The massive dam, which would provide 95 percent of its energy production to Thailand, has been criticized for anticipated impacts on the river's fish populations, on which many locals depend.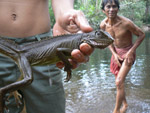 (05/03/2012) Abandoned by NGOs and the World Bank, carved out for rubber plantations and mining by the Cambodian government, spiraling into a chaos of poaching and illegal logging, and full of endangered species and never-explored places, Virachey National Park may be the world's greatest park that has been written off by the international community. But a new book by explorer and PhD student, Greg McCann, hopes to change that. Entitled Called Away by a Mountain Spirit: Journey to the Green Corridor, the book highlights expeditions by McCann into parts of Virachey that have rarely been seen by outsiders and have never been explored scientifically, including rare grasslands that once housed herds of Asian elephants, guar, and Sambar deer, before poachers drove them into hiding, and faraway mountains with rumors of tigers and mainland Javan rhinos.
Vampire and bird frogs: discovering new amphibians in Southeast Asia's threatened forests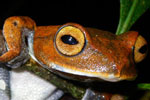 (02/06/2012) In 2009 researchers discovered 19,232 species new to science, most of these were plants and insects, but 148 were amphibians. Even as amphibians face unprecedented challenges—habitat loss, pollution, overharvesting, climate change, and a lethal disease called chytridiomycosis that has pushed a number of species to extinction—new amphibians are still being uncovered at surprising rates. One of the major hotspots for finding new amphibians is the dwindling tropical forests of Southeast Asia.
Forgotten species: the wild jungle cattle called banteng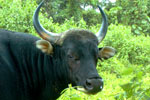 (01/31/2012) The word "cattle," for most of us, is the antithesis of exotic; it's familiar like a family member one's happy enough to ignore, but doesn't really mind having around. Think for a moment of the names: cattle, cow, bovine…likely they make many of us think more of the animals' byproducts than the creatures themselves—i.e. milk, butter, ice cream or steak—as if they were an automated food factory and not living beings. But if we expand our minds a bit further, "cattle" may bring up thoughts of cowboys, Texas, herds pounding the dust, or merely grazing dully in the pasture. But none of these titles, no matter how far we pursue them, conjure up images of steamy tropical rainforest or gravely imperiled species. A cow may be beautiful in its own domesticated sort-of-way, but there is nothing wild in it, nothing enchanting. However like most generalizations, this idea of cattle falls to pieces when one encounters, whether in literature or life, the banteng.
The dark side of new species discovery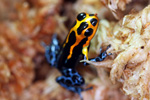 (12/21/2011) Scientists and the public usually rejoice when a new species is discovered. But biologist Bryan Stuart has learned the hard way that the discovery of new species, especially when that species is commercially valuable, has a dark side-one that could potentially wipe out the new species before protections can be put in place. Stuart has discovered 27 species unknown previously to scientists – so far. That includes 22 species of frogs, three types of snakes, and two salamanders. His experience with one of these, a warty salamander from Laos with striking markings (Laotriton laoensis), opened his eyes to a dark side of scientific discovery: commercial overexploitation before protections are in place. Shortly after Stuart described the previously unknown species Paramesotriton laoensis in a scientific paper published in 2002, commercial dealers began collecting this Lao newt for sale into the pet trade. In essence, the dealers used Stuart's geographic description in the paper as a "roadmap" to find the rare newt.
Herpetology curator: behind-the-scenes of 'new species' discoveries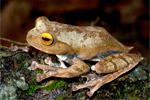 (12/18/2011) Bryan Stuart's mission as a curator of amphibians and reptiles at the North Carolina Museum of Natural Sciences is to understand the diversity of life on earth. For that, he documents what species occur where and why. He's particularly attracted to areas where there's a dearth of knowledge, like Laos, Cambodia, Vietnam and Gabon, and so far has discovered 27 species unknown previously to scientists: three species of snakes, two types of salamanders, and 22 kinds of frogs.
Photos: 208 species discovered in endangered Mekong region in 2010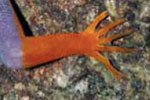 (12/14/2011) Last year researchers scoured forests, rivers, wetlands, and islands in the vanishing ecosystems of the Mekong Delta to uncover an astounding 208 new species over a twelve month period. A new report by the World Wide Fund for Nature (WWF) highlights a number of the new species—from a new snub-nosed monkey to five new meat-eating pitcher plants to a an all-female, cloning lizard—while warning that many of them may soon be gone as the Mekong Delta suffers widespread deforestation, over-hunting and poaching, massive development projects, the destruction of mangroves, pollution, climate change, and a growing population.