Oil palm plantation in peninsular Malaysia. Photo by Rhett A. Butler.

Palm oil is widely acknowledged as one of the most important drivers of deforestation and forest diminishment in Southeast Asia. Conversion of forests and peatlands for oil palm plantations is both a substantial source of greenhouse gas emissions and a major threat to biodiversity — one study called palm oil the "single most immediate threat to the greatest number of species".
Yet palm palm production generates tens of billions of dollars per year for the economies of Indonesia and Malaysia and is the most profitable form of land use across large swathes of Borneo, Sumatra, and New Guinea. Oil palm plantations also yield more edible oil than any other major crop, providing a cheap source of cooking oil for the poor.
The palm oil seemingly presents a paradox: environment on one side, economy on the other. But does it have to be this way? A growing body of research indicates it doesn't. Indeed, it is possible to develop oil palm plantations on degraded, non-forest land so palm oil production avoids deforestation, greenhouse gas emissions, and biodiversity loss.

Oil palm plantation and forest in Borneo. Photo by Rhett A. Butler.

Yet the rhetoric on palm oil — from both extremes — confuses the marketplace. Consumers may be led to believe all palm oil is made from ground-up baby orangutans, while producers may be inclined to dismiss environmental concerns as a conspiracy cooked up by the fossil fuel industry or American maize growers. Furthermore, information that could provide a path forward on the issue doesn't always reach the people who need it most: producers and consumers.
To address this issue, the Zoological Society of London (ZSL) has launched a new web site that aims to provide information on more sustainable palm oil production to all stakeholders. The site, called the Sustainable Palm Oil Platform (http://www.sustainablepalmoil.org/), "aims to deliver a comprehensive library of tools and resources, to facilitate communication between stakeholders and to increase the transparency of the supply chain in order to inform best practice and sustainability in the palm oil sector." The site includes case studies and a wealth of information tailed to specific users.
"The site is designed to be a participatory platform where stakeholders can contribute helpful and informative resources and discuss experiences and lessons learned via case studies," says ZSL, which has been working on palm oil issues in Indonesia since 2001.
Related articles
E.U. OKs biofuels produced from certified palm oil
(11/28/2012) The European Commission has approved palm oil-based biodiesel for the renewable fuels standard provided it is certified under the Roundtable for Sustainable Palm Oil (RSPO), a body that sets social and environmental criteria for palm oil production. The move, which could dramatically boost sales of palm oil in Europe, was sharply criticized by environmental activists, who said that without stronger safeguards, increased palm oil production could increase deforestation and greenhouse gas emissions.
Roundtable on Sustainable Palm Oil hits 10 year mark
(10/04/2012) The Roundtable on Sustainable Palm Oil (RSPO) is holding its tenth annual meeting later this month. The initiative, which aims to improve the social and environmental performance of palm oil production through a certification standard, has advanced considerably during that time, moving from an idea to a reality: RSPO-certified palm oil now accounts for 12 percent of global palm oil production. Yet the RSPO is not without controversy. Some palm oil companies say its criteria are too costly to adopt and are therefore discriminatory, while environmental critics argue its bar for "sustainable" palm oil is too low and the loopholes allow producers to claim membership even if they aren't actually producing certified palm oil across all their holdings. Nonetheless the RSPO has support from many of the world's largest palm oil producers, traders, and consumers as well as the biggest NGOs.
Surging demand for vegetable oil drives rainforest destruction
(03/14/2012) Surging demand for vegetable oil has emerged as an important driver of tropical deforestation over the past two decades and is threatening biodiversity, carbon stocks, and other ecosystem functions in some of the world's most critical forest areas, warns a report published last week by the Union of Concerned Scientists (UCS). But the report sees some reason for optimism, including emerging leadership from some producers, rising demand for "greener" products from buyers, new government policies to monitor deforestation and shift cropland expansion to non-forest area, and partnerships between civil society and key private sector players to improve the sustainability of vegetable oil production.
Carbon debt for some biofuels lasts centuries
(11/30/2011) It has long been known that biofuels release greenhouse gas emissions through land conversion like deforestation. But an innovative new study by the Center for International Forestry Research (CIFOR) published in Ecology and Society has computed how long it would take popular biofuel crops to payoff the "carbon debt" of land conversion. While there is no easy answer—it depends on the type of land converted and the productivity of the crop—the study did find that in general soy had the shortest carbon debt, though still decades-long, while palm oil grown on peatland had the longest on average.
Europe should lift duty on RSPO-certified palm oil to encourage use, says Dutch group
(09/21/2011) To encourage uptake of palm oil that is less damaging to the environment, the European Union (EU) should lift the import duty on palm oil certified under Roundtable on Sustainable Palm Oil (RSPO), said a Dutch industry group.
Greening the world with palm oil?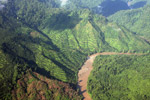 (01/26/2011) The commercial shows a typical office setting. A worker sits drearily at a desk, shredding papers and watching minutes tick by on the clock. When his break comes, he takes out a Nestle KitKat bar. As he tears into the package, the viewer, but not the office worker, notices something is amiss—what should be chocolate has been replaced by the dark hairy finger of an orangutan. With the jarring crunch of teeth breaking through bone, the worker bites into the "bar." Drops of blood fall on the keyboard and run down his face. His officemates stare, horrified. The advertisement cuts to a solitary tree standing amid a deforested landscape. A chainsaw whines. The message: Palm oil—an ingredient in many Nestle products—is killing orangutans by destroying their habitat, the rainforests of Borneo and Sumatra.
Nestle's palm oil debacle highlights current limitations of certification scheme
(03/26/2010) Last week Nestle, the world's largest food processor, was caught in a firestorm when it attempted to censor a Greenpeace campaign that targeted its use of palm oil sourced from a supplier accused of environmentally-damaging practices. The incident brought the increasingly raucous debate over palm oil into the spotlight and renewed questions over an industry-backed certification scheme that aims to improve the crop's environmental performance.
Limit palm oil development to lands that store less than 40 tons of carbon/ha – study
(08/06/2009) A new study finds oil palm plantations store less carbon than previously believed, suggesting that palm oil produced through the conversion of tropical forests carries a substantial carbon debt.