Treefrog in Borneo. Photo by Rhett A. Butler.

Safeguarding biodiversity is a critical component in any plan to mitigate climate change through forest protection, argues a comprehensive new assessment published by the International Union of Forest Research Organizations (IUFRO), the world's largest network of forest scientists.
The report, which will be released December 2 at Forest Day 6 during the U.N. climate change conference in Doha, Qatar, is based on a large-scale review of scientific research on the relationship between biodiversity, forest management and climate change mitigation via the REDD+ program, which aims to reduce greenhouse gas emissions from deforestation and forest degradation in tropical countries. The report concludes that in order for REDD+ to succeed, it must take an "integrated landscape management approach" and embrace strategies that involve all forest stakeholders.
"Actions that reduce deforestation and degradation are likely to have the most immediate and greatest benefits for both carbon and biodiversity", said John Parrotta, an IUFRO scientist with the United States Forest Service (USFS) and the chair of the Global Forest Expert Panel on Biodiversity, Forest Management and REDD+, which prepared the report.
"There is no one-size-fits-all solution to forest loss and degradation. Impacts of REDD+ interventions are likely to vary significantly across different forest types and landscape conditions. These impacts may occur outside the area of management or in the future, and they can also evolve over time."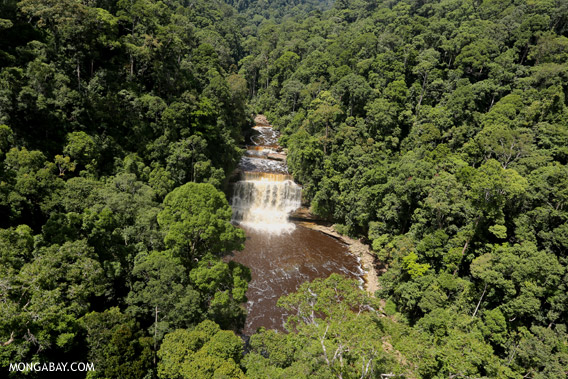 Rainforest waterwall in Sabah, Malaysian Borneo. Photo by Rhett A. Butler.

The report warns that focusing solely on maximizing carbon sequestration by forests in the short-term could be detrimental to biodiversity and forest-dependent people in the long-term.
"There is clear evidence that including objectives to improve the livelihoods of forest-dependent people and local communities will strengthen local involvement and acceptance, and thereby support REDD+ goals," said Christoph Wildburger, the coordinator of IUFRO's Global Forest Expert Panels (GFEP) initiative, in a statement. "Socio-economic impacts should therefore be considered early on in REDD+ planning and implementation. Tenure and property rights, including rights of access, use and ownership in particular, also need to be emphasized as they are crucial to ensuring the sustainable success of REDD+ activities."
"We need to consider all of the priorities for a particular landscape, such as food production, clean water, economic development, conservation and cultural and social values, to understand the different pressures facing forested areas. It may not be possible to reconcile all of these concerns. But over the long-term, REDD+ programs will not succeed, even at conserving carbon, unless there is a recognition of the trade-offs involved and an understanding of the relationships between biodiversity, carbon, forest management and people."
Related articles