Mountain gorilla family in Virunga National Park. Photo by: Martin Harvey/WWF.
A mountain gorilla census in Uganda's Bwindi Impenetrable National Park has a population that continues to rise, hitting 400 animals. The new census in Bwindi means the total population of mountain gorillas (Gorilla beringei beringei) has reached 880—up from 720 in 2007—and marking a growth of about 4 percent per year.
"Mountain gorillas are the only great ape experiencing a population increase," David Greer, WWF's African Great Ape Programme Manager, said in a statement. "This is largely due to intensive conservation efforts and successful community engagement."
Listed as Critically Endangered by the IUCN Red List, mountain gorillas are a subspecies of eastern gorilla. In addition to the population in Bwindi Impenetrable National Park, the second mountain gorilla population is found in three parks making up the Virunga Massif area which spans into the Democratic Republic of the Congo (DRC), Uganda and Rwanda. The two populations, which don't intermingle, are imperiled by deforestation, regional conflict, disease, poaching, and also falling victim to snares set by other animals.
Meanwhile a new concern has risen for the mountain gorilla population in the DRC's Virunga National Park: oil exploitation. Oil company, SOCO International, has received exploratory permits for inside the park from the DRC government even as the UN and British government have criticized the plan. While the company will not be drilling near mountain gorilla habitat, Greer says oil drilling inside the park could bring new problems to a park already beset by conflict.
"More people in Virunga would likely lead to an increase in deforestation, illegal hunting and more snares in the forest," he explains. "At least seven Virunga mountain gorillas have been caught in snares this year and two did not survive. The gorilla population remains fragile and could easily slip into decline if conservation management was to be disregarded in the pursuit of oil money by elites."
However, the oil company has stated it would bring increased security to the park, which has frequently seen wildlife rangers killed in firefights with local militia taking refuge in the park.
Around 80 mountain gorillas persist in Virunga National Park.
Related articles
NASA satellites catch vast deforestation inside Virunga National Park
(10/03/2012) Two satellite images by NASA, one from February 13, 1999 and the other from September 1, 2008 (see below), show that Virunga National Park is under assault from deforestation. Located in the eastern edge of the Democratic Republic of Congo (DRC) the park has been assailed by entrenched conflict between rebels and government forces, as well as slash-and-burn farming, the charcoal trade, and a booming human population.
Rarest gorillas lose half their habitat in 20 years
(10/01/2012) Cross River gorillas and eastern gorillas lost more than half their habitat since the early 1990s due to deforestation, logging, and other human activities, finds a comprehensive new assessment across great apes' range in West and Central Africa.
Turning gorilla poachers into conservationists in the Congo [warning: graphic photos]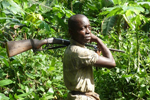 (08/13/2012) Although founded only four years ago, Endangered Species International-Congo, has ambitious plans to protect dwindling Western gorilla populations and aid local people in the Republic of the Congo. The organization, an offshoot of Endangered Species International (ESI), has been spending the last few years studying the bushmeat trade in Pointe-Noire, the country's second largest city, and developing plans for turning hunters into conservationists.
First camera trap video of world's rarest gorilla includes shocking charge
(05/08/2012) Ever wonder what it would be like to be charged by a male gorilla? A new video (below) released by the Wildlife Conservation Society (WCS), gives one a first hand look. Shot in Cameroon's Kagwene Gorilla Sanctuary, the video is the first camera trap footage of the incredibly rare Cross River gorilla subspecies (Gorilla gorilla diehli); listed as Critically Endangered, the subspecies is believed to be down to only 250 individuals.
(05/02/2012) A new study confirms that bigger and stronger silverback gorillas have more success finding mates and raising offspring.
Oil exploration approved in Africa's oldest park, Virunga National Park
(03/19/2012) Permits for controversial oil exploration in Virunga National Park have been released after request by NGO Global Witness. Oil company, SOCO International, has confirmed it has received two permits to undertake preliminary exploration, including seismic tests, in the UNESCO World Heritage Site. Located in the Democratic Republic of Congo (DRC), Virunga is famous for its population of the Critically Endangered mountain gorillas (Gorilla beringei beringei).
Without data, fate of great apes unknown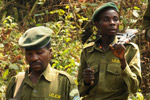 (03/12/2012) Our closest nonhuman relatives, the great apes, are in mortal danger. Every one of the six great ape species is endangered, and without more effective conservation measures, they may be extinct in the wild within a human generation. The four African great ape species (bonobos, chimpanzees and two species of gorilla) inhabit a broad swath of land across the middle of Africa, and two species of orangutans live in rainforests on the islands of Borneo and Sumatra in Southeast Asia.