Raw logs cut with artisanal permits at Kinkole port near Kinshasa. Photo courtesy of Global Witness.
In 2002 the Democratic Republic of Congo (DRC) announced a moratorium on commercial logging in a bid to save rapidly falling forests, however a new report by Global Witness alleges that industrial loggers are finding a way around the logging freeze. Through unscrupulous officials, foreign companies are abusing artisanal permits—meant for local community logging—to clear-cut wide swathes of tropical forest in the country. These logging companies are often targeting an endangered tree—wenge (Millettia laurentii)—largely for buyers in China and Europe.
"The door to Congo's forests has been shut to new industrial loggers, but they are coming straight in through the window," Colin Robertson, Forest Campaigner at Global Witness said in a press release. "The artisanal permits are meant for small-scale logging by Congolese communities looking to improve their livelihoods. Instead they have been hijacked by companies who want to strip the forest bare with scant regard for the human or environmental cost."
According to DRC law, a Congolese citizen may receive two artisanal permits a year to cut trees with a chainsaw or longsaw. But Global Witness found artisanal permits that broke the law in ten different ways: in some cases 12 permits were handed out to foreign companies using bulldozer and log loaders in a single year. Some permits also outlined specific permission to "carry out industrial logging" and in many special permission was given to cut endangered species like wenge.
| | |
| --- | --- |
| | Equipment used by logger with artisanal license. Photo courtesy of Global Witness. |
"Given this huge range of irregularities, timber sourced using artisanal logging permits should be considered illegal by buyers," the report says.
Such a status could mean that wood stemming from these permits is likely illegal in the U.S. under the Lacey Act and could soon be illegal in the EU as well, which is adopting new legislation to weed out wood that was illegally sourced in its country of origin.
The deforestation is occurring with official participation by the the Ministry of the Environment, Nature Conservation and Tourism (MECNT), according to Global Witness, which looked at 146 artisanal logging permits.
"The Congolese authorities have been routinely breaking their own laws when handing out these logging permits," explains Colin Robertson.
Foreign loggers are also bribing local chieftains for access to nearby forests, a practice which is problematic not least because it rarely benefits the wider community, many of which depend on their forests for vital services including food, clean water, materials, and medicine. In addition, the Congo forests provides global services such as biodiversity and carbon sequestration.
"In one instance a Sino-Congolese company, TERCO, committed to give US$750 in cash and one motorbike each to two local chiefs. In addition, one of these chiefs received two bottles of whisky, while the other opted for two cases of beer," reads the report. "Other documents show that Hong Kong
based company Vegas Sawmill Factory signed a contract with the chief of Ngambomi village paying him US$15 per (Wenge) log and personal gifts including two cases of beer, a carton of cigarettes, a blanket and US$500 in cash."
Vegas Sawmill Factory, for its part, did not see such gifts as corrupt but socially acceptable in the DRC, reports Global Witness.
The NGO recommends that the prime minister accept the Decree on Community Forests, which has not been signed despite being complete for two years. In addition, the report says that the DRC's Ministry of the Environment, Nature Conservation and Tourism (MECNT) should re-evaluate its permits and refuse permits to foreigners, corporations, or anyone with heavy machinery.
Wenge, a dark-colored wood, is often used in making musical instruments. It is also used for flooring, paneling, and furniture.

Raw logs cut with artisanal permits at Kinkole port near Kinshasa. Photo courtesy of Global Witness.

Raw logs cut with artisanal permits at Kinkole port near Kinshasa. Photo courtesy of Global Witness.
Related articles
NASA satellites catch vast deforestation inside Virunga National Park
(10/03/2012) Two satellite images by NASA, one from February 13, 1999 and the other from September 1, 2008 (see below), show that Virunga National Park is under assault from deforestation. Located in the eastern edge of the Democratic Republic of Congo (DRC) the park has been assailed by entrenched conflict between rebels and government forces, as well as slash-and-burn farming, the charcoal trade, and a booming human population.
Controversial logging company sells operations in DR Congo
(03/23/2012) Danzer, a Swiss-German forestry company that has been subject to much criticism by environmentalists for its logging practices in the Democratic Republic of Congo (DRC), has sold its operations in the Central African country, reports Greenpeace.
Deforestation increases in the Congo rainforest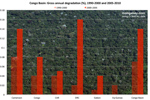 (03/20/2012) Deforestation in the Congo Basin has increased sharply since the 1990s, reports an extensive new assessment of forests in the six-nation region. Released by the Central African Forests Commission (COMIFAC) and members of the Congo Basin Forest Partnership, The State of the Forest finds that the region's annual gross deforestation rate doubled from 0.13 percent to 0.26 percent between the 1990s and the 2000-2005 period. Gross degradation caused by logging, fire, and other impacts increased from 0.07 percent to 0.14 percent on an annual basis. Despite the jump, rates in the Congo Basin remain well below those in Latin America and Southeast Asia, but the region is seen as a prime target for future agroindustrial expansion.
Locals clash with 'sustainable' FSC logging company in the Congo
(05/22/2011) Two separate protests against logging companies by local communities have turned violent in the Democratic Republic of Congo (DRC), leaving at least one dead. According to Greenpeace, one of the companies involved in the violence, Sodefor, is sustainably certified by the Forest Stewardship Council (FSC). Given that the industry in DRC is rife with social conflict and corruption, Greenpeace is advocating that FSC place a moratorium on certifying new industrial-style logging concessions in the central African nation.
Congo legalizes 15 logging concessions, prompting concern that moratorium will be lifted next
(03/13/2011) The Democratic Republic of Congo (DRC) has legalized 15 logging concessions that were previously listed as illegal under an effort to clean up the industry of widespread corruption. The environmental group, Greenpeace, fears that the move precedes an announcement to lift the DRC's moratorium on granting any new logging concessions, which would open the Congo Basin to widespread logging.