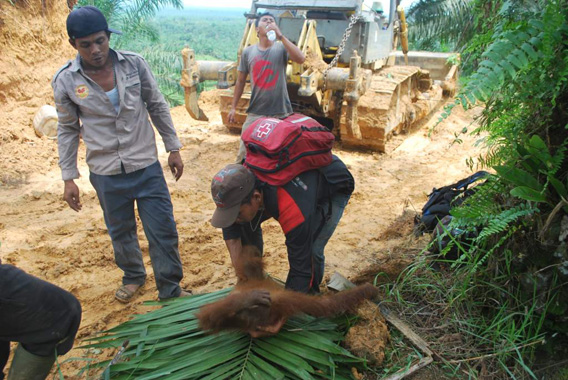 OIC's Human Orangutan Conflict Response Unit (HOCRU) with the assistance of the Sumatran Orangutan Conservation Programme (SCOP), the Leuser Ecosystem Management Authority (BPKEL), and the Natural Resources Conservation Agency (BKSDA) conducted a rescue on PT Sisirau's plantation in May 2012. Photo credit OIC.
Conservationists have filed a complaint against an Indonesian palm oil company for allegedly clearing an area of forest that contained orangutans.
Earlier this month, the Sumatran Orangutan Society (SOS) filed a complaint against PT Sisirau for allegedly breaching the Roundtable on Sustainable Palm Oil's rules on sparing high conservation value forest. PT Sisirau is a member of the Roundtable on Sustainable Palm Oil (RSPO), a multistakeholder body that sets criteria for more environmentally responsible palm oil production.
The complaint stems from a series of incidents that took place between February and September 2012 during which time SOS' partner organisation the Orangutan Information Centre (OIC) rescued 7 orangutans from PT Sisirau's plantation.
"A series of four rescue operations took place between February – September 2012, and the Sumatran Orangutan Society and the Orangutan Information Centre have footage and photographs showing clearance by bulldozers within the plantation during this time," SOS's Director Helen Buckland told mongabay.com.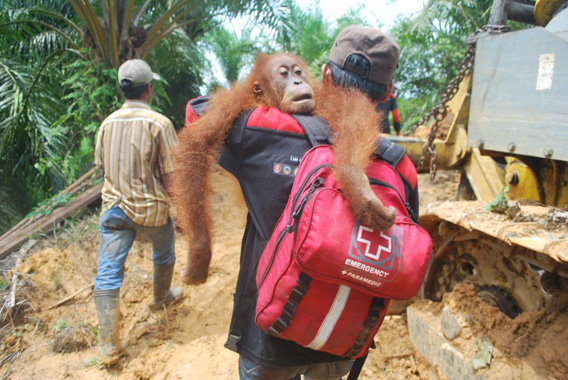 HOCRU rescuing a baby orangutan on PT Sisirau's plantation in May 2012. Photo credit OIC.
A representative for PT Sisirau says the company contacted the orangutan rescue groups and "halted all clearing work until the orangutans could be safely and humanely be taken from the plantation."
However, SOS and OIC said that PT Sisirau continued to clear forest despite the presence of orangutans, which are critically endangered and legally protected under Indonesian law.
"[We] refute parts of PT Sisirau's statement, particularly the company's claim to have halted all clearance operations until the orangutans could be safely evacuated from the plantation," said Buckland. "[Our] team can attest to the fact that the clearance did not stop after the first rescue, when the company was well aware that there were more orangutans remaining in the plantation. Many attempts were made to contact the company to discuss the situation and try and reach an agreed course of action to ensure that the remaining orangutans on the land were not put at risk."
PT Sisirau however claimed "the orangutans were not indigenous to this area and had only recently strayed onto this land, which is scrubland and far from optimum habitat for orangutan." The company added that it has "an unblemished record on sustainability and corporate responsibility."
Buckland says "These orangutans are the survivors and descendents of the original wild population that inhabited the area prior to any clearance or disturbance of their forest habitat. Any orangutan expert would testify to the fact that orangutans do not migrate from good quality habitat into landscapes like this."
Still the presence of orangutans on the land, raises questions about PT Sisirau's compliance with RSPO principles and criteria, according to SOS.
"Under RSPO rules, the company is obliged to make their High Conservation Value (HCV) assessment public, but [PT Sisirau] has failed to do so. Following the successful resolution submitted to the RSPO General Assembly by SOS in 2010, even degraded forests should be considered as potentially having high conservation value in HCV assessments. In this case, yes the 'forest' is poor condition scrub, but it contains orangutans, and therefore is HCV. And PT Sisirau has continued to clear this area throughout the year."
OIC's footage of forest clearance in PT Sisirau, shot between 17-22 April 2012. According to OIC, notably points include: 2:50, which shows bulldozers clearing forest in the plantation area; 4:33, where an assistant manager tells the team where 'there are three more orangutans in one area (but not to go to the other area, where there are none)'; and 6:15 when chainsaws can be heard.



The case is now making its way through the RSPO's complaint system.
"RSPO views any violation towards environmental and wildlife protection as a serious infraction," the RSPO told mongabay.com. "The RSPO is saddened by the state of the Orang Utans in this circumstance. We have received an official complaint from the Sumatran Orangutan Society (SOS) and we are currently in the process of investigating this matter via our official complaints procedure."
PT Sisirau's representative told mongabay.com he is confident the company will be "completely exonerated." SOS and OIC believe otherwise.
PT Sisirau did not respond to requests for their environmental impact assessment nor their operating permit. The company said it has held a license for the plantation for nearly 20 years.
Palm oil production is one of the leading drivers of deforestation in Indonesia, account for up to 25 percent of forest loss and 50 percent of peat conversion. Most plantation expansion is occurring on the islands of Sumatra and Borneo.
Related articles