Illegal logged tree in Indonesian Borneo. Photo by: Rhett A. Butler.
In another blow to illegal loggers, Australia has passed the Illegal Logging Prohibition Bill, joining the U.S. in outlawing the importation of illegal logged timber from abroad. The new legislation makes it a criminal offense for Australian businesses to import timber from illegal operations. The Australian government estimates that $400 million worth of illegal timber products are sold in the country each year often as outdoor furniture and wood for decks.
"The illegal timber trade is a trade that benefits no one. It risks jobs, it risks the timber industry, and it risks the environment," Australian Forestry Minister Joe Ludwig said in a statement.
The law was pushed by a wide coalition of businesses, environmental groups, and social and religious organizations. Retailers like IKEA, Bunnings, Simmonds Lumber, and Kimberly Clark all supported the law, while Uniting Church, World Vision, WWF, Oxfam, the Wilderness Society, and Greenpeace lobbied for it.
"[The law] criminalize[s] a trade that many Australians would already presume to be banned," Reece Turner, a forests campaigner with Greenpeace Australia-Pacific, said. "Illegal logging often involves land theft, trashing national parks and breeds corruption and human rights abuse. It's a huge challenge to countries in our region including Indonesia, Papua New Guinea and Cambodia."
The black market trade, which is estimated to be worth $30-$100 billion a year, is often run by mafia-like organizations involved in other criminal activities. Shining a light on illegal logging in source countries can also be incredibly dangerous as activists and journalists are frequently attacked, and even murdered, for attempting to stop illegal logging in countries like Cambodia and Brazil.
The new legislation was fiercely opposed by some logging interests, including Alan Oxley, a lobbyist who works for industrial forestry companies in Malaysia and Indonesia. Oxley, who won notoriety in 2010 for misrepresenting the views of the late Nobel Laurette Wangari Maathai and then CIFOR director Frances Seymour as part of his campaign on behalf of plantation developers, butted heads with scientists and environmentalists over the issue.
"This bill faced stiff opposition in Australia from pro-development lobbyists," William F. Laurance, an ecologist at James Cook University and supporter of the legislation told mongabay.com. "I'm delighted to see that common sense has prevailed."
Punishments for violating the new bill in Australia include forfeiture of goods, fines up to $275,000 for a business and $55,000 for an individual, and five years in jail.
In addition to stemming illegal logging abroad, legislators say the bill will also help local businesses. Illegal loggers are able to sell their wares far cheaper than those following the law, making it difficult for Australian wood and paper businesses to compete.
The U.S. was the first country to pass illegal logging legislation with an amendment to the Lacey Act in 2008. Since then, global illegal logging has dropped 22 percent with many experts saying the U.S.'s legislation played an important role in the decline. Illegal logging legislation is also set to go into effect next year in the European Union.
"With this bill Australia becomes part of the solution, rather than part of the problem," Laurance added.
Turner told Reuters now that the Australian legislation has passed, "the biggest outstanding question is how the government will ensure these laws are enforced. We know that unscrupulous companies and individuals continue to import illegal timber."
Enforcement of the law in the U.S. recently created a political furor after Gibson Guitars was investigated for importing illegal timber from rainforests in Madagascar. The charge led Gibson Guitars to kick-off a campaign, championed by industrial loggers in Asia and local Tea Party activists, to try and weaken the Lacey Act. In the end, however Gibson Guitars paid $350,000 for violating the Lacey Act and forfeited illegal wood products worth over $250,000.
Related articles
Foreign loggers and corrupt officials flouting logging moratorium in the Democratic Republic of Congo
(11/08/2012) In 2002 the Democratic Republic of Congo (DRC) announced a moratorium on commercial logging in a bid to save rapidly falling forests, however a new report by Global Witness alleges that industrial loggers are finding away around the logging freeze. Through unscrupulous officials, foreign companies are abusing artisanal permits—meant for local community logging—to clear-cut wide swathes of tropical forest in the country. These logging companies are often targeting an endangered tree—wenge (Millettia laurentii)—largely for buyers in China and Europe.
HSBC bank funding large-scale rainforest destruction and invasion of indigenous lands in Borneo, alleges report
(11/02/2012) HSBC has earned tens of millions financing the destruction of rainforests and invasion of indigenous land in the Malaysian state of Sarawak on the island of Borneo, alleges an explosive new report from Global Witness.
Smuggling of illegally logged rosewood in Madagascar continues, alleges report
(10/25/2012) Timber traders in Madagascar are smuggling illegally logged rosewood despite an official export ban, alleges a new report published by a Malagasy researcher.
Cambodia drops case of murdered forest activist, Chut Wutty
(10/08/2012) An investigation into the mysterious death of Cambodian forest activist, Chut Wutty, has been dismissed by the courts, which critics allege is apart of an ongoing cover up. The court decided that since the suspect in Wutty's death, In Rattana, was also dead there was no need to proceed. Chut Witty was shot to death while escorting two journalists to a logging site run by Timbergreen. Wutty, whose death made international news, was a prominent activist against illegal logging in Cambodia.
Illegal logging worth $30-100B annually
(10/01/2012) Illegal logging accounts for 15-30 percent of forestry in the tropics and is worth $30-100 billion worldwide, alleges a new report published by the United Nations Environment Programme (UNEP) and INTERPOL. Consuming countries play a major role in the trade, which is increasingly sophisticated and in some places is facilitated by the expansion of industrial plantations.
Another journalist attacked in Cambodia for covering illegal logging
(09/27/2012) Two weeks after an environmental journalist was found murdered in the trunk of his car, another journalist has been brutally attacked in Cambodia. Ek Sokunthy with the local paper Ta Prum says he was beaten in his home by three assailants by a pistol and a stick. The attack follows swiftly after the high-profile murder of 44-year-old forest journalist Hang Serei Oudom.
Corruption still plundering forests in Laos for furniture
(09/26/2012) The forests of Lao are still suffering from widespread destruction with the government turning a blind eye to a thriving black market logging trade on the border of Laos and Vietnam, according to an update report by the Environmental Investigation Agency (EIA). Last year, the EIA found that powerful players, including the Vietnamese military, were plundering Laos of its forests for raw logs. Smuggled from Laos into Vietnam, the raw logs are crafted into furniture, which are eventually exported to Europe and the U.S. Now, over a year later a new report finds little has changed.
Environmental journalist investigating illegal logging murdered in Cambodia
(09/13/2012) Less than five months after high-profile forest activist, Chut Wutty, was killed in Cambodia, an environmental journalist, Hang Serei Oudom, has been found slain in the trunk of his car, possibly murdered with an ax, reports the AFP. Oudum, who worked at the local paper Vorakchun Khmer Daily, was known for writing stories on epidemic of illegal logging in Cambodia, often linking the crime to business people and politicians. The car and body were found in a cashew nut plantation in Ratanakiri province, an area rife with logging.
Burma warns of deforestation crisis
(08/23/2012) An official warned that Myanmar is facing a deforestation crisis due to poor forest management, illegal logging, and fuelwood collection, reports Chinese state media.
Gibson Guitar to pay $300,000 for violating Lacey Act with illegal timber imports from Madagascar
(08/06/2012) Gibson Guitar Company has avoided criminal prosecution under the Lacey Act — a law that aims to curb illegal logging abroad — by settling with the Department of Justice.
Nobel Prize winner, anti-poverty group, scientists fire back at logging lobbyist
(11/01/2010) An industrial lobbyist is facing mounting criticism for his campaign to reduce social and environmental safeguards in Indonesia.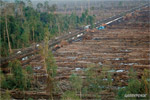 Scientists blast greenwashing by front groups

(10/27/2010) A group of prominent scientists has published an open letter challenging the objectivity of World Growth International, an NGO that claims to operate on behalf of the world's poor, and its leader Alan Oxley, a former trade diplomat who also chairs ITS Global, a marketing firm. The letter, published online in several forums, slams World Growth and ITS Global as a front groups for forestry companies. The scientists note that while the groups have not disclosed their sources of funding, they assert ITS receives funding from Sinar Mas, an Indonesian conglomerate that controls Asia Pulp & Paper (APP), a forest products brand, and Sinar Mas Agro Resources & Technology, a palm oil firm, among other companies.
Misleading claims from a palm oil lobbyist
(10/23/2010) In an editorial published October 9th in the New Straits Times ("Why does World Bank hate palm oil?"), Alan Oxley, a former Australian diplomat who now serves as a lobbyist for logging and plantation companies, makes erroneous claims in his case against the World Bank and the International Finance Corp (IFC) for establishing stronger social and environmental criteria for lending to palm oil companies. It is important to put Mr. Oxley's editorial in the context of his broader efforts to reduce protections for rural communities and the environment.