Bangui Windfarm in the Philippines. Photo by: John Ryan Cordova.
As the 18th meeting of the UN Framework Convention on Climate Change (UNFCCC) kicks off this morning in oil and gas rich Qatar, the world body warns that much more ambitious greenhouse gas cuts are needed to keep catastrophic climate change at bay. A new report by the UN Environment Program (UNEP) and the European Climate Foundation finds that even if all current emissions pledges are kept, the world will still spew 8 billion tonnes of CO2 equivalent above what is needed by 2020, putting the globe on a fast-track to dangerous climate change.
"The sobering fact remains that a transition to a low-carbon, inclusive green economy is happening far too slowly and the opportunity for meeting the 44 [gigatonnes] target is narrowing annually," UNEP's Executive Director, Achim Steiner, said in a statement.
Scientists say that greenhouse gas emissions need to peak at 44 gigatonnes in 2020, before falling rapidly. However, the current trajectory of greenhouse gas emissions means the world will miss that target by 8 billion tonnes at best and 14 billion tonnes at worst. The gap between what has been pledged and what is required is only growing as greenhouse gas emissions continue to soar year-after-year: last year, the UNEP estimated this gap at 6-11 gigatonnes.
"On current levels of ambition, we are heading for warming of 4 degrees Celsius this century—a prospect that the World Bank this week described as 'devastating.' In the face of such sobering assessments by some of the world's largest institutions, we have to ask—what will it take for our leaders to listen and act?" Samantha Smith, head of WWF's Global Climate and Energy Initiative, commented. The World Bank report painted a bleak picture of a world warmed by 4 degree Celsius including rising sea levels, expanding drought, economic stagnation, mass extinction, and a crisis in global agriculture.
Bridging the current gap in emissions pledges and what is required is not impossible, according to the report, which included input from 55 scientists.
The report points to several "policies that work" such as increased efficiency in buildings and appliances, improvements in public transit, and keeping forests standing.
"Replicating these successful policies and scaling them up would provide a way for countries to go beyond their current pledges and help to close the gap," the report reads.
In addition, says Steiner, there has also been "a remarkable growth in investment in new renewable energies worldwide, which in 2011 totalled close to $260 billion."
But this is still too slow, and fossil fuel-powered plants remain the choice of many nations. In fact, a new analysis by the World Resources Institute (WRI) finds that currently 1,199 new coal-fired plants are in the planning stages worldwide. Sixty eight percent of the new coal plants (818) are being planned by just two countries: India and China. Coal is the most carbon-intensive fuel source and scientists have long urged nations to phase out coal.
Related articles
Forests worldwide near tipping-point from drought
(11/23/2012) Forests worldwide are at 'equally high risk' to die-off from drought conditions, warns a new study published this week in the journal Nature. The study, conducted by an international team of scientists, assessed the specific physiological effects of drought on 226 tree species at 81 sites in different biomes around the world. It found that 70 percent of the species sampled are particularly vulnerable to reduction in water availability. With drought conditions increasing around the globe due to climate change and deforestation, the research suggests large swathes of the world's forests — and the services they afford — may be approaching a tipping point.
Hotter and hotter: concentrations of greenhouse gases hit another new record
(11/20/2012) As expected, greenhouse gas concentrations in the Earth's atmosphere hit another record last year, according to a new UN World Meteorological Organization (WMO). The increasing concentrations of greenhouse gases means that radiative forcing—changes in the atmosphere's energy balance that leads to warming—has jumped 30 percent in the last twenty years.
World Bank: 4 degrees Celsius warming would be miserable
(11/20/2012) A new report by the World Bank paints a bleak picture of life on Earth in 80 years: global temperatures have risen by 4 degrees Celsius spurring rapidly rising sea levels and devastating droughts. Global agriculture is under constant threat; economies have been hampered; coastal cities are repeatedly flooded; coral reefs are dissolving from ocean acidification; and species worldwide are vanishing. This, according to the World Bank, is where we are headed even if all of the world's nations meet their pledges on cutting greenhouse gas emissions. However, the report also notes that with swift, aggressive action it's still possible to ensure that global temperatures don't rise above 4 degrees Celsius.
Obama criticized for lack of urgency on climate change
(11/15/2012) Following the devastation wrought by Hurricane Sandy—which many scientists say was likely worsened by climate change—and a long silence on the issue of global warming during the Presidential campaign, environmentalists yesterday were disappointed when re-elected President Barack Obama seemingly put action on climate change on the back burner.
It's not just Sandy: U.S. hit by record droughts, fires, and heatwaves in 2012
(11/05/2012) As the devastation wrought by Hurricane Sandy—killing over 100 people and producing upwards of $50 billion in damage along the U.S. East Coast—has reignited a long-dormant conversation on climate change in the media, it's important to note that this is not the only weird and wild weather the U.S. has seen this year. In fact, 2012 has been a year of record-breaking weather across the U.S.: the worst drought in decades, unprecedented heatwaves, and monster forest fires. While climatologists have long stated that it is not yet possible to blame a single extreme weather event on climate change, research is showing that rising temperatures are very likely increasing the chances of extreme weather events and worsening them when they occur.
Hours before Hurricane Sandy hit, activists protested climate inaction in Times Square
(10/30/2012) On Sunday, as Hurricane Sandy roared towards the coast of the Eastern U.S., activists took to the streets in New York City to highlight the issue of climate change. Activists organized by 350.org unfurled a huge parachute in Times Square with the words, "End Climate Silence," a message meant to call attention to the fact that there has been almost zero mention of climate change during the presidential campaign, including not a single reference to the issue in the four presidential debates.
How climate change may be worsening Hurricane Sandy
(10/29/2012) While scientists are still debating some fundamental questions regarding hurricanes and climate change (such as: will climate change cause more or less hurricanes?), there's no debating that a monster hurricane is now imperiling the U.S. East Coast. A few connections between a warmer world and Hurricane Sandy can certainly be made, however: rising sea levels are likely to worsen storm surges; warmer waters bring more rain to increase flooding; and hotter temperatures may allow the hurricane to push both seasonal and geographic boundaries.
Will we need to pull carbon out of the atmosphere to save ourselves?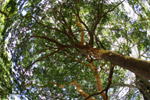 (10/17/2012) This year saw the Arctic sea ice extent fall to a new and shocking low, while the U.S. experienced it warmest month ever on record (July), beating even Dust Bowl temperatures. Meanwhile, a flood of new research has convincingly connected a rise in extreme weather events, especially droughts and heatwaves, to global climate change, and a recent report by the DARA Group and Climate Vulnerability Forum finds that climate change contributes to around 400,000 deaths a year and costs the world 1.6 percent of its GDP, or $1.2 trillion. All this and global temperatures have only risen about 0.8 degrees Celsius (1.44 degrees Fahrenheit) since the early Twentieth Century. Scientists predict that temperatures could rise between 1.1 degrees Celsius (2 degrees Fahrenheit) to a staggering 6.4 degrees Celsius (11.5 degrees Fahrenheit) by the end of the century.