The Roundtable on Sustainable Palm Oil (RSPO) is holding its tenth annual meeting later this month. The initiative, which aims to improve the social and environmental performance of palm oil production through a certification standard, has advanced considerably during that time, moving from an idea to a reality: RSPO-certified palm oil now accounts for 12 percent of global palm oil production. Yet the RSPO is not without controversy. Some palm oil companies say its criteria are too costly to adopt and are therefore discriminatory, while environmental critics argue its bar for "sustainable" palm oil is too low and the loopholes allow producers to claim membership even if they aren't actually producing certified palm oil across all their holdings. Nonetheless the RSPO has support from many of the world's largest palm oil producers, traders, and consumers as well as the biggest NGOs. The initiative has also dealt with several complaints filed in recent years against members, including PT SMART, Indonesia's largest palm oil producer, which following a public rebuke in 2010, has now committed to a stringent social and environmental policy. And RSPO continues to see growth in the uptake of certified palm oil.
| | |
| --- | --- |
| | Darrel Webber |
In an October 2012 interview with mongabay.com, RSPO Secretary General Darrel Webber discussed RSPO's expansion and some of the issues on the agenda for the 10th Annual Roundtable on Sustainable Palm Oil (RT10), scheduled for Oct 30-Nov 1 in Singapore. Webber joined the RSPO as Secretary General in January 2011, after previously working in the energy sector, Senior Manager Palm Oil Sector Engagement at WWF-International, and most recently, an agricultural sustainability consultant.
AN INTERVIEW WITH THE RSPO'S DARREL WEBBER
Mongabay.com: How has RSPO progressed since you took over as Secretary General in January 2011?
Darrel Webber:I have been involved with the RSPO since its inception in other capacities – and it has helped me keep track of the challenges as well as progress. As Secretary General since 2011, I have the opportunity to leverage my historical knowledge into the current context, dynamics and priorities. I have spent much of this time traveling all around the globe; one continent to another; speaking at platforms to share my views; and to listen to those of others; and interconnecting with individuals, governments, establishments and associations. It has been tremendously inspiring to see how people from all sorts of credentials continue to carry the torch of hope during times of such uncertainties and calamities affecting humankind. This keeps me hopeful.
Recent milestones of the RSPO which I have been given a role to contribute towards include vibrant membership growth in digits and from realms stretched far and wide; intensifying production from both major markets and new frontiers; accelerating uptake and increased commitments; optimistic trademark adoption; and an increased momentum of communications outreach and engagements.
| | |
| --- | --- |
| | While palm oil is a highly productive crop, yielding more oil per unit of area than any other oilseed, it has been targeted by environmentalists because its production has at times taken a heavy toll on wildlife-rich rainforests and carbon-dense peat swamps in Indonesia and Malaysia. The RSPO is the palm oil industry's response to these concerns. |
Membership:
RSPO membership has been expanding and reshaping rather progressively. Membership is the first step towards demonstrating commitment towards sustainable practices – so this is a critical starting point. To date, we have close to 1000 members from over 50 countries around the world. A significant portion of the membership is from demand markets and downstream players of the palm oil supply chain i.e. consumer goods manufacturers and processors & traders. We hope this will support our vision in ensuring accelerated and increasing uptake of certified sustainable palm oil.
Market performance:
Certification according to RSPO global standards has to date been granted to 34 plantation companies and 154 palm oil mills covering a colossal area of 1,302,206 ha. Total production of RSPO CSPO today is 6,432,103 metric tonnes – approximately 12% of total global palm oil production. Supply Chain Certification has been granted to 175 companies covering 455 facilities around the world. Production of CSPO initially was generated from two primary markets but has today extended itself to seven countries around the world – Malaysia; Indonesia; Papua New Guinea; Solomon Islands; Brazil; Colombia and Ivory Coast. It clearly stamps the worldwide acceptance of the RSPO standards.
The RSPO Trademark:
The RSPO Trademark on consumer goods packaging was launched into the market in the middle of 2011. Within just over a year, 63 licensees have been granted across 13 countries. The RSPO Trademark offers a well-informed choice for consumers who can now identify and differentiate products that are being sourced sustainably. The RSPO will actively reach out to consumers and other stakeholders in important consumer markets such as Europe, India, Indonesia and China to support the further transition to sustainable palm oil and the trademark will play a central role in these efforts.
 
Increased Communications & Engagements:
We have put much effort in enhancing all channels of communications globally to ensure that our members and the larger community have access to us in terms for information; engagement; enquiries; education etc. From global conferences; newsletters; publicity management; content over our website; market data; etc. we continue to view communications as a critical priority.
Mongabay.com: Have you seen growth in uptake of CSPO? If so, what do you think is driving growth?
Darrel Webber:The uptake of CSPO has been growing from 25% in 2009; 46% in 2010; 52% in 2011; 54% to date. These percentages reflect significant sales increase in terms of total volume as supply has been steadily increasing as well. Please refer to our 2011 Growth Interpretation Narrative for more information on this.
Many established companies within the industry, food manufactures, traders and processors and retailers have pledged commitment towards 100% Certified Sustainable Palm Oil by 2015. Nations such as Belgium and the Netherlands have come forward and made pledges to source only certified sustainable palm oil by 2015; and more are soon join the fold.
We continue to remain focused in accelerating the uptake of CSPO amongst current demand markets while penetrating major new markets for sustainable palm oil. We aim to achieve this by: driving membership from new demand markets; increasing membership throughout the supply chain to focus more on processors & traders right to consumer goods manufacturers and retailers; tracking the annual communication of progress reports by members on their pledge towards CSPO; as well as promoting and marketing the adoption of RSPO trademark.
Successful inroads continue to be made within the European region, the clear first mover for sustainable palm oil consumption. We must continue the momentum there and also extend to the world's largest importers of palm oil; India and China.
Mongabay.com: Is demand for CSPO increasing from countries like China, India, and Pakistan? What is the strategy for driving growth in those markets? Is slowing economic growth a concern?
Darrel Webber:One of RSPO's strategic pillar is to increase CSPO uptake amongst current demand markets while penetrating major new markets for sustainable palm oil. India and China play a key role in this as the two largest importers of palm oil in the world, who are well positioned to dictate and inspire vital market transformation. The RSPO is committed to play an active role in the advancement of sustainable pam oil in India and China by focusing on three key aspects.
Firstly; To encourage the role of multinational companies in cascading their global procurement policies and commitment towards sustainable palm oil into India and China. As a case in point: Unilever has announced that by the end of 2012 it will achieve its target of sourcing all palm oil sustainably through Green Palm Certificates, a full three years ahead of its previous schedule that is applicable to India. Unilever has also set a new target for purchasing all of its palm oil from traceable sources by 2020. Similarly, Cargill announced that the palm oil supplied to its customers in Europe, the United States, Canada, Australia and New Zealand will be certified by RSPO. This commitment will be extended to all of Cargill's oil and trading businesses to cover 100 percent of its palm oil products and all customers worldwide – including China and India – by 2020.
Secondly: To establish awareness and buy-in amongst local companies in India and China on both the commercial and altruistic advantages of their role towards sustainable palm oil, especially along the supply chain primarily processors and traders; consumer goods manufacturers and retailers. Recently, house hold name in India with extensive international operations, Godrej announced its commitment and intent to procure certified sustainable palm oil and to study procedures for certifying domestically produced palm oil.
Thirdly: To engage and open channels of communications with Government; relevant Associations; and the civil society in both these markets in order to understand the dynamics and priorities within each economic and social landscape; and to weave into that strategic guidelines that embrace sustainable palm oil as key pillar. . A recent forum held in Tianjin, China by WWF China; the Consumer Goods Forum; Chinese Chamber of Commerce of Foodstuffs and Native Produce (CFNA) and RSPO on the Sustainable Palm Oil Supply Chain Forum showcased tangible domestic efforts and commitment. The CFNA, a key government influencer, recently released report into the prospects for sustainable palm oil in China.
Mongabay.com: What are the chief agenda items for RT10?
Darrel Webber:The theme for this year's Roundtable is: "10 Years of Driving Sustainability. A Business Model for the Future." This theme carries two fundamental messages. It is conceived to acknowledge the vision of why the RSPO was established and what it has achieved against that.
| | |
| --- | --- |
| | Oil palm plantation in Sumatra. Photo by Rhett A. Butler |
Most importantly – it is to convey the urgency of sustainable practices as the bedrock for businesses to operate in the future. The idea of focusing primarily on continuous land expansion to fulfill global demand of palm oil be it for food, oleo chemicals and bio energy cannot continue to be the business model of the future. We cannot and must not allow for it as it comes at the expense of the dignity of the world we live in.
Eradicating palm oil for the notion of protecting the environment is also a misplaced one – although admirable of those who do this out of personal conscience and principles. The demand for edible oil will continue because of the existing global need– if palm oil is no longer made to be an available option, the demand for other vegetable oils will increase. And in the longer run, this will cause even more devastation to the environment as palm oil is the highest yielding edible oil crop.
So the discussions at RT10 will revolve around how sustainable palm oil can be embraced fully despite being in a dynamically evolving, disparaging, competitive and provocative backdrop. Due to its extremely high yields and the fact that it is a perennial crop, palm oil is a very good option for sustainable agricultural development in the landscape of tropical nations. What the sector must continue to embrace, even more insistently, are sustainable business models for the future – such as the RSPO or any other standards or practices that inspire protection rather than destruction of all the elements of mother nature; flora and fauna, wildlife; the integrity of indigenous communities, workers, families and children; and the advancement of developing nations.
We are looking forward to have these discussions shared and discussed at the RT10.
Mongabay.com: What is the status of GHG emissions accounting under RSPO?
Darrel Webber:The discussion on GHG is currently being undertaken as part of the first review of its Principles & Criteria (P&C) – five years since its inception. Members of the P&C Review Task Force from the various stakeholder sectors have come together from all around the world to be involved in intense discussions and consideration of various components within the Principles & Criteria to ensure the continued robustness and relevance of its international standard.
The RT10 is expected to be used as a platform to generate comments and contributions as part of the second public consultation process of the RSPO Principles & Criteria.
Mongabay.com: The orangutan has emerged as a symbol of concern for palm oil production. Is the RSPO taking any special measures to incorporate orangutan protection into its standards?
Darrel Webber:The RSPO is committed to the conservation of primary forests and high conservation values (HCV) within the context of sustainably managed landscape. The RSPO principles and criterions 5.2 specifically states that: "The status of rare, threatened or endangered species and high conservation value habitats, if any, that exist in the plantation or that could be affected by plantation or mill management, shall be identified and their conservation taken into account in management plans and operations."
This of course includes orangutans; whose habitats are predominantly in Indonesia and Malaysia – which is the world's two largest palm oil producing countries. The orangutan is a fully protected species according Malaysian and Indonesian legislation and hence, automatically requires growers who want to be RSPO certified to adhere to this as per RSPO principles and criterions 2.1 which specially reads: "There is compliance with all applicable local, national and ratified international laws and regulations."
Mongabay.com: How is the effort to incorporate smallholders and boost their yields progressing?
Darrel Webber:Smallholders continue to be a priority of the RSPO. Some of our first certificates issued included smallholders. RSPO certified sustainable palm oil volumes are increasing significantly from smallholders. The RSPO recently certified two schemed smallholder plantations in Indonesia under Asian Agri; combined with its previous two plantations, all located in Sumatra contributing to a total Certified Sustainable Palm Oil production volume of 237, 271 metric tonnes – carving Asian Agri as one of the largest scheme smallholders in Indonesia.
Smallholders can indeed benefit from best practices in sustainable palm oil. The primary challenges for smallholders to become certified include lack of awareness on benefits of being certified; funding support and lack of expertise or capacity building. Given the significant ratio of smallholders in the palm oil sector – it is critical they continue to be central in our strategy to catapult sustainable practices in this sector towards market transformation. The RSPO has committed to facilitating funding and capacity building through the the Palm Oil Producers Support Initiative (POPSI) – a program deployed Solidaridad, an international network organization committed to sustainable supply chains.
Smallholders are becoming increasingly aware of the advantages of being certified which includes access to international demand markets for sustainable palm oil; longer term efficiencies in terms of yield and productivity as well as effective cost management. Its' success is interdependent on the support from various stakeholders, including the mills, government and the market. We are witnessing significant commitment from smallholders, but there is an urgent requirement to continue to proactively mobilize and facilitate the transformation.
Mongabay.com: Palm oil production is expanding rapidly outside traditional countries like Malaysia and Indonesia. Are you seeing interest from producers in these markets?
Darrel Webber: The new frontiers are pushing ahead with the sustainable palm oil agenda. Beyond Indonesia (45.5%) and Malaysia (44.7%); CSPO is also produced in these new frontiers; Papua New Guinea (6.9%) making it the 3rd largest producer of CSPO; Brazil (2%); and the rest from Solomon Islands, Colombia and Ivory Coast.
The growers within these markets are established players and seem very committed in driving leadership to transforming the market to sustainable practices. We are undoubtedly at the threshold of significant transformation in these markets and see enormous potential here – the RSPO has actively been involved in facilitating outreach educational road shows in Africa; and closely support undertakings in Latin America and recently, Thailand as well.
Mongabay.com: Brazil has ambitious targets for oil palm expansion by 2020. How will this affect the global market for palm oil and CSPO?
| | |
| --- | --- |
| | Oil palm acreage for leading palm oil producers. Brazil is currently a small palm oil player, but it expects to be much larger in the future. Click images to enlarge. |
Darrel Webber:It only increases the urgency and importance of the sustainable palm oil agenda in Brazil as deforestation is becoming increasingly rampant in the Amazon sphere. One of the first member companies who were certified in Brazil is Agropalma – it illustrates the feasibility of developing a major crop production in the Brazilian Amazon region, according to the most relevant economic and social/environmental criteria. This will only serve to increase the relevance and application of the RSPO standards.
Mongabay.com: Some environmental groups have expressed concern about the process for filing complaints against RSPO members. Has RSPO taken steps to facilitate this process to make it less cumbersome, especially for small NGOs have might not have the resources to actively pursue a complaint to the degree necessary?
Darrel Webber:The RSPO has recently reviewed its Complaints System and process
rspo.org/en/complaints_system_introduction.
Complainants are expected to formally fill in the form and submit to the Secretariat
rspo.org/en/complaints_form.
The Complaints Panel will then preside over and deliberate on complaints that are brought to RSPO and provided detailed recommendations for resolution that would be fine-tuned and adopted by one or both (or more) parties involved in any conflict. RSPO's operating model requires members to play a key role in resolving conflicts. The Complaints Panel therefore does not usually pass judgment but offers mediation and practical recommendations to all parties involved. The ultimate sanction that the Complaints Panel can recommend is cancellation of membership and certificates.
The Complaints Panel aims to ensure transparency throughout the mediation process and the subsequent reporting – the status of pending complaints cases is published on the RSPO website. The complaints cases involving RSPO members are often complex and require long term remedial actions. But the RSPO remains committed to this process in ensuring the integrity of its standards.
Related articles
Palm oil company in Cameroon drops bid for eco-certification of controversial plantation
(09/05/2012) Herakles Farm, a U.S.-based agricultural developer, will no longer seek eco-certification of its 70,000-hectare oil palm plantation in Cameroon, reports the Roundtable on Sustainable Palm Oil (RSPO). The move comes amid criticism from environmental groups that Herakles is converting high conservation value rainforest for the plantation.
Aceh revokes permit for controversial oil palm plantation in Sumatra
(10/01/2012) Aceh Governor Zaini Abdullah officially revoked the business permit for a company developing a controversial oil palm plantation in a peat swamp in Sumatra, concluding a case that had tested Indonesia's commitment to a moratorium on new concessions in peatlands and rainforests.
Rainforests decline sharply in Sumatra, but rate of deforestation slows
(08/28/2012) The extent of old-growth forest in Sumatra shrank by 40 percent over the past 20 years, while overall forest on the Indonesian island declined by 36 percent, finds a comprehensive new satellite-based assessment published in Environmental Research Letters. The research, conducted by an international team led by Belinda Arunarwati Margono of South Dakota State University and Indonesia's Ministry of Forestry, reveals the dire condition of Sumatra's once extensive rainforests. Overall Sumatra lost 7.5 million hectares of forest between 1990 and 2010, of which about 2.6 million hectares was primary forest. The bulk of forest loss occurred in secondary forests that had been previously degraded by logging.
Palm oil need not come at expense of the environment
(08/16/2012) Palm oil production need not come at the expense of the environment, says Greenpeace in a new campaign that highlights a smallholder approach used by a community in Riau Province on the island of Sumatra.
'National scandal:' foreign companies stripped Papua New Guinea of community-owned forests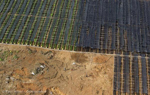 (07/30/2012) Eleven percent of Papua New Guinea's land area has been handed over to foreign corporations and companies lacking community representation, according to a new report by Greenpeace. The land has been granted under controversial government agreements known as Special Agricultural and Business Leases (SABLs), which scientists have long warned has undercut traditional landholding rights in the country and decimated many of Papua New Guinea's biodiverse rainforests. To date, 72 SABLs have been granted—mostly to logging companies—covering an area totaling 5.1 million hectares or the size of Costa Rica.
Campaign cuts Norway's palm oil consumption 64%
(07/25/2012) A campaign run by environmental activists has helped lead to a 87 percent reduction in palm oil use by eight major food companies in Norway, reports Rainforest Foundation Norway, which led the effort.
Indonesia to investigate palm oil company's alleged breach of deforestation moratorium
(07/23/2012) Indonesia's top official charged with implementing the country's moratorium on new concessions in peatlands and primary forest areas is calling for an investigation into alleged violations by a palm oil company operating in Central Kalimantan, reports the REDD+ Task Force.
Despite moratorium, Indonesia failing to take action on illegal palm oil plantations
(07/12/2012) Indonesian authorities are failing to take action against a palm oil company that is operating illegally in Central Kalimantan, alleges a new report by the Environmental Investigation Agency (EIA) and Telapak.
Pastures, not forest, are best place for oil palm expansion in Colombia
(07/11/2012) Colombia is targeting a six-fold increase in crude palm-oil production by 2020. Conservationists fear this may compromise the nation's natural ecosystems, but a new study suggests the impact may be minimized by limiting new oil palm plantations to certain areas of pasture land.
Wealthy consumption threatens species in developing countries
(07/11/2012) Consumption in wealthy nations is imperiling biodiversity abroad, according to a new study in Nature that investigates the link between international trade and biodiversity decline. The study shows how threats to biodiversity and ecosystems, located primarily in developing countries, can be connected to consumer demand for goods in wealthier nations. Some of the major commodities include coffee, cocoa, soy, beef and palm oil.
In pictures: Rainforests to palm oil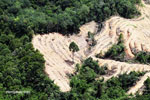 (07/02/2012) In late May I had the opportunity to fly from Kota Kinabalu in Malaysian Borneo to Imbak Canyon and back. These are some of my photos. Historically Borneo was covered by a range of habitats, including dense tropical rainforests, swampy peatlands, and natural grasslands. But its lowland forests have been aggressively logged for timber and then converted for oil palm plantations.