Girl in village in Madagascar. One of the world's poorest countries, it has been estimated that about 70 percent of Malagasy people suffer from malnutrition. Photo by: Rhett A. Butler.
In a world where technology has advanced to a point where I can instantly have a face-to-face conversation via online video with a friend in Tokyo, nearly 870 million people, or one in eight, still suffer from malnutrition, according to a new UN report. While worldwide hunger declined from 1990 to 2007, progress was slowed by the global economic crisis. Over the last few years, numerous and record-breaking extreme weather events have also taken tolls on food production. Currently, food prices hover just below crisis levels.
"We find it entirely unacceptable that more than 100 million children under five are underweight," the heads of the Food and Agriculture Organization (FAO), International Fund for Agricultural Development (IFAD), and the World Food Programme (WFP) write in a forward to the report, State of Food Insecurity in the World 2012, adding that such children "are unable to realize their full human and socio-economic potential, and that childhood malnutrition is a cause of death for more than 2.5 million children every year."
From the early 1990s to today, the number of those going to bed hungry has fallen by around 132 million, dropping from 18.6 percent to 12.5 percent of the total world population. While this is laudable progress, regions still make a big difference. In fact, hunger has actually risen in Africa: 64 million people have been added to the number of hungry on the continent since the early 1990s. Population growth rates are also highest in Africa.
Overall the world has pledged to cut hunger to 11.6 percent by 2015, one of several Millennium Development Goals. But experts note this may be difficult to attain, especially given a continually rising world population and a rise in extreme weather events such as droughts and floods, which scientists are increasingly linking directly to climate change.
In fact, record-breaking droughts and heatwaves in the U.S., floods in northern Europe, and droughts in Russia and the Ukraine have put unexpected stress on a number of food commodities this year. Meanwhile, rising demand for meat and dairy in the developing world and continuing conflict between food and biofuels have further stretched global food budgets. Finally, populations continue to boom in many parts of the world meaning food production has to grow every year just to keep up.
"We've not been producing as much as we are consuming. That is why stocks are being run down. Supplies are now very tight across the world and reserves are at a very low level, leaving no room for unexpected events next year," Abdolreza Abbassian, an economist with the FAO, told the Guardian recently.
In fact, 2012 is expected to be the sixth year in the last eleven where global society consumes more food than it grows. This imbalance has caused many nations' food reserves to fall significantly over the last decade.
Still experts say the current situation has yet to reach the crisis levels seen in 2008 or 2011. Crop yields have generally been good this year for wheat, rice, and sugar for example. But if next year sees more extreme weather events it could push crops and food prices into a danger zone.
Finally, the UN report also notes that while 870 million people worldwide still suffer from malnutrition, another 1.4 billion people worldwide suffer from obesity and related diseases, raising questions as to whether economic growth actually correlates with better nutrition.
Related articles
Food prices rise as food aid needed in Middle East and Africa
(10/04/2012) Food prices increased in September on the FAO Food Price Index after two months of stability, while food aid has been urgently called for in Yemen and Syria, and concerns lingered in parts of Africa. Food prices globally rose 3 points (or 1.4 percent) to 216 points.
U.S. drought could set in motion global food crisis
(07/23/2012) The U.S. is suffering drought levels not seen in over 50 years—and drawing comparisons to the Dust Bowl—with 56 percent of the contiguous U.S. in moderate to extreme drought. Some experts fear that the drought, and resulting hikes in food prices, could propel another global food crisis like those seen in 2008 and 2010.
Agricultural area larger than Texas has been 'land-grabbed'
(06/26/2012) Compiling over 1,000 foreign land deals from 2000-2010, a new report finds that 702,000 square kilometers (271,043 square miles) of agricultural land worldwide has been sold-off to foreign governments or international corporations, an area larger than Texas. The report by the Worldwatch Institute finds that such land deals, often referred to as "land grabbing," have declined since a peak in 2009, but still remain high.
Alarm rising over food crisis in Sahel region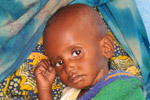 (06/13/2012) Warnings over a possible famine in Africa's Sahel region are becoming louder and more intense. Abnormal drought, locally high food prices, and regional conflict have ramped up concerns that 18 million people could suffer from malnutrition and starvation as the lean season sets in. UNICEF says it needs $238 million to save over a million children from severe malnourishment in the region, but has to date only raised $93 million.
'The real Hunger Games': a million children at risk as Sahel region suffers punishing drought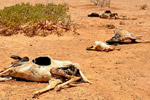 (05/09/2012) The UN warns that a million children in Africa's Sahel region face malnutrition due to drought in region. In all 15 million people face food insecurity in eight nations across the Sahel, a region that is still recovering from drought and a food crisis of 2010. In some countries the situation is worsened by conflict.