The final presidential debate between President Barack Obama and Governor Mitt Romney, focusing on foreign policy, ended like all the others: without a mention of climate change or its likely impacts on Americans, from rising sea levels to worsening extreme weather to the threat of instability abroad. While environmental groups have kicked-off a campaign to target this "climate silence," the lack of discussion on climate change is a part of a larger trend in the U.S. where media coverage of the issue has declined even as scientists argue that impacts are increasing.
Climate change coverage in the U.S. media has dropped precipitously since 2009 when both the UN climate conference in Copenhagen and emails stolen from climate researchers attracted a large amount of attention. Since then both coverage in print media and television have fallen and not recovered, according to a number of studies on the issue.
Even this year, as the U.S. has suffered a number of heatwaves, several mega-fires, one of its worst droughts in memory, and the hottest month on record (July), the media has still largely neglected the issue. A record breaking melt in the Arctic this fall, that shocked scientists worldwide, was also not newsworthy enough to lift U.S. coverage of climate change to levels anywhere near those seen from 2007-2009, according to recent data on newspaper coverage from the Center for Science and Technology Policy Research.
Notably, even as U.S. media has largely ignored climate change, awareness has grown among the U.S. public. A recent poll by the Yale Project on Climate Change Communication and the George Mason University Center for Climate Change Communication found that 74 percent of Americans agreed that climate change was impacting weather in the states.
The fact that none of the three debate moderators asked a single question on climate change could be seen as a symptom of just how far climate change has slipped in media circles and coverage. However, while one could blame the moderators for shutting out climate change, its also true that neither candidate brought it up.
For his part, Obama mentions climate change infrequently now, although it was a major player in his successful 2008 campaign. After a failed bid to enact climate legislation during his first term, the president has largely shied away from discussing the issue publicly. Although Obama has failed to talk about climate change recently, his administration has passed notable policies, including upping auto fuel efficiency, supporting renewable energy, and strengthening regulations on coal power plants.
Mitt Romney has also largely avoided the issue, though he has over the course of the campaign vacillated between supporting the scientific view that humans are largely responsible for the warming world and proclaiming last year that "we don't know what's causing climate change." Romney did mention climate change in his convention speech—but then only to turn it into a joke at the president's expense. As a presidential candidate Romney has shown little love for renewable energy and has proposed to open up vast areas, onshore and off, for fossil fuel exploitation, including the Arctic Wildlife Refuge and the coastal waters of Virginia and the Carolinas.
Related articles
Will we need to pull carbon out of the atmosphere to save ourselves?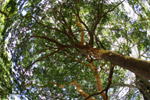 (10/17/2012) This year saw the Arctic sea ice extent fall to a new and shocking low, while the U.S. experienced it warmest month ever on record (July), beating even Dust Bowl temperatures. Meanwhile, a flood of new research has convincingly connected a rise in extreme weather events, especially droughts and heatwaves, to global climate change, and a recent report by the DARA Group and Climate Vulnerability Forum finds that climate change contributes to around 400,000 deaths a year and costs the world 1.6 percent of its GDP, or $1.2 trillion. All this and global temperatures have only risen about 0.8 degrees Celsius (1.44 degrees Fahrenheit) since the early Twentieth Century. Scientists predict that temperatures could rise between 1.1 degrees Celsius (2 degrees Fahrenheit) to a staggering 6.4 degrees Celsius (11.5 degrees Fahrenheit) by the end of the century.
September tied for world's warmest on record
(10/16/2012) September 2012 tied with 2005 for the warmest on record around the globe, according to new data released by the National Oceanic and Atmospheric Administration (NOAA). The average land and ocean temperature was 16.27 degrees Celsius (61.31 degrees Fahrenheit) for this September, 0.67 degrees Celsius (1.21 degrees Fahrenheit) above the 20th Century average for the month. Shockingly, this is the 331st month in a row that has been above the 20th Century average.
Norway to double carbon tax on oil industry for climate change programs
(10/15/2012) Beginning next year, Norway will nearly double the carbon tax on its domestic oil industry to help set up a $1 billion climate change fund for programs in developing nations among other green projects. The Scandinavian nation is the world's 13 largest oil producer and third biggest oil exporter, yet has been one of the most active champions of funding climate change projects.
Over 70 percent of Americans: climate change worsening extreme weather
(10/10/2012) According to a new poll, 74 percent of Americans agree that climate change is impacting weather in the U.S., including 73 percent who agreed, strongly or somewhat, that climate change had exacerbated record high temperatures over the summer. The findings mean that a large majority of Americans agree with climatologists who in recent years have found increasingly strong evidence that climate change has both increased and worsened extreme weather events.