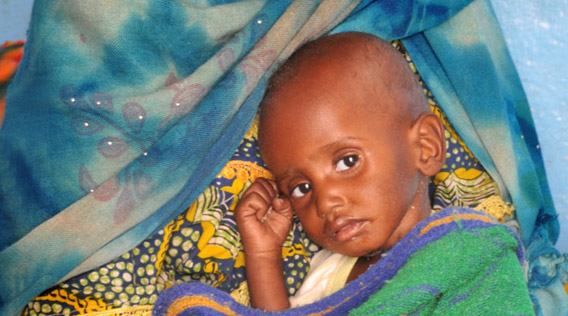 A mother with her severely malnourished child in the Sahel region. Photo: UNICEF/Chad/2012/C Tidey.
Food prices increased in September on the FAO Food Price Index after two months of stability, while food aid has been urgently called for in Yemen and Syria, and concerns lingered in parts of Africa. Food prices globally rose 3 points (or 1.4 percent) to 216 points.
Civil war in Syria has sparked a widespread food crisis there. Currently, 1.5 million people are in need of urgent food aid, though that's expected to go higher as the now seemingly entrenched conflict continues.
However, Yemen is even worse off. Conflict, in addition to high food and fuel prices have pushed 10 million people into requiring food aid there.
Two thirds of the population, around 725,000 people, of the small nation of Lesotho are also facing a local food crisis after a series of poor harvests. Surrounded entirely by South Africa, Lesotho suffers from widespread poverty and one of the highest levels in the world of HIV.
Meanwhile, famine concerns continue in the Sahel region of Africa, which lies just to the south of the Saharan Desert. A prolonged food crisis in the Sahel this year has impacted 19 million people across the region. Conflict in Mali, including nearly half a million refugees, has exasperated a region already hit hard by a series of droughts. New concerns have been raised about the possible impact of desert locusts as well.
Globally food prices are hovering just below crisis levels, according to experts. Out of the food groups, dairy jumped the highest in prices last month, moving up 12 points or 7 percent. Meat was up 4 points; cereal up 3 points. Still the overall Food Price Index remains 11 points below its record high set in February 2011.
Related articles
Mekong dam spree could create regional food crisis
(08/27/2012) Fish are a hugely important protein source for many people around the world. This is no more evident than along the lower Mekong River delta where an estimated 48 million people depend directly on the river for food and livelihoods. But now a new study in Global Environmental Change cautions that 11 planned hydroelectric dams in the region could cut vital fish populations by 16 percent while putting more strain on water and land resources.
U.S. drought could set in motion global food crisis
(07/23/2012) The U.S. is suffering drought levels not seen in over 50 years—and drawing comparisons to the Dust Bowl—with 56 percent of the contiguous U.S. in moderate to extreme drought. Some experts fear that the drought, and resulting hikes in food prices, could propel another global food crisis like those seen in 2008 and 2010.
Climate change increased the probability of Texas drought, African famine, and other extreme weather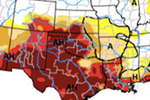 (07/11/2012) Climate change is here and its increasing the chances for crazy weather, according to scientists. A prestigious group of climatologists have released a landmark report that makes the dramatic point that climate change is impacting our weather systems—and in turn our food crops, our economies, and even our lives—here-and-now. The new report in the American Meteorological Society is first of what is intended to be an annual offering that will attempt to tease out the connections between climate change and individual extreme weather events, such as heatwaves, droughts and floods.
Alarm rising over food crisis in Sahel region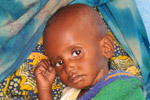 (06/13/2012) Warnings over a possible famine in Africa's Sahel region are becoming louder and more intense. Abnormal drought, locally high food prices, and regional conflict have ramped up concerns that 18 million people could suffer from malnutrition and starvation as the lean season sets in. UNICEF says it needs $238 million to save over a million children from severe malnourishment in the region, but has to date only raised $93 million.
'The real Hunger Games': a million children at risk as Sahel region suffers punishing drought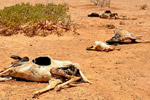 (05/09/2012) The UN warns that a million children in Africa's Sahel region face malnutrition due to drought in region. In all 15 million people face food insecurity in eight nations across the Sahel, a region that is still recovering from drought and a food crisis of 2010. In some countries the situation is worsened by conflict.