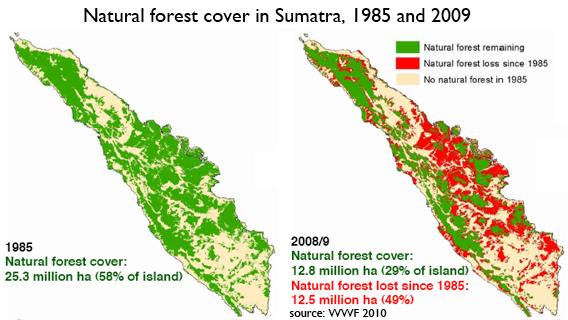 SOURCE: Jajang Jamaludin. Going After the Big 14. Tempo Magazine. 22 April 2012.
U.S. retailer Dollar General has stopped sourcing paper products from controversial brand Asia Pulp and Paper (APP), according to the World Wide Fund for Nature (WWF) which has targeted 20 companies for selling APP-sourced tissue and paper towels. APP has been under fire for years for deforestation on the Indonesian island of Sumatra, the last home to the Sumatran tiger (Panthera tigris sumatrae), Sumatran orangutan (Pongo abelii), and Sumatran elephant (Elephas maximus sumatranus), each of which is listed as Critically Endangered by the IUCN Red List.
"Dollar General's commitment to stop sourcing from tiger forests is good news for conservation. Their decision illustrates that companies—and consumers—can use their purchasing power to support more responsibly-sourced forest products," Linda Walker, a WWF forest expert, said about the decision. Dollar General operates over 10,000 stores around the U.S.
Sumatra has lost nearly half of its forest cover since 1985, a major driver of which has been pulp and paper plantations. In addition to putting numerous species at risk of extinction, deforestation has also wrought land conflict with locals and produced significant greenhouse gas emissions.
APP has missed three self-imposed deadlines to stop sourcing its paper products from natural forest, and is now working with The Forest Trust (TFT) to set up a new sustainability plan. WWF, itself, once partnered with APP to do the same, but dropped the partnership when they deemed the company wasn't making progress.
APP products are still found in the U.S. under several subsidiaries, including Mercury Paper, Solaris Paper, Papermax, Global Paper Solutions and Eagle Ridge Paper.
Related articles
Sustainability pact aside, Greenpeace says paper giant APP must stop facilitating deforestation
(09/27/2012) Asia Pulp & Paper (APP) must stop accepting timber sourced from clearance of rainforests and peatlands for its sustainability pact to have any credibility, says Greenpeace.
In eco-pact, will controversial paper giant APP turn over a new leaf?
(09/26/2012) Over the past decade-and-a-half there has arguably been no paper supplier as controversial as Asia Pulp & Paper (APP), an umbrella brand for several Indonesian forestry companies. The paper giant has been dogged by allegations that is destroying key wildlife habitat, driving substantial greenhouse gas emissions through the conversion of peat forests, dispossessing local communities of land, and engaging in a heavy-handed campaign to undermine its critics within Indonesia and abroad. Its reputation hasn't be helped by its financial record — in 2001 it defaulted on $13.9 billion in debt, making it difficult for APP to raise money for expansion.
Featured video: camera traps find rare, mountain animals in Sumatra
(09/24/2012) In May of this year, Dutch filmmaker, Marten Slothouwer and his team trudged up Sumatra's northern-most mountains with video camera equipment in hand, hoping to capture rare and cryptic species for the world to see. Already the camera trapping initiative, dubbed Eyes on Leuser, took incredible footage in the region's imperiled lowland rainforest, but the group hoped now to capture mountain endemics.
APP establishes deforestation moratorium in Jambi; greens remain skeptical
(09/06/2012) Asia Pulp & Paper (APP) has established a moratorium on natural forest conversion in Jambi province on the island of Sumatra, according to a report issued by the Indonesian forestry giant.
Rainforests decline sharply in Sumatra, but rate of deforestation slows
(08/28/2012) The extent of old-growth forest in Sumatra shrank by 40 percent over the past 20 years, while overall forest on the Indonesian island declined by 36 percent, finds a comprehensive new satellite-based assessment published in Environmental Research Letters. The research, conducted by an international team led by Belinda Arunarwati Margono of South Dakota State University and Indonesia's Ministry of Forestry, reveals the dire condition of Sumatra's once extensive rainforests. Overall Sumatra lost 7.5 million hectares of forest between 1990 and 2010, of which about 2.6 million hectares was primary forest. The bulk of forest loss occurred in secondary forests that had been previously degraded by logging.
APP's new 'sustainability roadmap' won't spare unprotected tiger habitat in Sumatra
(07/27/2012) Asia Pulp & Paper's new sustainability commitment represents a scaling back of earlier environmental pledges and does not offer new protection for natural forests in Sumatra, alleges a new report from Eyes on the Forest, a coalition of green groups based in Riau, Sumatra.