Deforestation in Laos for a rubber plantation. Raw logs from such deforestation often make their way to Vietnam. Photo by: Rhett A. Butler.
The forests of Lao are still suffering from widespread destruction with the government turning a blind eye to a thriving black market logging trade on the border of Laos and Vietnam, according to an update report by the Environmental Investigation Agency (EIA). Last year, the EIA found that powerful players, including the Vietnamese military, were plundering Laos of its forests for raw logs. Smuggled from Laos into Vietnam, the raw logs are crafted into furniture, which are eventually exported to Europe and the U.S. Now, over a year later a new report finds little has changed.
"It is business as usual," the report reads. "The plunder of Laos' forests continues unchecked. A handful of powerful firms are still moving logs across the border, aided by murky exemptions from timber export controls apparently granted by the upper echelons of the Government of Laos."
While Laos has banned raw logs from export, investigations by the EIA finds that this policy has become riddled with exceptions allowing well-connected government officials to aid the underground trade.
"Such exemptions are issued by a small group of senior officials in the central government, and can permit 'special' quotas of logs to be exported, usually in return for investment in and ownership of infrastructure and plantation projects across the country," the report reads.
The report points to several well-connected companies for perpetuating the corrupt trade, including Phonesack, Nicewood, and COECCO, the latter of which is owned by the Vietnamese military. Raw logs are often paid for in cash, leaving little paper trail, and then resold across the border for much higher prices.
"There's no justification for the Government of Laos to continue channeling resources into the hands of these individuals at the expense of its people," EIA Forests Campaigner Tom Johnson, said in a press release. "Equally, the Vietnamese Government, as a professed 'special friend' of Laos, must stop the unsustainable pillage of Laos' forests by its industry—not least by its Army."
Laos has also become a center point for the illegal rosewood trade. Overexploited worldwide, rosewood cutting has been outlawed in many countries including Vietnam. However, the trade has now moved into Laos and Myanmar, with rosewood eventually making its way to China for crafting into high-end furniture and other luxury goods.
"Nearly all, if not all, of these rosewood exports are illegal or involve illegality at some stage in the chain," reads the report.
Last month, Dr. Souvanhpheng Bouphanouvong, President of the National Assembly of Lao's Committee on Economic Planning and Finance, announced that the Lao government was working on land reform issues, which could have major impacts on Lao's forests.
"A new national land policy is a priority in Laos," Dr. Bouphanouvong added. "Land disputes are a top concern of Lao's multi-ethnic population, and as a nation, we cannot ignore this opportunity to address conflicts and alleviate poverty."
The EIA recommends that Laos enforce its current raw log ban, close loop holes, and improve monitoring of log flows in the country. In addition, the country should seek aid through the EU's burgeoning Forest Law Enforcement, Governance and Trade (FLEGT) initiative, which will make selling illegally logged wood products in Europe a crime, much like the Lacey Act has in the U.S. The EIA is also calling on the Vietnamese government to investigate companies allegedly involved in the smuggling.
As of 2005, nearly 70 percent of land in Laos was forested (16 million hectares). However, like much of Southeast Asia, primary forest has become a rarity in Laos; about 9 percent of its forest total (1.49 million hectares) is comprised of primary forest.
Related articles
Vietnamese military illegally plundering Laos' forests
(07/28/2011) Dwindling forests in the Asian nation of Laos are being illegally destroyed and traded by Vietnamese companies with the Vietnamese army as one of the biggest players in this multi-million dollar smuggling operation, according to an investigation by the Environmental Investigation Agency (EIA). EIA agents went undercover as timber purchasers to discover a long trail of corruption and poor enforcement from the destruction of Laos forests to furniture factories in Vietnam to stores in the USA and Europe. Even a ban on exporting raw timber out of Laos has done little to stop the plunder of the nation's forests for outside gain.
Laos announces crackdown on illegal logging, timber smuggling
(06/22/2011) Laos Prime Minister Thongsing Thammavong ordered authorities to crack down on illegal logging and timber trafficking in the midst of accelerating forest loss, reports the Vientiane Times.
Logging of primary rainforests not ecologically sustainable, argue scientists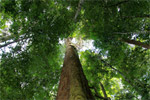 (01/25/2012) Tropical countries may face a risk of 'peak timber' as continued logging of rainforests exceeds the capacity of forests to regenerate timber stocks and substantially increases the risk of outright clearing for agricultural and industrial plantations, argues a trio of scientists writing in the journal Biological Conservation. The implications for climate, biodiversity, and local economies are substantial.
UN: wild teak forests declining
(03/28/2012) Wild teak forests continue to decline, threatening genetic diversity, while commercial planted teak forests are on the rise, according to a new assessment by the Food and Agriculture Organization (FAO). Overall, teak forests have declined by 1.3 percent, or 385,000 hectares, worldwide from 1992 to 2010. Teak (Tectona grandis) is used for a variety of commercial purposes, including outdoor furniture and flooring.