Çağan Şekercioğlu uses radio equipment to track an orange-billed nightingale-thrush in the Costa Rican countryside. A new study by Şekercioğlu indicates that wooded 'shade' plantations where coffee and cacao are grown are better for bird diversity than open farmlands, although forests still are the best habitat for tropical birds. Photo by: Mauricio Paniagua Castro.
Agroforests contain much higher levels of bird diversity than their open agricultural counterparts, according to new research from the University of Utah. If large forests and agroforests continue to be replaced by simple open farms, bird communities will become much less specialized and entire groups may become extinct. Important roles for birds, such as pollination, pest control or seed dispersal, may remain unfilled if ongoing trends toward open agriculture continues and biodiversity decreases.
Forests and woodlands continue to have the highest bird biodiversity, but agroforests—where human crops are grown directly under the trees—are still significantly more diverse than open crops.
"Often, it's not like 'forest' forest—it feels more like an open park," Çağan Şekercioğlu, the author and ornithologist in the Department of Biology at the University of Utah, says about agroforests in a press release. Using a combination of literature reviews and large-scale analyses, he compared bird communities in forests, agroforests and open farmland for an study in the Journal of Ornithology.
| | |
| --- | --- |
| | The orange-billed nightingale-thrush (Catharus aurantiirostris) is an insect-eating bird that lives on Costa Rican 'shade' coffee plantations. Photo by: Çağan Şekercioğlu. |
"This doesn't mean people should farm in intact forests, but if you have the option of having agroforests versus open farmland, that is better for biodiversity, with shade coffee and shade cacao being the prime examples," he explains.
Diversity is important in the bird community because of the various and important roles that birds play in the larger ecosystem. These "ecosystem services," as Şekercioğlu and other biologists call them, may go unfilled if the species responsible for them are replaced by generalized species.
Using a database to compare previous research on bird habitats, he found that the smaller, localized studies on bird habitat preferences largely reflected those of global populations and that there were clear preferences for habitat type depending on the diet of the species.
Insectivores, which eat insects, are represented more often in forests. Smaller insectivorous species of birds do well in agroforests, especially if they are a migratory species or live in the canopy, and thus are more unaffected by the crops below.
Frugivores, who survive on large amounts of fruit in their diet, thrive in forests where they have better access to fruit trees and less contact with people who hunt them. Because of the quantity of different fruits they eat, they play a vital role as seed dispersers. Şekercioğlu notes that while they "do OK in open forest…the number of fruit-eating species decline significantly on open farms."
Nectar eaters, or nectarivores, also have very reduced numbers on open farms. Unlike the other species, they tend to thrive in agroforests where the larger open spaces allows more flowers (the source of the nectar) to grow throughout the year. They are key pollinators.
The group with the highest representation in agricultural areas are the species who primarily eat grain and seeds, or granivores. They are actually better represented on open farms than in forests or agroforests.
"A lot of the seeds they eat are grass seeds, but also from crops. Some of these seed-eating bird species are major agricultural pests, and that's another reason for encouraging agroforests. In completely open agricultural systems, you have more seed-eating birds that can cause significant crop losses," notes Şekercioğlu.
| | |
| --- | --- |
| | An orange-collared manakin (Manacus aurantiacus), a fruit-eating bird that is an example of a bird that does better living in agroforests than on open farms. Photo by: Çağan Şekercioğlu. |
Omnivores, which can exist on a general and more variable diet, "do better in agroforests and especially on open farms" than the species with specialized diets, he explains.
While biodiversity indices are an important tool for evaluating the vitality of different ecosystems, Şekercioğlu is more concerned with the ecosystem services that will remain unfilled without specialists. Frugivores and nectarivores, whose services are vitally important to other species in the ecosystem, are especially threatened by the replacement of forests and agroforests with open farm land. He hopes that his findings will inspire more global analyses of bird functions in different ecosystems; researchers may then be able to determine whether the services are indeed lost, or whether the greater numbers of generalized species manage to fill in the gaps.
"It is possible you may lose a lot of species, but some of the remaining species increase in number and compensate for the decline in ecosystem service by the lost species… It's one of the biggest questions in ecology," Şekercioğlu says.
For environmentally conscious consumers, there are environmental organizations that can provide certification on whether a product is grown in an agroforest that supports the presence of migratory birds. This makes it easier to support companies that choose to recognize the importance of bird diversity despite the additional labor costs involved in production. These products, such as coffee, will have the Bird-Friendly™ Certification directly on the label or will have different accreditation issued from the Smithsonian Institute, the Rainforest Alliance or the Rainforest Action Network.
CITATION: Cagan H. Sekercioglu. Bird functional diversity and ecosystem services in tropical forests, agroforests and agricultural areas. Journal of Ornithology. 2012.
Related articles
Bird uses hurricane winds to accelerate flight speed to 100 MPH
(08/24/2012) Migrating Whimbrels — a type of shorebird — may struggle for hours against winds when trying to cross the Caribbean during hurricane season but get a huge boost as they fly out of storms, report researchers from the Center for Conservation Biology in Williamsburg, Virginia.
New bird discovered in Colombia imperiled by hydroelectric project
(08/19/2012) In a little-known dry forest in Colombia, scientists have discovered a new species of bird: the Antioquia wren (Thryophilus sernai). First seen in 2010, scientists photographed the new wren and recorded its vocalizations, from which they determined that the wren was brand new to science, according to a new paper in Auk.
New owl species discovered in the Philippines
(08/19/2012) Two new owl species have been described in the Philippines, reports Inquirer News.
Solomon Islands' export of 'captive-bred' birds deemed to be a farce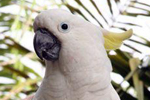 (08/14/2012) Over 68,000 birds listed on CITES (Convention on International Trade in Endangered Species of Wild Fauna and Flora) were exported from the Solomon Islands during 2000-2010 according to a recent report by wildlife-monitoring NGO, TRAFFIC. Although the majority of birds were listed as 'captive-bred,' the report raises the question of whether these species were not in fact taken from the wild.
Beautiful new bird discovered in Peruvian cloud forest
(08/07/2012) Four years ago in a remote cloud forest in Peru's Cerros del Sira mountain range, three recently graduated students from Cornell University discovered a never-before-recorded species of black, white, and scarlet bird. Now described in the scientific journal, The Auk, the bird has been dubbed the Sira barbet (Capito fitzpatricki).