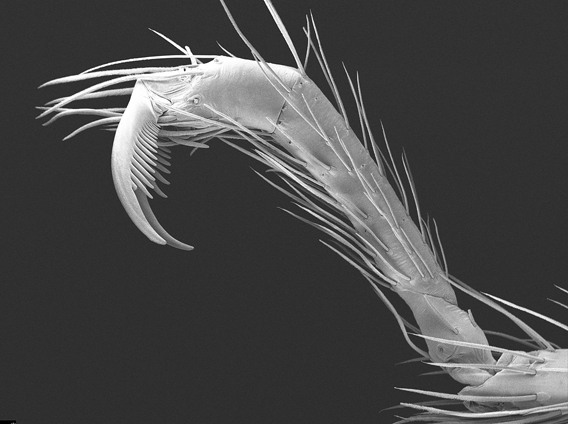 Close-up of the remarkable, raptor-like claws of Trogloraptor. Photo by: Griswold CE, Audisio T, Ledford JM.
Scouring the caves of Southwest Oregon, scientists have made the incredible discovery of a fearsome apex predator with massive, sickle claws. No, it's not the Velociraptor from Jurassic Park: it's a large spider that is so unique scientists were forced to create a new taxonomic family for it. This is the first new spider family to be discovered in North America in over 130 years.
"This is something completely new," lead author of a paper on the species, Charles Griswold with the California Academy of Sciences, told SFGate. "It's a historic event."
The discoverers, who published their description paper in the open-access journal Zoo Keys have named the new species Trogloraptor, which translates loosely to "cave robber," and they have dubbed a new spider family—Trogloraptoridae—to accommodate what they believe is a primitive spider. The full species name is Trogloraptor marchingtoni after one of its discoverers.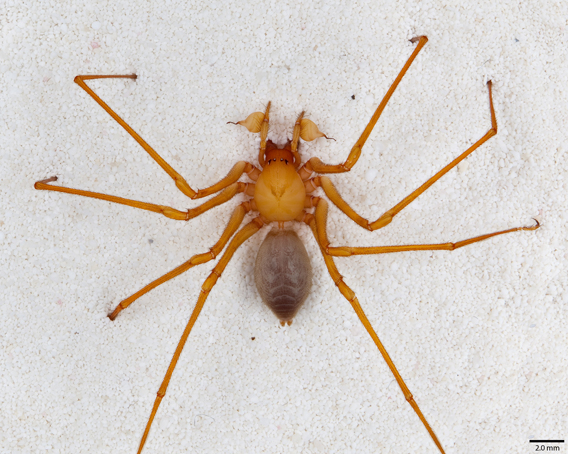 Male Trogloraptor in the lab. Photo by: Griswold CE, Audisio T, Ledford JM.
Spanning four centimeters with extended limbs, the spider spins sparse webs on cave ceilings. The researchers consider it is most closely related to goblin spiders, but more primitive still. Almost nothing is known about the new species' behavior; even what it eats remains a mystery. In fact, the researchers have tried feeding captured spiders various foods, but to date the arachnids have refused the offerings and perished. Still, its sickle claws suggest that Trogloraptor marchingtoni is a stupendous hunter.
While the spider was first discovered in caves near Grants Pass, Oregon, individuals have recently been found in the forests of Jedediah Smith Redwoods State Park in California.
Tens-of-thousands of new species are discovered every year, but uncovering a new 'family' is a very rare occurrence. Taxonomic families often cover large groups of animals; for example, all of the world's cats, from tigers to domestic pets, belong to one family, the Felidae.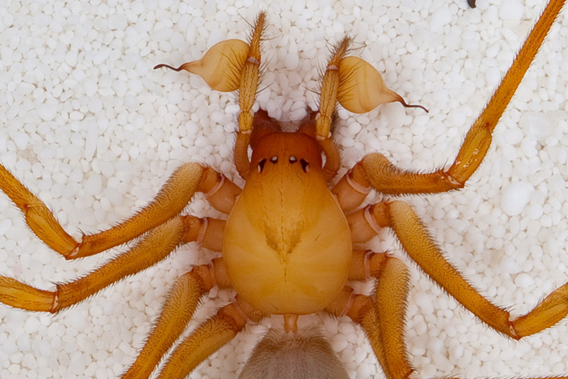 A better look at the head. Photo by: Griswold CE, Audisio T, Ledford JM.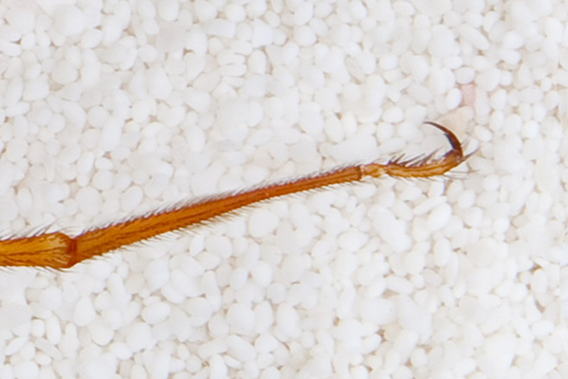 Leg and claw. Photo by: Griswold CE, Audisio T, Ledford JM.
CITATION: Charles E. Griswold, Tracy Audisio, Joel M. Ledford. An extraordinary new family of spiders from caves in the Pacific Northwest (Araneae, Trogloraptoridae, new family). ZooKeys 215: 77–102, doi: 10.3897/zookeys.215.3547
Related articles
'Penis snake' discovered in Brazil is actually a rare species of amphibian
(08/02/2012) A creature discovered by engineers building a dam in the Amazon is a type of caecilian, a limbless amphibian that resembles an earthworm or as some are noting, part of the male anatomy.
'The lion of the cave:' new predatory, swimming cricket discovered in Venezuela
(08/06/2012) Scientists have discovered what is likely a new species of cricket that is the top predator of its lightless world: a cave in a Venezuelan tepui. The fauna of cave was documented by BBC filmmakers as researchers uncovered not only a large, flesh-eating cricket but a new species of catfish.
Scientific expedition to survey species in China's Bigfoot territory
(07/02/2012) This month, nearly 40 scientists will enter a wild and remote region of western China, reports China's state media Xinhua. Spending several weeks in Shennongjia Nature Reserve, the researchers hope to study rare species like the golden snub-nosed monkey (Rhinopithecus roxellana), which is listed as Endangered by the IUCN Red List. But the forest is also the source of China's 'wild man' sightings; known locally as the 'Yeren,' the unconfirmed primate has also been dubbed China's Bigfoot.
Frog secretion illicitly used to help racehorses run faster
(06/21/2012) A compound found in the secretions of a South American frog is being used to boost the performance of racehorses, reports The New York Times.
Why bird droppings matter to manta rays: discovering unknown ecological connections
(06/04/2012) Ecologists have long argued that everything in the nature is connected, but teasing out these intricate connections is not so easy. In fact, it took research on a remote, unoccupied island for scientists to discover that manta ray abundance was linked to seabirds and thereby native trees.
Blue tarantula, walking cactus, and a worm from Hell: the top 10 new species of 2011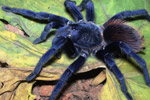 (05/23/2012) A sneezing monkey, a blue tarantula, and an extinct walking cactus are just three of the remarkable new species listed in the annual Top Ten New Species put together by the International Institute for Species Exploration at Arizona State University. This year's list includes a wide-variety of life forms from fungi to flower and invertebrate to primate.
Jaguar v. sea turtle: when land and marine conservation icons collide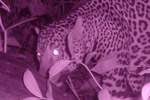 (05/16/2012) At first, an encounter between a jaguar (Panthera onca) and a green sea turtle (Chelonia mydas) seems improbable, even ridiculous, but the two species do come into fatal contact when a female turtle, every two to four years, crawls up a jungle beach to lay her eggs. A hungry jaguar will attack the nesting turtle, killing it with a bite to the neck, and dragging the massive animal—sometime all the way into the jungle—to eat the muscles around the neck and flippers. Despite the surprising nature of such encounters, this behavior, and its impact on populations, has been little studied. Now, a new study in Costa Rica's Tortuguero National Park has documented five years of jaguar attacks on marine turtles—and finds these encounters are not only more common than expected, but on the rise.
New reptile discovered in world's strangest archipelago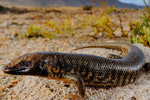 (04/25/2012) Few people have ever heard of the Socotra Archipelago even though, biologically-speaking, it is among the world's most wondrous set of islands. Over one third of Socotra's plants are found no-where else on Earth, i.e. endemic, while 90 percent of its reptiles are also endemic. Adding to its list of unique life-forms, researchers have recently uncovered a new skink species that is found only on the island of Abd al Kuri, which is slightly smaller than New York City's Staten Island. Dubbed the "the other Galapagos," the four Socotra islands are under the jurisdiction of Yemen, although geographically speaking the islands are actually closer to Somalia.
Beyond Bigfoot: the science of cryptozoology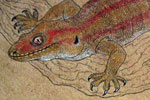 (03/26/2012) Anyone who doubts cryptozoology, which in Greek means the "study of hidden animals," should remember the many lessons of the past 110 years: the mountain gorilla (discovered in 1902), the colossal squid (discovered in 1925, but a full specimen not caught until 1981), and the saola (discovered in 1992) to name a few. Every year, almost 20,000 new species are described by the world's scientists, and a new book by Dr. Karl Shuker, The Encycloapedia of New and Rediscovered Animals, highlights some of the most incredible and notable new animals uncovered during the past century.
Photos: New species spins the world's strongest and largest spider web
(09/20/2010) A newly discovered species of spider in Madagascar spins the world's longest web, report scientists writing in the Journal of
Arachnology and PLoS ONE.
Cricket mothers warn offspring about spiders before they hatch
(02/21/2010) Cricket mothers are long gone by the time their infants hatch, so one would assume that cricket parents have little effect on their offspring's behavior. Not so, according to a new study in the American Naturalist which proves that mother crickets have the potential to teach their offspring—while still in their eggs—about the hazards of spiders.