The National Oceanic and Atmospheric Administration (NOAA) raised its estimate of the number of storms that will likely form during this year's Atlantic hurricane season.
NOAA now predicts 12 to 17 named storms (top winds of 39 mph or higher), including 5 to 8 hurricanes (top winds of 74 mph or higher). The agency says 2 to 3 of those could be major hurricanes, rated Category 3, 4 or 5 with winds of at least 111 mph. In May NOAA projected 9-15 named storms, 4-8 hurricanes and 1-3 major hurricanes.
The revised outlook is based on higher-than-average temperatures in the Atlantic ocean in areas where hurricanes form. Hurricanes are fueled by warm seas.
"We are increasing the likelihood of an above-normal season because storm-conducive wind patterns and warmer-than-normal sea surface temperatures are now in place in the Atlantic," said Gerry Bell, lead seasonal hurricane forecaster at the Climate Prediction Center. "These conditions are linked to the ongoing high activity era for Atlantic hurricanes that began in 1995. Also, strong early-season activity is generally indicative of a more active season."
A "normal" hurricane season produces 12 named storms, six hurricanes, and three major hurricanes in the Atlantic.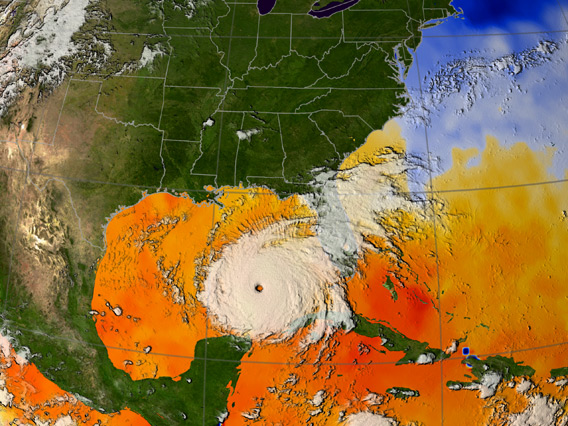 This image shows the sea surface temperature from September 17 to September 21 when temperatures in the Gulf of Mexico remained one to two degrees warmer than the 82 degree minimum needed to sustain a hurricane. Every area in yellow, orange or red represents 82 degrees F or above. Temperature data is from the AMSR-E instrument on the Aqua satellite, while the cloud images of Hurricane Rita were taken by the Imager on the GOES-12 satellite. Courtesy of NASA
The upgrade is a bit unusual because it coincides with an El Niño year, which usually reduces hurricane activity.
"El Niño is a competing factor, because it strengthens the vertical wind shear over the Atlantic, which suppresses storm development. However, we don't expect El Niño's influence until later in the season," Bell said.
Related articles