Imbak Canyon, Sabah. Photo by Rhett Butler
Sabah, a state in Malaysian Borneo, has reclassified 183,000 hectares (700 sq km) of forest zoned for logging concessions as protected areas.
The Sabah Forestry Department recently re-gazetted Ulu Segama Forest Reserve and Northern Gunung Rara — formerly Class 2 commercial forests — as Class 1 protection forests, effectively protecting them from further logging or conversion to plantations. The reserves border the Danum Valley conservation area, which is world-renown for its research facilities and high levels of biodiversity. Although the area has been selectively logged, it remains key habitat for endangered orangutans, Bornean clouded leopards, Sumatran rhinos, and pygmy elephants, according to conservationists.
"This re-gazettement will serve to secure habitat for Malaysia's largest orang-utan population, as well as for a wide range of biological diversity," Marc Ancrenaz, scientific director of Hutan-Kinabatangan Orang-utan Conservation Programme, said in a statement.
| | |
| --- | --- |
| | Map showing Sabah's forest classification in 1990 and 2010. From Reynolds el al (2011) published in Philosophical Transactions of the Royal Society B. |
"The main merit of this plan is to make it more difficult for any governments in the future to convert the lowland parts of these Forest Reserves to oil palm plantation," added Junaidi Payne of Borneo Rhino Alliance.
The move boosts Sabah's protected areas to 1.3 million hectares, about 18 percent of its total land area. Oil palm plantations, a major driver of forest conversion in Sabah since the mid-1980s, cover about 1.4 million hectares across the state.
Sabah's lowland forests have also suffered from heavy industrial logging, which have largely depleted the state's timber resources. Sabah's forests are nevertheless in considerably better shape than those in neighboring Sarawak, which have been, and continue to be, decimated by logging and conversion to plantations.
A coalition of environmental groups and businesses in Sabah are now leading a push toward greener development, including more sustainable use of its forests and a low carbon economy.
Cynthia Ong, founder of the environmental group LEAP, says the re-gazetting of Ulu Segama and Gunung Rara is a step toward this vision.
"Nationally and regionally, Sabah is emerging as a leader in pushing the boundaries in management of natural ecosystem services, and for treating forests as stores of water, carbon and biodiversity rather than just as timber sources," she said. "We still have major problems and issues to address, but this is the sort of change that we do want to see."
Related articles
Industrial logging leaves a poor legacy in Borneo's rainforests
(07/17/2012) For most people "Borneo" conjures up an image of a wild and distant land of rainforests, exotic beasts, and nomadic tribes. But that place increasingly exists only in one's imagination, for the forests of world's third largest island have been rapidly and relentlessly logged, burned, and bulldozed in recent decades, leaving only a sliver of its once magnificent forests intact. Flying over Sabah, a Malaysian state that covers about 10 percent of Borneo, the damage is clear. Oil palm plantations have metastasized across the landscape. Where forest remains, it is usually degraded. Rivers flow brown with mud.
In pictures: Rainforests to palm oil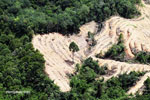 (07/02/2012) In late May I had the opportunity to fly from Kota Kinabalu in Malaysian Borneo to Imbak Canyon and back. These are some of my photos. Historically Borneo was covered by a range of habitats, including dense tropical rainforests, swampy peatlands, and natural grasslands. But its lowland forests have been aggressively logged for timber and then converted for oil palm plantations.