Forest cover in Sumatra, 1990-2010.
The extent of old-growth forest in Sumatra shrank by 40 percent over the past 20 years, while overall forest on the Indonesian island declined by 36 percent, finds a comprehensive new satellite-based assessment published in Environmental Research Letters.
The research, conducted by an international team led by Belinda Arunarwati Margono of South Dakota State University and Indonesia's Ministry of Forestry, reveals the dire condition of Sumatra's once extensive rainforests. Overall Sumatra lost 7.5 million hectares of forest between 1990 and 2010, of which about 2.6 million hectares was primary forest. The bulk of forest loss occurred in secondary forests that had been previously degraded by logging. Only 8 percent of Sumatra retains virgin forest.
Deforestation by province in Sumatra, 1990-2010. NOTE: The authors use "primary degraded forest" to refer to natural forest that has been disturbed, mostly by logging activities. It is quite similar with what is usually termed "degraded forest". However, in Indonesia, the term of "degraded forests" is sometimes used in place of "secondary forests", which are forests in a state of regrowth after clearing.
Primary forest and total forest cover by province in Sumatra: Aceh, North Sumatra, West Sumatra, Riau, Jambi, South Sumatra, Bengkulu, and Lampung.

However not all the news was bad for Sumatra's forests. The data showed a 61 percent decline in the annual rate of clearing between the 1990s and the 2000s, falling from 542,000 to 211,000 hectares per year. The area of forest degraded by logging also plunged from 192,000 ha per year to 40,000. Primary forest loss between 2000 and 2010 fell to 42,000 hectares annually, down from 218,000 the decade earlier.
Some of the slowing was likely due to depletion of Sumatra's timber stocks as well was the restoration of governance following the anarchy in the aftermath of General Suharto's downfall in 1997-1998, when vast areas of forest were cleared. However, the data also suggests that conservation areas may be contributing to the slow-down. Forests zoned for conservation and protection forests lost only 1.3 and 4 percent of their cover respectively between 2000 and 2010. By comparison, areas zoned for logging and conversion to industrial plantations lost between 19 and 39 percent during the period. (A study published earlier this year disagrees).
Primary forest zoned for different use by province in Sumatra, 1990-2010. Chart shows area zoned as protection forests (HL), conservation forests (HK), regular production forests (HP), limited production forests (HPT), convertible production forests (HPK), and outside forest land use zone (APL)

Riau Province had the highest rate of forest loss in Sumatra. It accounted for 42 percent of deforestation on the island between 1990 and 2010.
The study also assessed drivers of deforestation and degradation. It noted that in the 1950s through the 1960s agricultural expansion for rice cultivation and smallholder clearance for rubber and coffee were the main drivers of forest loss. In the 1970s through the late 1990s, large-scale commercial logging operations and forest plantations were the dominant factors, with the state-sponsored transmigration program and the 1982-1983 fires playing secondary roles. After 1990, oil palm plantations and pulp and paper plantations became the biggest causes of deforestation. Illegal logging drove forest degradation.
Sumatra is the only place on earth where elephants, rhinos, tigers, and orangutans are naturally found together. However all four species are imperiled by deforestation.
Share of forest deforestation by province in Sumatra, 2000-2010

Map of forest cover in Sumatra, 2010. Courtesy of Belinda Arunarwati Margono et al 2012.

CITATION: Belinda Arunarwati Margono, Svetlana Turubanova, Ilona Zhuravleva, Peter Potapov, Alexandra Tyukavina, Alessandro Baccini, Scott Goetz and Matthew C Hansen. Mapping and monitoring deforestation and forest degradation in Sumatra (Indonesia) using Landsat time series data sets from 1990 to 2010. Environ. Res. Lett. 7 034010
doi:10.1088/1748-9326/7/3/034010 Published 19 July 2012>
Related articles
APP's new 'sustainability roadmap' won't spare unprotected tiger habitat in Sumatra
(07/27/2012) Asia Pulp & Paper's new sustainability commitment represents a scaling back of earlier environmental pledges and does not offer new protection for natural forests in Sumatra, alleges a new report from Eyes on the Forest, a coalition of green groups based in Riau, Sumatra.
Charts: deforestation in Indonesia and Malaysia, 2000-2010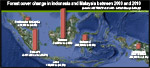 (07/15/2012) Indonesia and Malaysia lost more than 11 million hectares (42,470 square miles) of forest between 2000 and 2010, according to a study published last year in the journal Global Change Biology. The area is roughly the size of Denmark or the state of Virginia. The bulk of forest loss occurred in lowland forests, which declined by 7.8 million hectares or 11 percent on 2000 cover. Peat swamp forests lost the highest percentage of cover, declining 19.7 percent. Lowland forests have historically been first targeted by loggers before being converted for agriculture. Peatlands are increasingly converted for industrial oil palm estates and pulp and paper plantations.
New Google Earth tool maps deforestation, threatened forests in Sumatra
(05/24/2012) The World Wildlife Fund (WWF) and a coalition of Indonesian environmental groups known as Eyes on the Forest have released a new Google Earth-based tool that maps forests, land use, carbon stocks, and biodiversity across the Indonesian island of Sumatra.
Indonesia's Environment Ministry to sue APP, APRIL in $225B illegal logging case
(05/03/2012) Indonesia's Ministry of Environment is planning to sue 14 pulp and paper companies for illegally logging forests in Riau Province on the island of Sumatra, reports Tempo Magazine. 12 of the 14 companies are linked to Asia Pulp & Paper (APP) and Asian Pacific Resources International Holdings Limited (APRIL), pulp and paper giants that have been heavily criticized by environmentalists for destroying rainforests and peatlands that serve as critical habitat for endangered tigers, elephants, and orangutans.
WWF: Asia Pulp & Paper misleads public about its role in destroying Indonesia's rainforests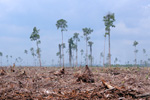 (12/16/2011) Asia Pulp & Paper (APP) continues to mislead the public about its role in destroying rainforests and critical tiger habitat across the Indonesian island of Sumatra, alleges a new report from Eyes on the Forest, a coalition of Indonesian environmental groups including WWF-Indonesia. The report, titled The truth behind APP's Greenwash, is based on analysis of satellite imagery as well as public and private documentation of forest cleared by logging companies that supply APP, which is owned by the Indonesian conglomerate, Sinar Mas Group (SMG). The report concludes APP's fiber suppliers have destroyed 2 million hectares of forest in Sumatra since 1984.
Palm oil, paper drive large-scale destruction of Indonesia's forests, but account for diminishing role in economy, says report
(07/27/2011) Indonesia's forests were cleared at a rate of 1.5 million hectares per year between 2000 and 2009, reports a new satellite-based assessment by Forest Watch Indonesia (FWI), an NGO. Expansion of oil palm and wood-pulp plantations were the biggest drivers of deforestation, yet account for a declining share of the national economy. The study, which compared year 2000 data with 2009 Landsat images from NASA, found that Indonesia's forest cover declined from 103.32 million hectares to 88.17 million hectares in ten years. Since 1950 Indonesia lost more than 46 percent of its forests.
Pulp and paper firms urged to save 1.2M ha of forest slated for clearing in Indonesia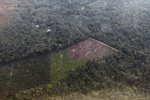 (03/17/2011) Indonesian environmental groups launched a urgent plea urging the country's two largest pulp and paper companies not to clear 800,000 hectares of forest and peatland in their concessions in Sumatra. Eyes on the Forest, a coalition of Indonesian NGOs, released maps showing that Asia Pulp and Paper (APP) and Asia Pacific Resources International Limited (APRIL) control blocks of land representing 31 percent of the remaining forest in the province of Riau, one of Sumatra's most forested provinces. Much of the forest lies on deep peat, which releases large of amount of carbon when drained and cleared for timber plantations.
Indonesian Borneo and Sumatra lose 9% of forest cover in 8 years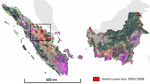 (02/25/2011) Kalimantan and Sumatra lost 5.4 million hectares, or 9.2 percent, of their forest cover between 2000/2001 and 2007/2008, reveals a new satellite-based assessment of Indonesian forest cover. The research, led by Mark Broich of South Dakota State University, found that more than 20 percent of forest clearing occurred in areas where conversion was either restricted or prohibited, indicating that during the period, the Indonesian government failed to enforce its forestry laws.
Does chopping down rainforests for pulp and paper help alleviate poverty in Indonesia?
(01/13/2011) Over the past several years, Asia Pulp & Paper has engaged in a marketing campaign to represent its operations in Sumatra as socially and environmentally sustainable. APP and its agents maintain that industrial pulp and paper production — as practiced in Sumatra — does not result in deforestation, is carbon neutral, helps protect wildlife, and alleviates poverty. While a series of analyses and reports have shown most of these assertions to be false, the final claim has largely not been contested. But is conversion of lowland rainforests for pulp and paper really in Indonesia's best economic interest?
Pulp plantations destroying Sumatra's rainforests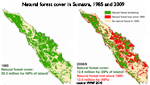 (11/30/2010) Indonesia's push to become the world's largest supplier of palm oil and a major pulp and paper exporter has taken a heavy toll on the rainforests and peatlands of Sumatra, reveals a new assessment of the island's forest cover by WWF. The assessment, based on analysis of satellite imagery, shows Sumatra has lost nearly half of its natural forest cover since 1985. The island's forests were cleared and converted at a rate of 542,000 hectares, or 2.1 percent, per year. More than 80 percent of forest loss occurred in lowland areas, where the most biodiverse and carbon-dense ecosystems are found.