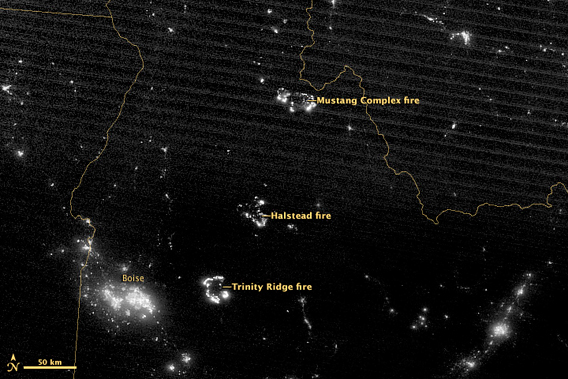 Three large wildfires in Idaho. Image courtesy of NASA. Click to enlarge.




NASA is now able to capture satellite images of wildfires—at night. Using the The Suomi National Polar-orbiting Partnership satellite (S-NPP), which has instruments that are particularly sensitive to light, NASA was able to take images of fires burning nocturnally across the American West in what has been a record year, to date, for fires in the country.
As of Sunday, 6.8 million acres of fires have burned in the U.S. so far. High temperatures—July was the warmest month ever recorded in the last year—and drought conditions across much of the U.S. have helped fuel astounding fires, including the Waldo Canyon Fire in Colorado which made headlines worldwide.
Meanwhile, a deluge of new studies have been making connections between extreme weather, such as heatwaves and droughts, and climate change. A recent statistical analysis by NASA scientists directly implicated climate change for heatwaves worldwide during the last few years. Research such as this has led a number of leading climatologists to argue that climate change is likely playing a role in current wildfires.
Experts also say that a massive infestation of bark beetles and low snow pack, both of which may also be linked to climate change, as well as the practice of suppressing small fires has made matters worse.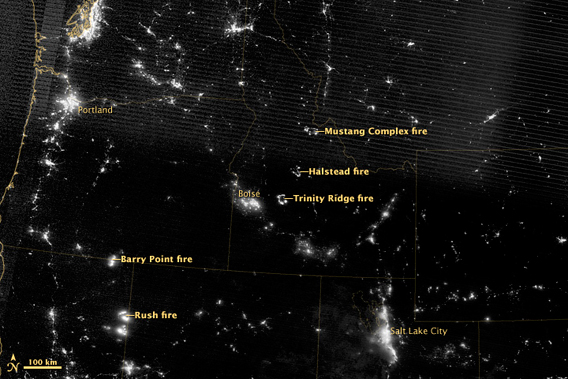 Big cities outshine most of the wildfires. Image courtesy of NASA. Click to enlarge.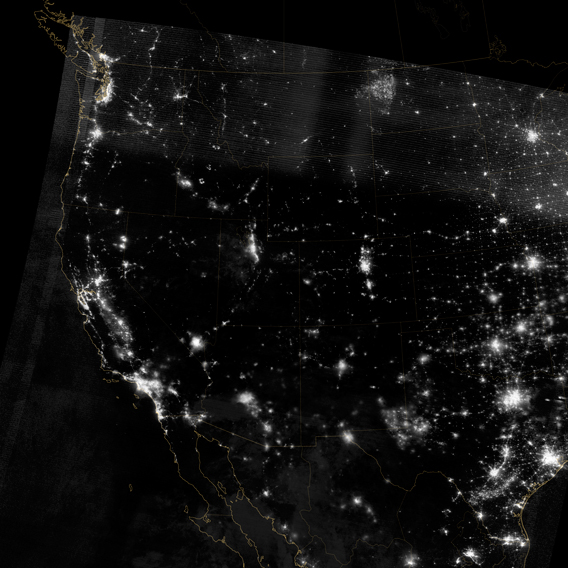 Large view of U.S. West at night. Image courtesy of NASA. Click to enlarge.