Greenpeace highlights community model for palm oil production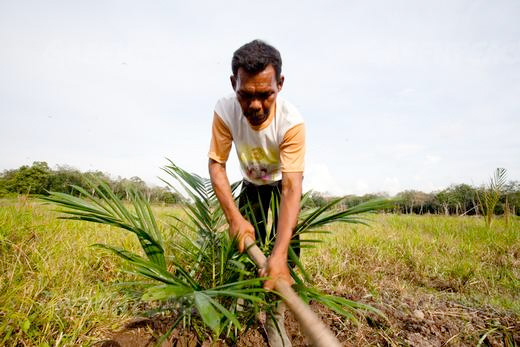 Farmer Dahlan plants a symbolic first palm oil tree on previously degraded land. © Greenpeace / John Novis

Palm oil production need not come at the expense of the environment, says Greenpeace in a new campaign that highlights a smallholder approach used by a community in Riau Province on the island of Sumatra.
The campaign — noted in July on Mongabay-Indonesia — looks at the village of Dosan, which manages an oil palm plantation and has committed to not expanding into forest areas. According to Greenpeace, the Dosan community is "moving to improved environmental management practices that include zero burning, no herbicide use and improved water management." At the same time the community has boosted yields through better management practices.
Greenpeace says the developments are helping Dosan maintain the health of a nearby peatland area. Generally peat forests are drained for oil palm plantations, releasing carbon and increasing the vulnerability of the area to fire.
Dhalan, a community leader, said protecting the forest is important for Dosan.
"In Dosan Village, forests have always been part of our life. From the start of our community palm oil program, everyone takes part of the work and everyone has been part of the benefits," he was quoted as saying. "We made it a village law not to expand plantations further. If we can keep it that way, I am sure the Sumatran forests can be saved."
Greenpeace says Dosan could be a model for small-holders in other parts of Indonesia. But small-holders represent only a fraction of plantation acreage and palm oil production in Indonesia. Most oil palm estates are company-owned or state-controlled. For those, Greenpeace points to Golden Agri Resources (GAR) as a potential model.
| | |
| --- | --- |
| | Oil palm workers build a dam at the Dosan palm plantation. Dams help maintain the water table, keeping peat soils moist and their carbon in the ground. Peat forests are often targeted by palm oil developers because they are easier to secure than other forest areas. © Greenpeace / John Novis |
GAR, which is controlled by the Sinar Mas group of companies and owns palm oil producer PT SMART, was targeted by Greenpeace in 2008 for clearing of forests and peatlands. GAR eventually entered into an agreement with The Forest Trust (TFT), an NGO, to to spare forests and peatlands that have more than 35 tons of carbon per hectare. The agreement also binds PT SMART to protecting high conservation value forests and engaging in free, prior informed consent in working with communities living in and around oil palm concessions.
GAR's commitment immediately shifted it from a pariah to a leader in the eyes of some environmentalists. Subsequent analysis of GAR's plantations by Greenomics, an independent NGO, has shown the company to be mostly abiding by its forest policy.
Greenpeace has targeted the palm oil industry for its role in deforestation in Indonesia. The conversion of vast tracts of rainforests and peatlands in Sumatra, Indonesian Borneo, and Indonesian New Guinea has released hundreds of millions of tons of carbon emissions while putting some of the country's most endangered species — including orangutans, tigers, elephants, and rhino — at further risk. Oil palm plantations are now rapidly being established in other parts of the world including New Guinea, Central and South America, and West and Central Africa. Environmentalists fear that without proper safeguards and oversight, those plantations could cause substantial damage to biodiversity and climate.
Within Indonesia there is great potential to expand palm oil production without clearing additional forests. Indonesia has tens of millions of hectares of degraded land that was long-ago deforested and has little likelihood of seeing natural forest recovery. Because much of this land is claimed by communities, developing palm plantations on it could generate local livelihoods.
Jason Clay, Senior Vice President of Market Transformation at WWF, says a benefits-sharing model similar to an employee stock ownership plan (ESOP) whereby communities would grow oil palm on small plots and eventually own a stake in the palm oil mill they supply could improve equity and better align incentives between smallholders and companies.
"We've got to figure out globally how smallholders can go to scale," he said. "Joint-ventures between communities and companies are a possibility."

Oil palm plantations in Borneo
Palm oil is used widely as cooking oil and as an ingredient is processed foods, cosmetics, and industrial products. It is the highest yielding of commercial oilseeds.
Related articles
Palm oil giant moves forward on zero deforestation initiative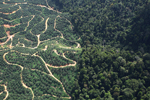 (06/05/2012) One of the world's largest palm oil companies has become the first to identify and disclose high carbon forests and peatlands in its concessions. Golden Agri-Resources Limited (GAR), the owner of Indonesia's palm oil giant PT SMART Tbk, on Monday published a carbon assessment of its holdings in Indonesian Borneo. The report is an important milestone under GAR's forest conservation policy, which prohibits conversion of land with more than 35 tons of carbon per hectare and moves the company toward a zero deforestation target.
Palm oil giant making good on forest commitment in Indonesia, finds independent analysis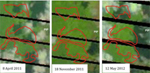 (05/29/2012) Palm oil giant PT SMART appears to be honoring its commitment to avoid conversion of high carbon forests in Indonesian Borneo, reports a new assessment published by Greenomics, an Indonesian environmental activist group. The report was issued 15 months after PT SMART — a subsidiary of Singapore-based Golden Agri Resources (GAR) and owned by Indonesia's Sinarmas Group — signed a landmark agreement with The Forest Trust (TFT) to spare forests and peatlands that have more than 35 tons of carbon per hectare. The deal came after a damaging Greenpeace campaign, which targeted PT SMART for clearing orangutan habitat in Kalimantan and cost the company millions of dollars in contracts.
Palm oil giant to produce 100% segregated, RSPO-certified palm oil
(05/23/2012) 100 percent of New Britain Palm Oil Limited's palm oil will be eco-certified, segregated, and fully traceable by the end of the year, reports the Roundtable on Sustainable Palm Oil (RSPO).
In sustainability push, Unilever aims to build palm oil processing plant in Indonesia
(04/25/2012) Unilever is in talks to build a $130 million palm oil processing mill in Indonesia as part of its commitment to use more environmentally-friendly palm oil in its products, reports The Wall Street Journal. The mill, which would be located in Sumatra, would produce about 10 percent of Unilever's annual consumption of palm oil, which is produced from fruit from the oil palm tree. Unilever is the world's largest single consumer of palm oil, using 1.36 million tons a year for beauty and food products, including Dove soap, Ben & Jerry's ice cream, and Vasoline.
Certified palm oil profitable for companies, finds study
(04/06/2012) A new study suggests shifting to certified palm oil production increases profitability despite higher production costs.
Palm oil giant misled the public on violent conflict with local communities
(11/21/2011) Palm oil giant Wilmar Corp misled the public over a conflict between local communities and one of its subsidiaries in Sumatra, according to a new report published by the Forest Peoples Programme (FPP).
Europe should lift duty on RSPO-certified palm oil to encourage use, says Dutch group
(09/21/2011) To encourage uptake of palm oil that is less damaging to the environment, the European Union (EU) should lift the import duty on palm oil certified under Roundtable on Sustainable Palm Oil (RSPO), said a Dutch industry group.
Could palm oil help save the Amazon?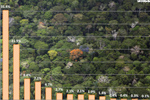 (06/14/2011) For years now, environmentalists have become accustomed to associating palm oil with large-scale destruction of rainforests across Malaysia and Indonesia. Campaigners have linked palm oil-containing products like Girl Scout cookies and soap products to smoldering peatlands and dead orangutans. Now with Brazil announcing plans to dramatically scale-up palm oil production in the Amazon, could the same fate befall Earth's largest rainforest? With this potential there is a frenzy of activity in the Brazilian palm oil sector. Yet there is a conspicuous lack of hand wringing by environmentalists in the Amazon. The reason: done right, oil palm could emerge as a key component in the effort to save the Amazon rainforest. Responsible production there could even force changes in other parts of the world.
RSPO: Labeling palm oil as an ingredient is fine, provided other oils are labeled too
(04/21/2011) The Roundtable on Sustainable Palm Oil (RSPO), a body that sets criteria for social and environmental certification of palm oil, weighed in on the debate on Australia's proposal to require listing of palm oil as an ingredient on package labels. At the same time the RSPO announced its own labeling initiative to distinguish products that use RSPO-certified palm oil from those that do not.
Pro-deforestation group criticizes palm oil giant for sustainability pact
(03/24/2011) World Growth International, a group that advocates on behalf of industrial forestry interests, has criticized Golden Agri Resources (GAR), Indonesia's largest palm oil producer, for signing a forest policy that aims to protect high conservation value and high carbon stock forest and requires free, prior informed consent (FPIC) in working with communities potentially affected by oil palm development. In a newsletter published March 10, World Growth International claimed that GAR's agreement "could severely hamper the company's growth" by limiting where it can establish new plantations and says that negotiating with multiple stakeholders "will delay and complicate any investment by the company." World Growth International concludes by implying that GAR may renege on its commitment. But Peter Heng, Managing Director, Communications and Sustainability at GAR, disagreed with World Growth International's assessment.
Palm oil company gives up land contested by local communities as part of sustainability pledge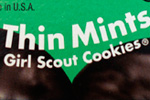 (03/21/2011) An Indonesia palm oil company has relinquished part of its plantation concession to communities that traditionally use the land as part of its commitment to sustainability principles under the Roundtable on Sustainable Palm Oil (RSPO), reports the Forest Peoples Programme. The move is a response to a new procedure that could reduce conflict between palm oil developers and forest-dependent communities.
Breakthrough? Controversial palm oil company signs rainforest pact
(02/09/2011) One of the world's highest profile and most controversial palm oil companies, Golden Agri-Resources Limited (GAR), has signed an agreement committing it to protect tropical forests and peatlands in Indonesia. The deal—signed with The Forest Trust, an environmental group that works with companies to improve their supply chains—could have significant ramifications for how palm oil is produced in the country, which is the world's largest producer of palm oil.
Greening the world with palm oil?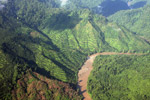 (01/26/2011) The commercial shows a typical office setting. A worker sits drearily at a desk, shredding papers and watching minutes tick by on the clock. When his break comes, he takes out a Nestle KitKat bar. As he tears into the package, the viewer, but not the office worker, notices something is amiss—what should be chocolate has been replaced by the dark hairy finger of an orangutan. With the jarring crunch of teeth breaking through bone, the worker bites into the "bar." Drops of blood fall on the keyboard and run down his face. His officemates stare, horrified. The advertisement cuts to a solitary tree standing amid a deforested landscape. A chainsaw whines. The message: Palm oil—an ingredient in many Nestle products—is killing orangutans by destroying their habitat, the rainforests of Borneo and Sumatra.
U.S. companies should help drive push toward sustainable palm oil
(11/09/2010) U.S. companies should take a leadership role in helping ensure that palm oil production is sustainable and does not come at the cost of forests, climate, and communities, argues a new report published ahead of the annual meeting of the Roundtable on Sustainable Palm Oil (RSPO). The report, published by the National Wildlife Federation (NWF), says that while the U.S. is only a minor consumer of palm oil, its demand for the vegetable oil is fast rising, increasing four-fold since 2006. Palm oil, which is among the cheapest of vegetables owing to its high yield, is now found in up to 50 percent of packaged retail food products.
Nestle's palm oil debacle highlights current limitations of certification scheme
(03/26/2010) Last week Nestle, the world's largest food processor, was caught in a firestorm when it attempted to censor a Greenpeace campaign that targeted its use of palm oil sourced from a supplier accused of environmentally-damaging practices. The incident brought the increasingly raucous debate over palm oil into the spotlight and renewed questions over an industry-backed certification scheme that aims to improve the crop's environmental performance.
Consumers should help pay the bill for 'greener' palm oil
(01/12/2010) Palm oil is one of the world's most traded and versatile agricultural commodities. It can be used as edible vegetable oil, industrial lubricant, raw material in cosmetic and skincare products and feedstock for biofuel production. Growing global demand for palm oil and the ensuing cropland expansion has been blamed for a wide range of environmental ills, including tropical deforestation, peatland degradation, biodiversity loss and CO2 emissions. In response to these concerns, a group of stakeholders—including activists, investors, producers and retailers—formed the Roundtable on Sustainable Palm Oil (RSPO) to develop a certification scheme for palm oil produced through environmentally- and socially-responsible ways. It is widely anticipated that the creation of a premium market for RSPO-certified sustainable palm oil (CSPO) would incentivize palm oil producers to improve their management practices.