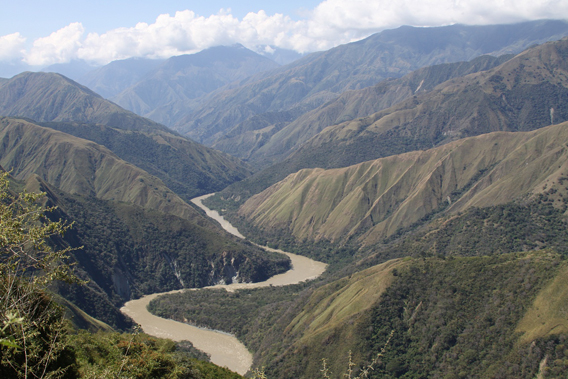 Dry forest and canyons along the Cauca River. The forests in these photos will soon be submerged by the Pescadero-Ituango dam. Photo by: Carlos Esteban Lara.
In a little-known dry forest in Colombia, scientists have discovered a new species of bird: the Antioquia wren (Thryophilus sernai). First seen in 2010, scientists photographed the new wren and recorded its vocalizations, from which they determined that the wren was brand new to science, according to a new paper in Auk.
"[It took] good ears and, good eyes, both in the correct moment and place," lead author Carlos Esteban Lara with the National University of Colombia told mongabay.com about the discovery. After the initial sighting, Lara and colleagues "started a two year study of data on natural history, distribution, vocalizations, morphology, and genetic variation."
Found along the Cauca River in Colombia's Ituango municipality, the bird is distinct both in its coloring and song.
| | |
| --- | --- |
| | The Antioquia wren (Thryophilus sernai). Photo by: Carlos Esteban Lara. |
However, even as the species is first discovered, it may soon be gone. An increase in mining, tourism infrastructure, and deforestation for agriculture in the region has resulted in widespread habitat loss. Moreover, none of region's dry forest is currently protected. Lara dubs these "critical problems" for the future of the Antioquia wren, but adds that the Pescadero-Ituango hydroelectric project could be the fatal blow.
"This dam will flood the remnant tracts of dry forest in the northern end of the new species' range," says Lara, noting that this is the species' "best forest."
If completed the Pescadero-Ituango will be Colombia's largest dam with an installed capacity of 2,400 megawatts.
Ituango's dry forests are also home to the military macaw (Ara militaris) and the recurve-billed bushbird (Clytoctantes alixii), both of which are threatened (Vulnerable and Endangered respectively) according to the IUCN Red List.
Tropical dry forests are ecosystems that not only receive significantly less moisture than rainforests, but also have evolved to survive annual dry seasons with trees often dropping leaves during drought. Lara says that while tropical rainforests garner the bulk of attention worldwide, tropical dry forests are actually more endangered in Colombia.
"[Dry forest] has only five percent of its originally extension, and there has been growing pressure [to convert remaining forest to] agricultural fields," he says, adding that while rainforests are threatened in Colombia they cover a much wider area than dry forest "which is only known isolated in a few localities of Colombia."
Lara urges more research in Colombia's dry forests as he believes other new species may be hiding in the vanishing ecosystem.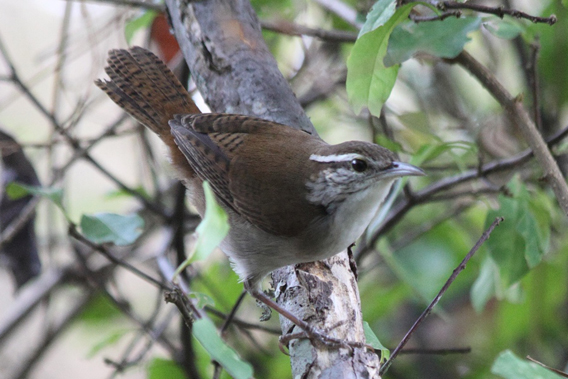 The Antioquia wren (Thryophilus sernai). Photo by: Carlos Esteban Lara.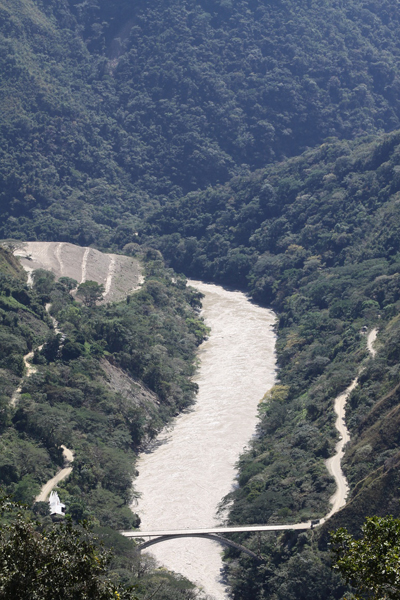 This forest will be flooded by the Pescadero-Ituango dam. Photo by: Carlos Esteban Lara.
CITATION: Lara, C. E., A. M. Cuervo, S. V. Valderrama, D. Calderón-F. & C. D. Cadena. 2012. A new species of wren (Troglodytidae: Thryophilus) from the dry Cauca River Canyon, northwestern Colombia. The Auk 129: 537–550
Related articles
New owl species discovered in the Philippines
(08/19/2012) Two new owl species have been described in the Philippines, reports Inquirer News.
Velociraptor spider discovered in Oregon cave (pictures)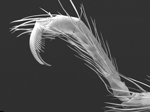 (08/17/2012) Scouring the caves of Southwest Oregon, scientists have made the incredible discovery of a fearsome apex predator with massive, sickle claws. No, it's not the Velociraptor from Jurassic Park: it's a large spider that is so unique scientists were forced to create a new taxonomic family for it. This is the first new spider family to be discovered in North America in over 130 years. 'This is something completely new,' lead author of a paper on the species, Charles Griswold with the California Academy of Sciences, told SFGate. 'It's a historic event.'
Scientists discover beautiful new insect species after stumbling upon photos on Flickr
(08/09/2012) Scientists have discovered a previously unknown species of lacewing insect after stumbling upon a series of photos posted on Flickr®, according to a paper published in the journal ZooKeys.
Beautiful new bird discovered in Peruvian cloud forest
(08/07/2012) Four years ago in a remote cloud forest in Peru's Cerros del Sira mountain range, three recently graduated students from Cornell University discovered a never-before-recorded species of black, white, and scarlet bird. Now described in the scientific journal, The Auk, the bird has been dubbed the Sira barbet (Capito fitzpatricki).
'The lion of the cave:' new predatory, swimming cricket discovered in Venezuela
(08/06/2012) Scientists have discovered what is likely a new species of cricket that is the top predator of its lightless world: a cave in a Venezuelan tepui. The fauna of cave was documented by BBC filmmakers as researchers uncovered not only a large, flesh-eating cricket but a new species of catfish.
3000 new species of amphibians discovered in 25 years
(07/31/2012) The number of amphibians described by scientists now exceeds 7,000, or roughly 3,000 more than were known just 25 years ago, report researchers in Berkeley.
New Malaysian snail named after late conservation mentor
(07/30/2012) Researchers have discovered a new snail, which is so unusual that it has been granted its own genus: Kenyirus. To date, the mysterious forest snail, found in Malaysia's Kenyir Forest, is only known from its unique shell.
First pictures of newly discovered monkey in China published
(07/27/2012) Researchers have published the first evidence that a recently discovered monkey ranges into China, releasing pictures of the Rhinopithecus strykeri snub-nosed monkey in its natural habitat in Yunnan province. The photos are published in the current issue of the American Journal of Primatology.