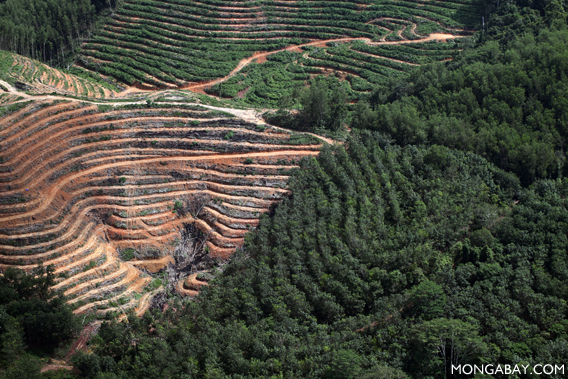 Industrial timber plantation in Borneo. Photo by Rhett A. Butler.
Indonesia's ambitious targets for boosting pulp and paper production to make it the world's lowest-cost producer are at odds with its push for green economic growth should expansion proceed on its current business-as-usual path, said a forestry expert presenting at the annual meeting of the Association for Tropical Biology and Conservation (ATBC) in Bonito, Brazil.
Christopher Barr, director of US-based non-profit Woods & Wayside International, said that while Indonesian President Susilo Bambang Yudhoyono has made a series of "progressive" and "apparently sincere" statements on combating climate change, reducing deforestation, and developing sustainable forestry, strong forestry sector interests have effectively undermined Indonesia's moratorium on new forest concessions, making it difficult to achieve the president's "7/26" plan for reducing emissions 26 percent from a projected 2020 baseline while maintaining 7 percent economic growth.
The forestry moratorium, which was originally expected to suspend logging and conversion of all forests for a two-year period, instead only set aside 14.5 million hectares of peatlands and primary forest, leaving 34 million hectares unprotected. Barr noted the conservation initiative was undermined only weeks after it was signed when the Ministry of Forestry signaled that it planned to zone an additional 11.8 million hectares of forest land for conversion to industrial timber plantations, raising the total allocation in Indonesia to 21.2 million hectares, or nearly 11 percent of the nation's total land area. Many of the timber plantations are slated for Indonesian provinces of Papua, West Papua, and Central Kalimantan, which currently have few such plantations. Meanwhile the pulp and paper industry is reportedly aiming to more than double pulp capacity to 20 million metric tons per year by 2020. Such expansion would likely place added pressures on carbon-dense peatlands, where there are fewer land claims by local communities.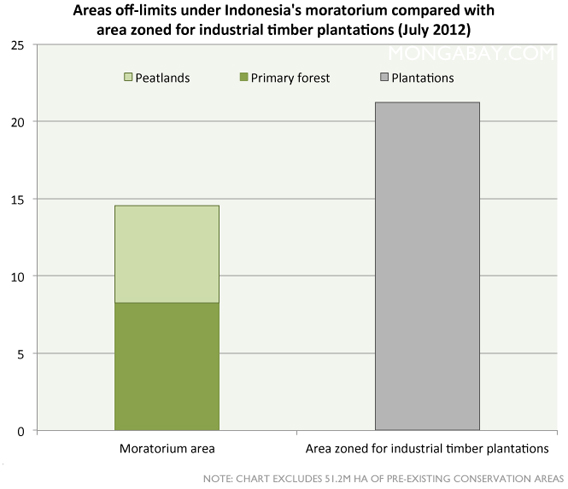 Industrial timber plantations vs. peatlands and primary forest protected under Indonesia's 2-year moratorium.
"I have a hard time envisioning this capacity expansion while reducing emissions," Barr said during a symposium on changing drivers of deforestation organized by mongabay.com. He added that securing enough fiber (94 million cubic meters) to meet the planned capacity would require approximately 7.1 million hectares of gross plantation area.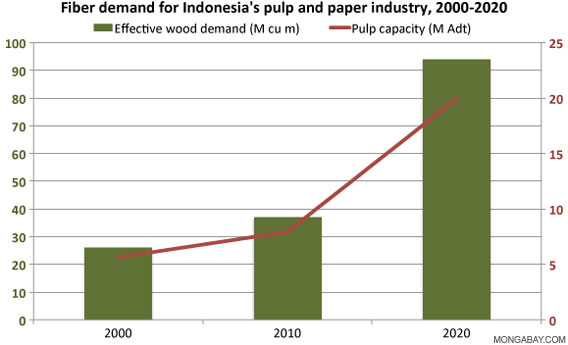 Past and forecast demand and production targets for Indonesia's pulp and paper industry.
Expansion is already under way. An affiliate of Asia Pulp & Paper is reportedly planning to build a new pulp mill with an initial annual capacity of 1.5 million metric tons in South Sumatra, while APRIL's Riau Andalan Pulp & Paper (RAPP) recently expanded its pulp capacity from 2.2 million tonnes per year to 3 million tonnes. Unusually, neither paper giant made public announcements about the expansion, possibly a result of recent criticism from environmental groups about the pulp and paper sector's impact on Sumatra's forests, which have been halved since 1985. New mills in Indonesia generally rely on fiber from natural forests until they have established enough acacia or eucalyptus plantations to meet their needs.
"Typically investments in pulp capacity occur well ahead of plantations," Barr said.
The model works well for pulp and paper giants. By building the mill first, it fosters an inevitability that fiber supplies will be made available, usually in the form of low-cost wood from natural forests. If officials object, the pulp operator can threaten to default on loans, which can top a billion dollars for a project, or lay off workers. Meanwhile local communities may lose access to forest lands licensed for concessions, sparking conflict. In an extreme case, last year demonstrators sewed their mouths shut in a protest against RAPP's new concession on Padang Island.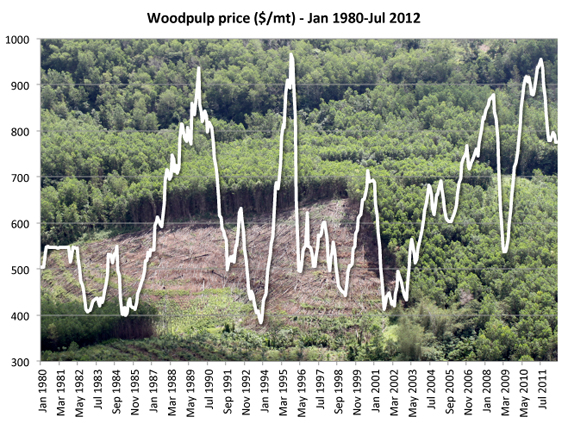 Global woodpulp price since 1980 according to the World Bank.
The environmental footprint of pulp and paper in Indonesia is also substantial. APP and APRIL are accused by scientists and green groups of destroying key habitat for endangered species, including Sumatran orangutans, rhinos, elephants, and tigers. Further, emissions from operations can dwarf the carbon sequestered by new plantations, calling into question whether Indonesia can meet both its greenhouse gas emissions targets and pulp and paper production goals, especially should expansion occur in peatlands and forest areas currently zoned for plantations.
Accordingly, Barr said the industry needs to answer some key questions to clarify whether planned expansion can be considered "sustainable".
"To what extent will new pulp capacity intensify pressures on natural forests and peatlands?" asked Barr.
"Ultimately, can the government of Indonesia achieve its carbon reduction targets if Indonesia's pulp industry expands in high-carbon landscapes?"
Related articles
APP's new 'sustainability roadmap' won't spare unprotected tiger habitat in Sumatra
(07/27/2012) Asia Pulp & Paper's new sustainability commitment represents a scaling back of earlier environmental pledges and does not offer new protection for natural forests in Sumatra, alleges a new report from Eyes on the Forest, a coalition of green groups based in Riau, Sumatra.
Another red herring from Asia Pulp & Paper on its deforestation problem
(05/29/2012) In a press release issued last Thursday, Asia Pulp & Paper (APP) asserted that the presence of mixed tropical hardwood fiber (MTH) in its products 'does not come from the felling of virgin tropical rainforest trees in Indonesia'. The embattled paper giant goes on to say that 'the presence of MTH fiber says nothing about whether the product is sustainable or not" and that "MTH can be found easily in recycled paper.' All these points are true. But what APP doesn't tell you is that its response is yet another facade in its effort to deflect criticism from its forestry practices.
Asia Pulp & Paper to temporarily suspend rainforest clearing in Indonesia
(05/16/2012) Asia Pulp & Paper (APP), a forestry giant that has been heavily criticized for destroying rainforests and peatlands in Indonesia, will temporarily suspend clearing of natural forest areas until conservation assessments have been conducted.
Ongoing deforestation puts APP in breach of debt restructuring agreements, finds report
(03/27/2012) Asia Pulp & Paper (APP) has broken "legally binding" debt restructuring agreements by continuing to clear native forests in Sumatra, alleges a new report from Eyes on the Forest, a coalition of Indonesian environmental groups.
Ministry of Forestry signed off on clearing of forest with protected species in Indonesia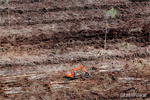 (03/15/2012) Indonesia's Ministry of Forestry signed off on a plan by Asia Pulp & Paper (APP) suppliers to log areas of forest that contained protected ramin species, according to documents released by Greenomics-Indonesia, an activist group. The micro-delineation documents, which are required to win approval for forestry projects in Indonesia, confirm that APP suppliers were aware that ramin trees were present in the concessions, which have since been converted to wood-pulp plantations.
Investigation links APP to illegal logging of protected trees
(03/01/2012) A year-long undercover investigation has found evidence of Asia Pulp and Paper (APP) companies cutting and pulping legally protected ramin trees, a practice that violates both Indonesian and international law. Found largely in Sumatra's peatswamp forests, the logging of ramin trees (in the genus Gonystylus) has been banned in Indonesia since 2001; the trees are also listed under Appendix II of the Convention on International Trade in Endangered Species (CITES) and thus require special permits to export. The new allegations come after APP, an umbrella paper brand, has lost several customers due to its continued reliance on pulp from rainforest and peatland forests in Sumatra.
Paper giant hammered on forest certification claims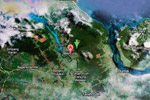 (02/15/2012) Beleaguered paper giant Asia Pulp & Paper was sharply criticized Wednesday for its claims that its operations are certified sustainable by independent auditors. WWF said its survey of certifiers and certification schemes shows that none apply to 'the most controversial operations' of APP's suppliers: clearing of rainforests and peatlands that are home to endangered tigers, elephants, and orangutans. In responding to complaints from environmentalists that its operations are responsible for large-scale destruction of native forests, APP often touts various certification standards which it says demonstrate its commitment to sustainability. Yet the new WWF survey found that these standards don't apply across all of the paper giant's operations — APP's suppliers in Indonesia continue to harvest and convert natural forests. Nor do the certification standards necessarily prove that APP's forest management practices are 'sustainable'.
Some toilet paper production destroys Indonesian rainforests, endangering tigers and elephants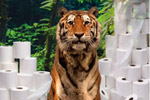 (02/09/2012) American consumers are unwittingly contributing to the destruction of endangered rainforests in Sumatra by purchasing certain brands of toilet paper, asserts a new report published by the environmental group WWF. The report, Don't Flush Tiger Forests: Toilet Paper, U.S. Supermarkets, and the Destruction of Indonesia's Last Tiger Habitats, takes aim at two tissue brands that source fiber from Asia Pulp & Paper (APP), a paper products giant long criticized by environmentalists and scientists for its forestry practices on the Indonesian island of Sumatra. The brands — Paseo and Livi — are among the fastest growing, in terms of sales, in the United States.
Sinar Mas Group seeks 'backdoor' public listing in Singapore
(01/27/2012) Sinar Mas Group, an Indonesia-based conglomerate, is working on a deal to list its Indonesian coal assets on the Singapore Exchange by swapping shares with a small forestry firm that is already listed on the stock market, reports Reuters. The move would enable Sinar Mas Group to more easily raise capital for expansion.
Extreme mouth-sewing protest in Indonesia leads to logging inquiry
(01/09/2012) A protest in which 28 Indonesian sewed their mouths shut has led to an inquiry into a logging concession on Padang Island. The Ministry of Forestry has formed a mediation team to look into the controversial concession, reports Kompas. Around a hundred natives of Padang Island rallied for weeks against the logging concession held by PT Riau Andalan Pulp and Paper (RAPP), which covers 37 percent of the island's total land.
New analysis supports claim that paper giant cleared part of its tiger sanctuary in Indonesia

(12/21/2011) Asia Pulp & Paper (APP)'s supplier PT Ruas Utama Jaya has indeed cleared an area of forest it pledged to set aside as a tiger conservation reserve in Sumatra reports a legal analysis by Greenomics, an Indonesian environmental group. The Greenomics' analysis supports allegations originally set forth in a report published last week by Eyes of the Forest, a coalition of green groups, and seems to refute a press release issued by APP that called the deforestation allegations 'fiction'.
WWF: Asia Pulp & Paper misleads public about its role in destroying Indonesia's rainforests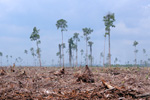 (12/16/2011) Asia Pulp & Paper (APP) continues to mislead the public about its role in destroying rainforests and critical tiger habitat across the Indonesian island of Sumatra, alleges a new report from Eyes on the Forest, a coalition of Indonesian environmental groups including WWF-Indonesia. The report, titled The truth behind APP's Greenwash, is based on analysis of satellite imagery as well as public and private documentation of forest cleared by logging companies that supply APP, which is owned by the Indonesian conglomerate, Sinar Mas Group (SMG). The report concludes APP's fiber suppliers have destroyed 2 million hectares of forest in Sumatra since 1984.
Paper commitments for the Indonesian industry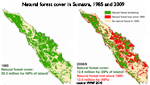 (12/13/2011) The Indonesian group Asia Pulp & Paper (APP) has been the target of many NGOs for years due to its alleged negative impacts on tropical forests. This culminated in a spectacular campaign launched by Greenpeace in 2011 based on Ken "dumping" Barbie. The rationale was that toy brand Mattel was accused of using APP paper products linked to the clear-cutting of natural forests in the Indonesian archipelago. APP organized a counter-attack in the media with the daily publication of advertisements promoting its sustainable development practices. Journalists from all over the world were also invited to attend guided tours of APP concessions to demonstrate their conservation efforts, and a number of articles were subsequently written.
Report questions legitimacy of Asia Pulp & Paper's conservation initiatives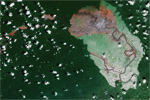 (11/22/2011) A new report by an Indonesian environmental group casts doubt on Asia Pulp & Paper's commitment to sustainability. In its corporate social responsibility reports and advertisements, Asia Pulp & Paper (APP), one of Indonesia's largest pulp and paper suppliers, has touted several forest reserves as indicators of its commitment to environmental stewardship. APP has portrayed these as voluntary, goodwill efforts to conserve Sumatra's endangered wildlife. But in a new report, Greenomics-Indonesia, a Jakarta-based NGO, says that at best these projects represent compliance with existing Indonesian laws or are in areas where commercial exploitation isn't viable.
War of words between Greenpeace, Asia Pulp & Paper over deforestation allegations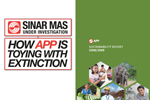 (11/16/2011) Greenpeace and Asia Pulp & Paper (APP), a giant global paper supplier, are locked in a heated battle over the activist group's allegations that APP products contain fiber sourced from the destruction of forests in Indonesia. At stake is APP's access to some of the world's most lucrative markets. Until APP provides solid evidence refuting Greenpeace's accusation that its pulp and paper production isn't coming at the expense of natural forests in Indonesia, APP will have a difficult time winning over critics.
Barbie, Legos, other toys linked to destruction of Indonesia's rainforests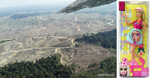 (06/07/2011) Some of the world's largest and most prominent toy-makers are sourcing their packaging materials from companies linked to large-scale destruction of Indonesia's rainforests, alleges a new report from Greenpeace. The report, How APP is Toying with Extinction, is based on forensic analysis of toy packaging from Mattel, which manufacturers Barbie and Hot Wheels toys; Disney, which makes a variety of toys linked to its movies; Hasbro, which produces GI Joe, Star Wars, and Sesame Street toys and various games like Monopoly and Scrabble; and Lego, which makes the iconic plastic building blocks. The analysis found traces of mixed-tropical hardwood (MTH) and acacia fiber which are principally sourced from Asia Pulp & Paper (APP), an umbrella paper products brand that sources from several companies that have been linked to rainforest destruction in Sumatra.
7 conglomerates control 9M ha of land in Indonesia
(05/05/2011) Efforts to slow deforestation in Indonesia should include curtailing further expansion of forestry holdings by giant conglomerates, says an Indonesian activist group. Analyzing data from the Ministry of Forest's Production Forest Utilization Quarterly Report, Jakarta-based Greenomics-Indonesia found that seven conglomerates in Indonesia control more than 9 million hectares of land, including large forest concessions that will likely be exempt from any moratorium on forest clearing established under the country's Reducing Emissions from Deforestation and Degradation (REDD) program. The extent of holdings could complicate Indonesia's efforts to reduce emissions from logging and plantation development.
Pulp and paper firms urged to save 1.2M ha of forest slated for clearing in Indonesia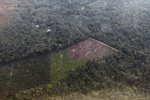 (03/17/2011) Indonesian environmental groups launched a urgent plea urging the country's two largest pulp and paper companies not to clear 800,000 hectares of forest and peatland in their concessions in Sumatra. Eyes on the Forest, a coalition of Indonesian NGOs, released maps showing that Asia Pulp and Paper (APP) and Asia Pacific Resources International Limited (APRIL) control blocks of land representing 31 percent of the remaining forest in the province of Riau, one of Sumatra's most forested provinces. Much of the forest lies on deep peat, which releases large of amount of carbon when drained and cleared for timber plantations.
Does chopping down rainforests for pulp and paper help alleviate poverty in Indonesia?
(01/13/2011) Over the past several years, Asia Pulp & Paper has engaged in a marketing campaign to represent its operations in Sumatra as socially and environmentally sustainable. APP and its agents maintain that industrial pulp and paper production — as practiced in Sumatra — does not result in deforestation, is carbon neutral, helps protect wildlife, and alleviates poverty. While a series of analyses and reports have shown most of these assertions to be false, the final claim has largely not been contested. But is conversion of lowland rainforests for pulp and paper really in Indonesia's best economic interest?
Will Indonesia's big REDD rainforest deal work?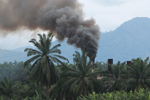 (12/28/2010) Flying in a plane over the Indonesian half of the island of New Guinea, rainforest stretches like a sea of green, broken only by rugged mountain ranges and winding rivers. The broccoli-like canopy shows little sign of human influence. But as you near Jayapura, the provincial capital of Papua, the tree cover becomes patchier—a sign of logging—and red scars from mining appear before giving way to the monotonous dark green of oil palm plantations and finally grasslands and urban areas. The scene is not unique to Indonesian New Guinea; it has been repeated across the world's largest archipelago for decades, partly a consequence of agricultural expansion by small farmers, but increasingly a product of extractive industries, especially the logging, plantation, and mining sectors. Papua, in fact, is Indonesia's last frontier and therefore represents two diverging options for the country's development path: continued deforestation and degradation of forests under a business-as-usual approach or a shift toward a fundamentally different and unproven model based on greater transparency and careful stewardship of its forest resources.
Pulp plantations destroying Sumatra's rainforests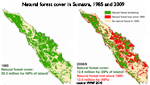 (11/30/2010) Indonesia's push to become the world's largest supplier of palm oil and a major pulp and paper exporter has taken a heavy toll on the rainforests and peatlands of Sumatra, reveals a new assessment of the island's forest cover by WWF. The assessment, based on analysis of satellite imagery, shows Sumatra has lost nearly half of its natural forest cover since 1985. The island's forests were cleared and converted at a rate of 542,000 hectares, or 2.1 percent, per year. More than 80 percent of forest loss occurred in lowland areas, where the most biodiverse and carbon-dense ecosystems are found.