Spiny lobster. Photo by: Rhett A. Butler.
Three men who illegally harvested lobster from South African waters and smuggled them to the U.S. for 14 years have been ordered to pay $54.9 million in restitution to the South African government by a District Court in Manhattan. According to the Pew Environment Group this is the largest restitution order under the U.S. Lacey Act, which deals with the illegal wildlife trade. The judgement, however, still requires the approval of a district judge.
"These defendants stole an environmental asset from South Africa, and it is only fair that they pay the country back for that theft," Karen Sack, director of international ocean conservation for the Pew Environment Group, said in a statement. "This unprecedented ruling shows that the U.S. can and will take concerted action to stop illegal fishing and bring those U.S. citizens engaging in it to justice, whether it has occurred within or outside of U.S. waters."
From 1987-2001, the three fishermen harvested massive numbers of lobster off of South Africa. After pleading guilty in 2003, the men were sentenced to jail time. At the time the court ruled that the men did not have to pay restitution of the government of South Africa, but that decision was subsequently appealed by the U.S. government.
Illegal fishing is a global problem that has contributed to the depletion of fisheries worldwide. A study in 2009, estimated the total cost of illegal and unreported fishing at $10-23.5 billion annually.
Related articles
World failing to meet promises on the oceans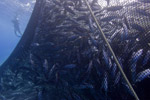 (06/14/2012) Despite a slew of past pledges and agreements, the world's governments have made little to no progress on improving management and conservation in the oceans, according to a new paper in Science. The paper is released just as the world leaders are descending on Rio de Janeiro for Rio+20, or the UN Summit on Sustainable Development, where one of the most watched issues is expected to be ocean policy, in part because the summit is expected to make little headway on other global environmental issues such as climate change and deforestation. But the new Science paper warns that past pledges on marine conservation have moved too slowly or stagnated entirely.
Carnage in Komodo: world-famous reef destroyed by poachers' bombs
(04/25/2012) Illegal fishermen have been utilizing homemade bombs to kill fish off the coast of Komodo Island, Indonesia, reports the Associated Press (AP); the bombs have not only injured fish populations in the protected area, but has also blasted biodiverse coral reefs popular with tourists. A scuba teacher told the AP that a section of Tatawa Besar coral reef, a popular diving spot, had been "blasted, ripped off, turned upside down."
Regulations help fish, and fishermen, recover in the U.S.
(05/30/2012) Marine fish populations in the U.S. are generally recovering, according to a new report by the National Oceanic and Atmospheric Administration (NOAA). Last year six fish populations reached healthy levels in the U.S., boosting the total number of fish populations that have recovered to 27 since 2000. The success is due to the implementation of science-based annual catch limits which regulate how many fish are caught every year.
BP Deepwater Horizon deformities: eyeless shrimp, clawless crabs
(04/24/2012) Two years after the BP-leased Deepwater Horizon drilling rig exploded in the Gulf of Mexico, killing eleven and causing an oil spill that lasted three months, scientists say the impacts on the Gulf ecosystem are only beginning to come to light and the discoveries aren't pretty.
Whole Foods bans 'red' fish from its stores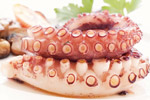 (04/10/2012) Whole Foods has announced it will be the first grocery chain in the U.S. to no longer sell any seafood in the "red." Based on sustainability ratings by the Monterey Bay Aquarium and Blue Ocean Institute, fish labeled red are those that are considered either overfished or fished in a manner that impacts other species or damages marine ecosystems. Beginning Earth Day, April 22nd, Whole Foods will no longer be selling Atlantic halibut, grey sole, skate, octopus, tautog, sturgeon, among others. Already, the store doesn't sell some unsustainable catches such as bluefin tuna and orange roughy.