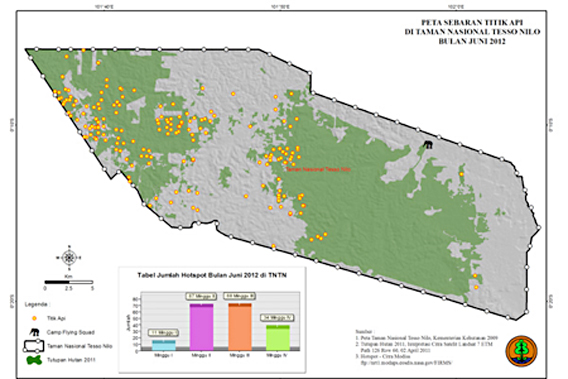 Fires in Tesso Nilo National Park denoted by orange dots.
From June to July, hundreds of fires spread in Tesso Nilo National Park in Indonesia. Based on the data from World Wide Fund for Wildlife (WWF) Program-Riau, fire hotspots reached their peak in the third week of June. As of early July, fires, which were triggered a month earlier, could not be totally extinguished.
WWF spokesperson, Riau Syamsidar, said that based on GIS satellite from June 1-17th, 78 hotspots were detected in Tesso Nilo National Park. On June 18, 2012 there were 10 fires burning in one of Riau's biggest elephant habitats.
"From the number of discovered hotspots, it is predicted that the forest fire in Tesso Nilo National Park burned more than 10 hectares," Syamsidar reported.
According to Syamsidar, Tesso Nilo National Park is prone to fire. This is because many lands have been illegally overtaken by encroachers. Moreover, hot and dry weather benefited encroachers, allowing them to burn forest which is converted to oil palm plantations.
"We worry the fire will disturb rare species like Sumatran elephants in Tesso Nilo National Park," Syamsidar noted. Sumatran elephants have recently been unlisted from Endangered to Critically Endangered on the IUCN Red List.
Tesso Nilo National Park covers 83,000 hectares, but around 35,000 hectares has been encroached by residents and corporate developers, much of it converted into oil palm plantations or settlements. Elephant habitat is in an alarming state according to authorities. Fire in elephant habitat may trigger conflicts between the huge animals and humans; a conflict that usually ends in the death of the Sumatran elephants.
Tesso Nilo National Park, which was formerly a forest concession area for Hak Pengasuhan Hutan (HPH) located in Pelalawan and Indragiri Hulu, was officially opened on July 19, 2004 when it initially covered 38,576 hectares before being expanded.
The park is home to 360 types of plants which belong to 165 genera and 57 families, 107 bird species, 23 mammals, three primates, 50 fish species, 15 reptiles and 18 amphibians. Tesso Nilo is one of Sumatra's last remaining lowland forests and contains 120-150 elephants as well as Sumatran tigers.
A road owned by PT. Riau Andalas Pulp and Paper splits the National Park, but reportedly, the provincial government plans to sever the road in order to reduce illegal logging.

Sumatran elephant. Photo by: Rhett A. Butler.
Related articles
APP's new 'sustainability roadmap' won't spare unprotected tiger habitat in Sumatra
(07/27/2012) Asia Pulp & Paper's new sustainability commitment represents a scaling back of earlier environmental pledges and does not offer new protection for natural forests in Sumatra, alleges a new report from Eyes on the Forest, a coalition of green groups based in Riau, Sumatra.
Charts: deforestation in Indonesia and Malaysia, 2000-2010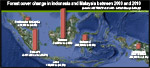 (07/15/2012) Indonesia and Malaysia lost more than 11 million hectares (42,470 square miles) of forest between 2000 and 2010, according to a study published last year in the journal Global Change Biology. The area is roughly the size of Denmark or the state of Virginia. The bulk of forest loss occurred in lowland forests, which declined by 7.8 million hectares or 11 percent on 2000 cover. Peat swamp forests lost the highest percentage of cover, declining 19.7 percent. Lowland forests have historically been first targeted by loggers before being converted for agriculture. Peatlands are increasingly converted for industrial oil palm estates and pulp and paper plantations.
Remote-controlled model planes offer bird's-eye approach to conservation
(07/10/2012) Inexpensive aerial drones can help conservationists map forests, monitor land use change like deforestation, and track wildlife in remote and inaccessible areas, reports a new study published in the journal Tropical Conservation Science.
Despite moratorium and investigation, fires rage in key Sumatran peat swamp
(06/29/2012) Several fires are burning in a contested concession within Aceh Province's Tripa peat swamp raising questions about the efficacy of a high-profile investigation by Indonesian authorities, say environmentalists.