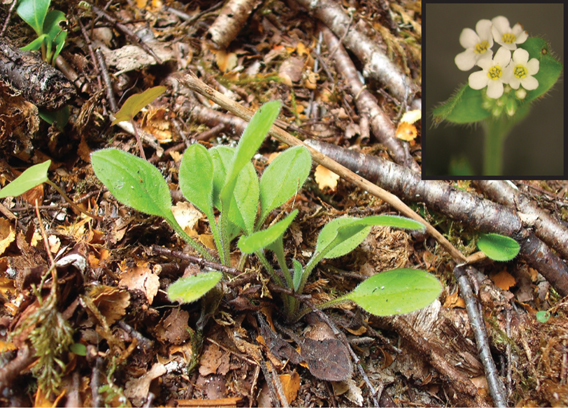 The new species, Moore's forget-me-not (Myosotis mooreana) is known from only a single location. Photo by: Lehnebach et al.
New Zealand scientists have discovered two new species of forget-me-nots (flowers in the genus Myosotis), both of which are believed to be endangered. Discovered in Kahurangi National Park on the South Island, the new species highlight the diversity of the tiny flowers in New Zealand.
"New Zealand forget-me-nots are far different from their blue flower relatives commonly found in people's gardens, and some native species have yellow, pink, or tube-like brown-bronze flower," the discoverer, Carlos A. Lehnebach, said in a press release. "New Zealand is also home to the smallest forget-me-not in the world!"
Lenebach dubbed the two new species Chaffey's forget-me-not (Myosotis chaffeyorum) and Moore's forget-me-not (Myosotis mooreana), the latter of which is only known from one location where six individuals were discovered. Five populations are known of Chaffey's forget-me-not, which is found only at the bases of limestone cliffs. Both species are classified as 'Nationally Critical' in New Zealand.
In all, 39 species of Mythosis are found in New Zealand. Their are numerous legends surrounding the name 'forget-me-nots,' which originated in France in the late Middle Ages.
CITATION: Lehnebach CA (2012) Two new species of forget-me-nots (Myosotis, Boraginaceae) from New Zealand. PhytoKeys 16: 53–64. doi: 10.3897/phytokeys.16.3602.
Related articles
96 percent of the world's species remain unevaluated by the Red List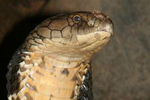 (06/28/2012) Nearly 250 species have been added to the threatened categories—i.e. Vulnerable, Endangered, and Critically Endangered—in this year's update of the International Union for Conservation of Nature's (IUCN) Red List. The 247 additions—including sixty bird species—pushes the number of threatened species globally perilously close to 20,000. However to date the Red List has only assessed 4 percent of the world's known species; for the other 96 percent, scientists simply don't know how they are faring.
Pitcher plants use rain to trap insects
(06/15/2012) Carnivorous pitcher plants get an assist from Mother Nature in capturing their insect prey, according to a study published in PLoS ONE.
Blue tarantula, walking cactus, and a worm from Hell: the top 10 new species of 2011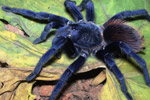 (05/23/2012) A sneezing monkey, a blue tarantula, and an extinct walking cactus are just three of the remarkable new species listed in the annual Top Ten New Species put together by the International Institute for Species Exploration at Arizona State University. This year's list includes a wide-variety of life forms from fungi to flower and invertebrate to primate.
Amazon plant yields miracle cure for dental pain
(03/14/2012) The world may soon benefit from a plant long-used by indigenous people in the Peruvian Amazon for toothaches, eliminating the need for local injections in some cases. Researchers have created a medicinal gel from a plant known commonly as spilanthes extract (Acmella Oleracea), which could become a fully natural alternative to current anesthetics and may even have a wide-range of applications beyond dental care.
Scientists discover over 19,000 new species in 2009
(01/19/2012) In 2009 researchers described and named 19,232 species new to science, pushing the number of known species on Earth to just under two million (1,941,939 species), according to the State of Observed Species (SOS). Discoveries included seven new birds, 41 mammals, 120 reptiles, 148 amphibians, 314 fish, 626 crustaceans, and 9,738 insects.