'Toto', a 3-week-old male elephant rescued by SOS Elephants. Photo courtesy of SOS Elephants
Elephant poaching persists in southwestern Chad as poachers slaughtered more elephants on August 3, the second time in less than two weeks.
In the first attack, the week of July 23, poachers killed 34 elephants, including 29 in Chari Baguirmi near a village called Bram and five in Mayo Lemie near Nanguigoto. In the second attack on August 3, it appears at least 4 or 5 elephants were killed and 2 injured, including a mother with three calves. In addition, between five to ten baby elephants have been left alone in the bush. The exact numbers are unclear. Searching is difficult as poachers are still in the area, movement by truck is challenged by wet conditions, and thick vegetation limits aerial surveillance.
A team from
SOS Elephants is tracking the injured mother and plan to operate on her leg to extract a bullet once the area is secured. At that time, they will also assess whether she has enough milk for the calves.


Elephants near the camp run by SOS Elephants. Photo courtesy of SOS Elephants (Stephanie Vergniault)


Chari Baguirmi, Chad>
So far, the team has rescued one elephant calf, sleeping with the baby in the bush before leading him back to camp. They continue to search for others because infant elephants cannot survive long without their mothers. Young elephants are physically and emotionally dependent on their mothers for three to five years. They rely on their mother's milk for their nutrition until age two, and are not fully weaned until five or six years old.
The team also is monitoring the status of "Toto", a 3-week-old male elephant rescued by the wildlife organization following the July 24 massacre. A neighboring herd adopted Toto a few days after the rescue, and a foster mother is now feeding him milk. SOS Elephants confirms that neither Toto nor his substitute mother were in the August 3 poaching incident.
According to SOS Elephants, around 200 elephants live in the Chari-Baguirmi – Mayo Lemie area, which has no formal protected status. SOS Elephants monitors these elephants from their camp located in Mitau in Mayo Kebbi Est.
Over the last two weeks, elephants in this area have crossed the River Chari near the camp several times for hours searching for a safe place. This is unusual behavior for the elephants. Normally at this time of year, they avoid the rain and mud by hiding in the small forests around the River Chari and do not come out again until October.
| | |
| --- | --- |
| | 'Toto', a 3-week-old male elephant rescued by SOS Elephants. Photo courtesy of SOS Elephants (Stephanie Vergniault) |
The perpetrators remain at large despite a large government search party of 200 soldiers. It appears the poachers are heavily armed and have accomplices among the local population. Three days ago, the paramount chief, government soldiers and administrative authorities spent the day visiting villages near the forest where the latest poaching occurred and promised them an incentive to denounce the poachers. Environmental organizations working in the region, including the African wildlife law enforcement organization LAGA (The Last Great Ape Organization), the Wildlife Conservation Society, and African Parks Network, believe the most likely way of apprehending the poachers is through receiving information on their whereabouts from the local population, and are planning to offer a substantial reward.
Related articles
President of Chad sends troops after elephant poachers
(08/03/2012) Following the July 24 massacre of dozens of elephants in southwestern Chad, President Idriss Deby Itno sent helicopters to the Mayo Lemie – Chari Baguiri area to catch the poachers, according to Stephanie Vergniault, president of SOS Elephants, a wildlife NGO. President Deby also gave orders to check all the country's exit points for both the poachers and smuggled ivory. Reputedly, President Deby is personally concerned about elephant poaching and was unhappy to learn of last week's incident.
Dozens of elephants massacred in Chad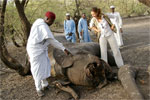 (07/26/2012) Poachers killed at least 30 elephants in southwestern Chad during the early hours of Tuesday, July 24. During the night, Stephanie Vergniault, president of the organization SOS Elephants, described on her Facebook page how a group of armed horsemen chased a herd of elephants with "war weapons near the SOS Elephants camp in the Chari Baguirmi area. After daybreak, the SOS Elephants team counted 28 carcasses, most with missing tusks. The exact number of carcasses with missing tusks is unclear because the team was afraid to stay and investigate further due to the presence of the poachers hiding on the other side of the Chari River.
A nation of tragedies: the unseen elephant wars of Chad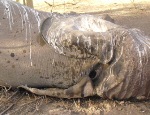 (05/12/2010) Stephanie Vergniault, head of SOS Elephants in Chad, says she has seen more beheaded corpses of elephants in her life than living animals. In the central African nation, against the backdrop of a vast human tragedy—poverty, hunger, violence, and hundreds of thousands of refugees—elephants are quietly vanishing at an astounding rate. One-by-one they fall to well-organized, well-funded, and heavily-armed poaching militias. Soon Stephanie Vergniault believes there may be no elephants left. A lawyer, screenwriter, and conservationist, Vergniault is a true Renaissance-woman. She first came to Chad to work with the government on electoral assistance, but in 2009 after seeing the dire situation of the nation's elephants she created SOS Elephants, an organization determined to save these animals from local extinction.