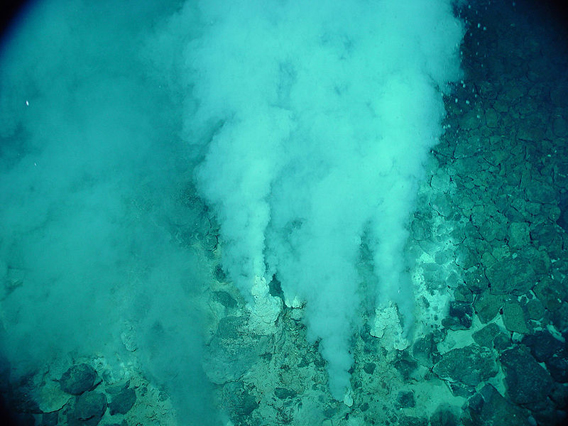 Hydrothermal vent in the Marianas Trench. Life on hydrothermal vents were not discovered until the late 1970s. Decades later, much remains unknown about these vents and many of them remain unexplored. Photo by: NOAA.
The Papua New Guinea government has granted a 20-year license for copper and gold mining around a mile (1.6 kilometers) below the ocean's surface, jump-starting the world's first commercial deep sea mining venture. Undertaken by Canadian company, Nautilus Minerals, the venture will mine deep sea hydrothermal vents off the coast of New Britain. However, the project faces stiff concern from local activists, fishermen, and environmentalists.
Dubbed the Solwara 1 project, the mining is expected to bring in between $1-2.5 billion in revenue due to high grade deposits of gold and copper ore. Nautilus Minerals has pledged to hire 70 percent of the workforce for the project locally, while the Papua New Guinea government has a 30 percent stake in the project and has pledge to put $25 million into infrastructure, plans which have left them open to allegations of conflict of interest.
Nautilus Minerals describes itself on its website as "following the lead by the offshore oil and gas industry to tap vast offshore resources." The company argues that deep sea mining's footprint will be significantly smaller than land mining.
Howeverm concerned activists with the Deep Sea Mining Campaign, made up of a coalition of groups, argue that Nautilus Minerals is imperiling deep sea hydrothermal ecosystems, about which little is known and where new species are discovered with almost every new dive. The company will be mining eleven hectares of vents, potentially destroying thousand of active and inactive vents. In addition, the group is concerned that pollution from mining could harm not only deep sea fauna, but fish and local communities.
"At this point local communities have not sanctioned this project. We can't rely on our governments or companies like Nautilus to tell us that seabed mining is good, is safe," Wences Magun, national coordinator for local environment NGO Mas Kagin Tapani, said recently in a press release. "No one knows what the impacts of this form of mining will be. We are being used us as guinea pigs in a sea bed mining experiment."
Mining could be delayed as Nautilus Minerals and the Papua New Guinea government are currently in court in a commercial dispute.
Nautilus Minerals has been granted exploration rights for 108,000 square kilometers of Papua New Guinea's ocean so far.
Related articles
New tiny crustacean discovered in deep sea off Europe (photo)
(06/20/2012) Scientists have pulled up a tiny new species of 'squat lobster' from a deep sea mountain at 1,410 meters below sea level off the coast of Spain. Dubbed Uroptychus cartesi, this is only the fourth species in this genus from the eastern Atlantic Ocean, although there are over hundred unique species in the Pacific and Indian ocean. The new species measures just 5-7 centimeters.
Photos: scientists find new species at world's deepest undersea vent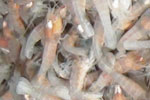 (01/10/2012) It sounds like a medieval vision of hell: in pitch darkness, amid blazing heat, rise spewing volcanic vents. But there are no demons and devils down here, instead the deep sea vent, located in the very non-hellish Caribbean sea, is home to a new species of pale shrimp. At 3.1 miles below (5 kilometers) the sea's surface, the Beebe Vent Field south of the Cayman islands, is the deepest yet discovered.
'Lost world' dominated by Yeti crabs discovered in the Antarctic deep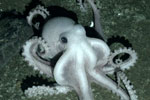 (01/03/2012) Scientists have discovered a deep sea ecosystem dominated by hairy pale crabs off of Antarctica. The new species of "Yeti crabs" survive alongside many other likely new species, including a seven-armed meat-eating starfish, off of hydrothermal vents, which spew heat and chemicals into the lightless, frigid waters. According to the paper published in PLoS ONE, this is the first discovery of a hydrothermal vent ecosystem in the Southern Ocean though many others have been recorded in warmer waters worldwide.
Yeti crab cultivates bacteria on its claws to feed itself
(12/02/2011) A species of deep-sea crab found in hydrothermal vents off Costa Rica cultivates "gardens" of bacteria on its claws to feed itself, reports Nature News.
Giant one-celled organisms discovered over six miles below the ocean's surface
(10/23/2011) Imagine a one-celled organism the size of a mango. It's not science fiction, but fact: scientists have cataloged dozens of giant one-celled creatures, around 4 inches (10 centimeters), in the deep abysses of the world's oceans. But recent exploration of the Mariana Trench has uncovered the deepest record yet of the one-celled behemoths, known as xenophyophores.