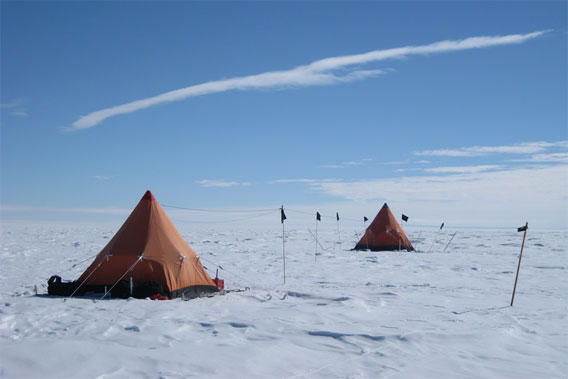 Field camp on Ferrigno Ice Stream. Courtesy of the University of Aberdeen
British researchers have discovered a one mile deep rift valley hidden beneath the icy surface of West Antarctica, according to research published this week in Nature. The canyon may be hastening ice loss in the region.
Scientists from the University of Aberdeen and British Antarctic Survey (BAS) made the discovery below Ferrigno Ice Stream, an extremely remote area that has been visited only once previously. They used ice-penetrating radar to map the valley.
| | |
| --- | --- |
| | Site of the rift valley (marked with black box, within the red box). |
"What we found is that lying beneath the ice there is a large valley, parts of which are approximately a mile deeper than the surrounding landscape," explained Robert Bingham, a glaciologist at the University of Aberdeen, in a statement. "If you stripped away all of the ice here today, you'd see a feature every bit as dramatic as the huge rift valleys you see in Africa and in size as significant as the Grand Canyon."
"This is at odds with the flat ice surface that we were driving across – without these measurements we would never have known that it was there."
The discovery is important because it may help explain why the West Antarctic Ice Sheet is losing ice at a faster pace than the rest of Antarctica. Some glaciers in the region are shrinking by more than a meter (3 feet) per year.
"What this study shows is that this ancient rift basin, and the others discovered under the ice that connect to the warming ocean can influence contemporary ice flow and may exacerbate ice losses by steering coastal changes further inland," said study co-author and geophysicist Fausto Ferraccioli from British Antarctic Survey.
The scientists say the work can help improve forecasts for future sea level rise.
"Thinning ice in West Antarctica is currently contributing nearly 10 per cent of global sea level rise," said David Vaughan of the British Antarctic Survey. "It's important to understand this hot spot of change so we can make more accurate predictions for future sea level rise."
Related articles