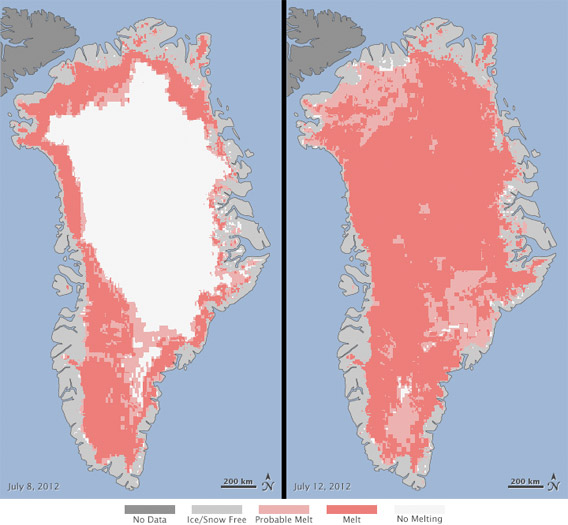 NASA Earth Observatory images created by Jesse Allen, using data provided by Nicolo DiGirolamo (SSAI) and Dorothy Hall (NASA/GSFC) in the NASA/GSFC Cryospheric Sciences Laboratory.
97 percent of Greenland's ice sheet experienced some degree of melting this July, a record extent of melt, says NASA.
Analysis of data from three satellites detected the record melting on July 12. The extent was such Son Nghiem of NASA's Jet Propulsion Laboratory initially questioned the results.
"This was so extraordinary that at first I questioned the result," said Nghiem. "Was this real or was it due to a data error?"
Nghiem's observations were subsequently confirmed by Dorothy Hall from NASA's Goddard Space Flight Center. Thomas Mote of the University of Georgia and Marco Tedesco of the City University of New York also confirmed the melt.
NASA said the melt may by the most severe since 1889.
"Ice cores from Summit show that melting events of this type occur about once every 150 years," said Lora Koenig, a NASA scientist and member of the team analyzing the satellite data. "With the last one happening in 1889, this event is right on time. But if we continue to observe melting events like this in upcoming years, it will be worrisome."
Every summer a portion of the surface of the Greenland ice sheet melts and runs off into the ocean or quickly refreezes depending the elevation and location of the melt.
Related articles