The okapi was only discovered by scientists in 1901 and today is listed as Near Threatened by the IUCN Red List.
Officials have pointed to an infamous elephant poacher known as 'Morgan' as the head of the murderous attack at the Okapi Wildlife Reserve station in the Democratic Republic of the Congo (DRC) late last month. The attack by Morgan and his crew left seven people dead, including two wildlife rangers. The poachers also shot dead 13 captive okapis at the headquarters, which were considered ambassadors for the imperiled forest. One okapi remains alive, but injured and conservationists are not optimistic about its survival. UNESCO and the the NGO Fauna and Flora international have issued an emergency appeal to raise $120,000 dollars within two weeks for the victim's families as well as for rapidly rebuilding the station.
"Unless we can reverse this situation quickly, this will be a real setback for the conservation in Okapi Wildlife Reserve, home to the largest remaining population of forest elephants in the Democratic Republic of the Congo. We can't let those poachers kill rangers and hunt wildlife with impunity," explained Guy Debonnet with UNESCO's World Heritage Centre.
Last week, John Lukas, head of Okapi Wildlife Reserve, wrote that the attack was likely "in retaliation for recent engagements by ICCN rangers that disrupted poaching and mining activities in the Southern part of the Reserve. The rebels want to be free to reopen the mines and poach wildlife without interference."
Burning the station, killing guards, and destroying important equipment, UNESCO is concerned that Morgan and his crew have achieved their objective and are moving to kill the reserve's remaining elephants for the ivory tusks, which are in demand in East Asian black-markets.
| | |
| --- | --- |
| | Top: the burned headquarters at the Okapi Wildlife Reserve. Bottom: one of the killed okapis. Photos courtesy of UNESCO. |
A recent blog entry by well-known conservationist Teresa Hart—director of the Tshuapa, Lomami and Lualaba Rivers (TL2) project in the DRC—notes that Morgan is "an elephant poacher, thrice arrested by the park guards, taken to local courts and liberated. Originally he is from a village down the road from the Okapi Station, Epene."
Hart also reports that the poaching gang took 28 hostages, 16 of which have returned, but as of Tuesday the gang reportedly still held 12: 11 of whom were women, including 9 minors.
Hart, who has lived and worked in the DRC for 25 years, also wrote this chilling account of the massacre: "For an entire day scenes of horror and panic ripped through Epulu. Many people fled into the forest, others were taken hostage to carry the loot of the attackers. Women were raped. Seven people were killed. Among the dead are two park guards and the wife of another. Two of these were burned. Some reported that Amisi's wife was burned alive, perhaps caught in the chaos as the outlaws incinerated park infrastructure and guard homes. Others seemed shot almost at random: Two people on a truck passing through Epulu, two other Epulu residents. The administrative buildings of the Reserve were looted, then burned. Houses and stores in the village were pillaged."
Elephant poaching is the worst its been since 1989, according to the Convention on International Trade in Endangered Species of Wild Fauna and Flora (CITES). As the raid on the headquarters shows, elephant poaching isn't just decimating elephant populations world, but comes with a vast human toll as well. Poachers—who target elephants, rhinos, and tigers among other species—have become more brazen in recent years as well and appear to be propped up by well-organized mafia, which are likely involved in a number of criminal activities.
Related articles
Gabon torches their ivory stock as poachers attack okapi reserve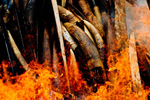 (07/02/2012) Last week, the west African nation of Gabon committed over 1,200 ivory tusks and carvings to the fire. The act, which was meant to send a strong signal to illegal wildlife poachers across Africa, came only a few days after militia poachers stormed the Okapi Wildlife Reserve in the Democratic Republic of the Congo (DRC). The assailants killed 13 okapis and six people, including two wildlife rangers, in retaliation for a crackdown against poaching and mining in the protected area. Poaching has reached epidemic levels in Africa due to increasing bushmeat consumption and a rise in East Asian demand for black-market ivory and rhino horns.
Militia massacres rangers, 13 endangered okapi at Congo wildlife reserve
(06/29/2012) Two wildlife rangers were among the six people killed during brazen attack on a wildlife facility by a militia in the Democratic Republic of Congo last Sunday. 13 endangered okapi were slaughtered during the early morning raid, which was reportedly a response to a crackdown on illegal elephant poaching and gold mining inside the Okapi Wildlife Reserve.
Congolese experts needed to protect Congo Basin rainforests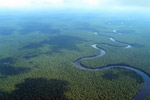 (06/20/2012) This summer, the Democratic Republic of Congo (DRC) is expected to approve a new higher education strategy which the country has developed with the World Bank and other international donors. The shape of this educational reform initiative will be critical to Congo's future in many ways. It could finally offer Congo's long-suffering people a route into the 21st century. It will also help determine the future of the DRC's forests. Nearly half of the Congo Basin's remaining rainforest is in the DRC—yet the critical role of Congolese experts in forestry, agricultural science, wildlife management and other rural sciences in protecting this forest is not widely recognized.
Over 700 people killed defending forest and land rights in past ten years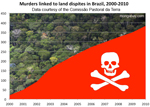 (06/19/2012) On May 24th, 2011, forest activist José Cláudio Ribeiro da Silva and his wife, Maria do Espírito Santo da Silva, were gunned down in an ambush in the Brazilian state of Pará. A longtime activist, José Cláudio Ribeiro da Silva had made a name for himself for openly criticizing illegal logging in the state which is rife with deforestation. The killers even cut off the ears of the da Silvas, a common practice of assassins in Brazil to prove to their employers that they had committed the deed. Less than a year before he was murdered, da Silva warned in a TEDx Talk, "I could get a bullet in my head at any moment…because I denounce the loggers and charcoal producers."
Rangers now allowed to shoot tiger poachers on sight in Indian state
(05/25/2012) In the wake of a surge in tiger poaching, the state government of Maharashtra, India will no longer consider the shooting of wildlife poachers by forest rangers a crime, reports the Associated Press.
Kruger National Park loses 95 rhinos to poachers in three months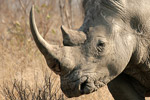 (04/05/2012) Since the first of the year, South Africa's Kruger National Park has lost 95 rhinos to poachers, reports the blog Rhino Horn is NOT Medicine. South Africa, and Kruger National Park in particular, continue to be the epicenter for rhino poaching worldwide. South Africa has lost 159 rhinos in total this year with Kruger bearing nearly 60 percent of the fatalities.
Banning ivory sales to China could save elephants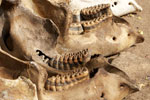 (03/24/2012) Although the international ivory trade has been banned since 1989, last year was the worst ever for elephant poaching, and this year has begun little better as reports come out of Cameroon of hundreds of elephants slaughtered in a single park. What went wrong? According to a new briefing by the Environmental Investigation Agency (IEA), approved legal auctions of ivory by the Convention on International Trade in Endangered Species (CITES) to Japan and, especially, China has fueled, rather than abated as promised, the illegal trade along with mass deaths of elephants across Africa.
New reports from inside Cameroon confirm grisly mass killing of elephants (warning: graphic photos)
(03/14/2012) The International Fund for Animal Welfare (IFAW) has recently returned from Bouba Ndjida National Park in northern Cameroon, where at least 400 elephants have been slaughtered since mid-January. IFAW is the only international organization that has assessed the situation within the park.
Military called in to stop Cameroon elephant slaughter – but may be too late
(03/05/2012) Cameroon's military has been called in to Bouba Ndjida National Park to take on foreign poachers that have slaughtered hundreds of elephants for their ivory, according to the World Wide Fund for Nature (WWF). Reports vary, but between 200-480 elephants have been killed in recent weeks in the park by what is widely assumed to be poachers from Sudan.
Elephant death-toll rises to almost 500 in one park in Cameroon (warning: graphic photo)
(02/29/2012) Wildlife officials have found 458 dead elephants in Cameroon's embattled Bouba Ndjida National Park, reports the AFP. However officials fear the actual number is even higher around 480. Over the last six weeks a well-organized group of poachers has run free in the park, slaughtering elephants for their ivory tusks which will make their way to markets in Asia.
Feds bust rhino horn traffickers
(02/23/2012) Federal agents from the U.S. Fish and Wildlife Service (FWS) and U.S. Immigration and Customs Enforcement (ICE) arrested seven people on charges of trafficking endangered rhino horn in the United States, reports the Department of Justice and Department of the Interior. The arrests were made in Los Angeles, Newark, and New York.
Elephant massacre in Cameroon (warning: graphic photo)
(02/17/2012) More than 200 elephants have been slaughtered for their tusks in less than a month in Cameroon, reports the International Fund for Animal Welfare (IFAW). The group blames Sudanese poachers for cross-border raids from Chad into Bouba Ndjida National Park in northern Cameroon.
Majority of protected tropical forests "empty" due to hunting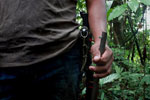 (02/08/2012) Protected areas in the world's tropical rainforests are absolutely essential, but one cannot simply set up a new refuge and believe the work is done, according to a new paper in Bioscience. Unsustainable hunting and poaching is decimating tropical forest species in the Amazon, the Congo, Southeast Asia, and Oceana, leaving behind "empty forests," places largely devoid of any mammal, bird, or reptile over a few pounds. The loss of such species impacts the whole ecosystems, as plants lose seed dispersers and the food chain is unraveled.