Oil palm plantation in Malaysia. Photo by Rhett Butler.
Colombia is targeting a six-fold increase in crude palm-oil production by 2020. Conservationists fear this may compromise the nation's natural ecosystems, but a new study suggests the impact may be minimized by limiting new oil palm plantations to certain areas of pasture land.
"In the Latin American context, characterized generally by extensive and often under-productive pastures, the expansion of oil palm plantations can be accommodated with minimal impact on forest cover," explains study co-author Sean Sloan, a researcher at James Cook University in Cairns, Australia. Such accommodation is predicated on political will and would likely require both policies and incentives to divert oil palm to pasture lands. These policies may have unintended side effects, however, such as artificially inflating land prices for both the oil-palm industry and ranchers.
The study identified specific regions most appropriate to expand oil palm in Colombia, but these sites may also be constrained by other factors. According to the study, "the country's internal conflict and drug producing and trafficking activities may hinder the establishment of oil-palm plantations in these [most suitable] areas." In addition, shifting oil-palm agriculture to pasture land could hurt smallholders and the rural poor if profits are concentrated among large landowners. The shift would also require that production efficiency on remaining pasture lands be increased to meet demand for beef and avoid displacing ranching into natural ecosystems.

Deforestation for oil palm plantations in Borneo.
Nonetheless, the study offers a ray of hope on an otherwise gloomy outlook from oil palm expansion.
"Generally, most conservationists view oil palm as a Boogyman, given its intimate relationship with deforestation" commented Sloan, adding "This is particularly true in the South East Asian context, where government corruption and corporate greed are common traits of plantation expansion."
The new findings provide a blueprint for oil palm expansion in Colombia (and perhaps other parts of South America) with negligible loss of forest cover or food security. But whether this is possible, Sloan commented, "depends on whether Colombian politicians can direct oil-palm expansion with greater will and less corruption than their Indonesian counterparts."
CITATION: Garcia-Ulloa, J., Sloan, S., Pacheco, P., Ghazoul, J. & Koh, L. P. Lowering environmental costs of oil-palm expansion in Colombia. Conservation Letters (2012). doi:10.1111/j.1755-263X.2012.00254.x
Tyler Lark is an Environment & Resources graduate student researching agricultural land use change at the Center for Sustainability and the Global Environment (SAGE) at the University of Wisconsin-Madison.
Related articles
Industrial palm oil production expands at expense of rainforests in Peru
(01/10/2012) Intensive palm oil production is expanding at the expense of biolologically-rich lowland rainforests in the Peruvian Amazon, reports a study published in Environmental Research Letters. The research indicates that enthusiasm for oil palm — one of the world's most lucrative crops — is taking a toll on forests outside of Southeast Asia, where the vast majority of palm oil is produced.
Could palm oil help save the Amazon?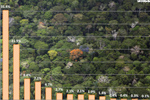 (06/14/2011) For years now, environmentalists have become accustomed to associating palm oil with large-scale destruction of rainforests across Malaysia and Indonesia. Campaigners have linked palm oil-containing products like Girl Scout cookies and soap products to smoldering peatlands and dead orangutans. Now with Brazil announcing plans to dramatically scale-up palm oil production in the Amazon, could the same fate befall Earth's largest rainforest? With this potential there is a frenzy of activity in the Brazilian palm oil sector. Yet there is a conspicuous lack of hand wringing by environmentalists in the Amazon. The reason: done right, oil palm could emerge as a key component in the effort to save the Amazon rainforest. Responsible production there could even force changes in other parts of the world.