Researchers have discovered a new snail, which is so unusual that it has been granted its own genus: Kenyirus. To date, the mysterious forest snail, found in selectively logged forests around Malaysia's Lake Kenyir, is only known from its unique shell.
"When I first found the snail on the forest floor, I knew immediately it would be a new genus and species," with the non-profit research group Rimba, James Cook University and Universiti Malaya told Mongabay. "True enough, when we compared it with other members within its family, especially those found throughout Sundaland, nothing came close. To our knowledge, this is the first snail to be described from the State of Terengganu and the first to be named after Lake Kenyir, the largest man-made lake in Southeast Asia."
The new species is notable because it was discovered in hill dipterocarp forests and not limestone karsts, where the majority of new snail species are being discovered of late. Clements says this is proof that malacologists (scientists who study molluscs) should also survey non-karstic forests.
| | |
| --- | --- |
| | New snail species: Kenyirus sodhii. Photo courtesy of Reuben Clements. |
Clements decided to name the species, Kenyirus sodhii, after his late mentor, Navjot Sodhi.
"[Navjot Sodhi] was instrumental in shaping my career as a conservation scientist. Furthermore, it's apt that his name forms a species epithet for Kenyirus as he and his students have pioneered research to understand the ecology of butterfly and dung beetle communities on Kenyir's land-bridge islands," Clements says. Sodhi passed away last year at 49 after battling blood cancer.
Little-known outside Malaysia, the Kenyir Wildlife Corridor,, which surrounds the massive lake, is home to a wide-variety of imperiled species, including Asian elephant (Elephas maximus), the Malayan tiger (Panthera tigris jacksoni), the wild canine, dhole (Cuon alpinus), the Asian tapir (Tapirus indicus), and the Sunda pangolin (Manis javanica), all of which are listed as Endangered by the IUCN Red List. In addition researchers have taken stunning camera-trap photos of melanistic (black) leopards (Panthera pardus).
Clements describes the new snail, along with co-author Siong Kiat Tan from the Raffles Museum of Biodiversity Research, in The Raffles Bulletin of Zoology.
CITATION: Gopalasamy Reuben Clements and Siong Kiat Tan. A new genus and species of Camaenid snail (Mollusca: Pulmonata) from Terengganu, Peninsular Malaysia. The Raffles Bulletin of Zoology. No. 25: 259–263. 2012.
Related articles
Panda vs. orangutans: With native species at risk, Malaysia's panda bear project a boondoggle
(07/20/2012) Prime Minister Datuk Seri Najib Tun Razak's plan to spend nearly $16 million (50 million Malaysian ringgits) to lease two baby pandas from China for ten years is a waste of money and resources at a time when its own native species are suffering from a range of threats, warned a leading Malaysian conservationist in an open letter.
Featured video: baby hornbills grow up in a jar
(05/29/2012) A researcher in Malaysia has captured footage of Oriental pied hornbills (Anthracoceros albirostris) raising chicks in an earthen jar in the Kenyir rainforest of Malaysia. The first video shows the father Oriental pied hornbill feeding the chicks, while the second shows a chick leaving its nest.
Blue tarantula, walking cactus, and a worm from Hell: the top 10 new species of 2011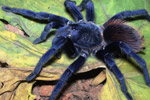 (05/23/2012) A sneezing monkey, a blue tarantula, and an extinct walking cactus are just three of the remarkable new species listed in the annual Top Ten New Species put together by the International Institute for Species Exploration at Arizona State University. This year's list includes a wide-variety of life forms from fungi to flower and invertebrate to primate.