Last week, the west African nation of Gabon committed over 1,200 ivory tusks and carvings to the fire. The act, which was meant to send a strong signal to illegal wildlife poachers across Africa, came only a few days after militia poachers stormed the Okapi Wildlife Reserve in the Democratic Republic of the Congo (DRC). The assailants killed 13 okapis and six people, including two wildlife rangers, in retaliation for a crackdown against poaching and mining in the protected area. Poaching has reached epidemic levels in Africa due to increasing bushmeat consumption and a rise in East Asian demand for black-market ivory and rhino horns.
"Gabon has a policy of zero tolerance for wildlife crime and we are putting in place the institutions and laws to ensure this policy is enforced," the president of Gabon, Ali Bongo, said at the planned burning. "We don't want our children to inherit an empty forest. For that reason, we cannot allow this trafficking to continue."
| | |
| --- | --- |
| | Gabon burns its ivory. © James Morgan / WWF. |
Bongo, himself, lit the ivory on fire, which experts say belong to around 850 slaughtered elephants. The ivory was audited by the World Wide Fund for Wildlife (WWF) and the wildlife trade group, TRAFFIC, to ensure it contained Gabon's entire ivory stockpile.
Meanwhile in the DRC, the head of the Okapi Wildlife Reserve said that their attackers, who are known as Mai Mai Simba rebels, "are not fighting for a political cause," but "is made up of elephant poachers and illegal miners."
The Wildlife Conservation Society (WCS) recently reported that monitored elephant populations in Central Africa were cut in half between 2006 and 2011.
Poachers, backed by shadowy criminal syndicates, have also become more brazen. In addition to the murderous attack on the Okapi Wildlife Reserve, poachers recently killed over 400 elephants in Bouba Ndjida National Park in northern Cameroon in an onslaught that may have lasted weeks. The indiscriminate poachers, believed to be Sudanese, even killed elephant calves.
Related articles
Militia massacres rangers, 13 endangered okapi at Congo wildlife reserve
(06/29/2012) Two wildlife rangers were among the six people killed during brazen attack on a wildlife facility by a militia in the Democratic Republic of Congo last Sunday. 13 endangered okapi were slaughtered during the early morning raid, which was reportedly a response to a crackdown on illegal elephant poaching and gold mining inside the Okapi Wildlife Reserve.
Congolese experts needed to protect Congo Basin rainforests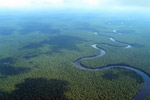 (06/20/2012) This summer, the Democratic Republic of Congo (DRC) is expected to approve a new higher education strategy which the country has developed with the World Bank and other international donors. The shape of this educational reform initiative will be critical to Congo's future in many ways. It could finally offer Congo's long-suffering people a route into the 21st century. It will also help determine the future of the DRC's forests. Nearly half of the Congo Basin's remaining rainforest is in the DRC—yet the critical role of Congolese experts in forestry, agricultural science, wildlife management and other rural sciences in protecting this forest is not widely recognized.
Organizations target rhino horn consumption in China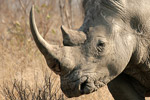 (05/07/2012) Last year nearly 450 rhinos were killed for their horns in South Africa, which has become the epicenter for the global rhino poaching epidemic. Rhinos are dying to feed rising demand for rhino horn in Asia, which is ground up and sold as traditional Chinese medicine, even though scientific studies have shown that rhino horn has no medicinal benefit. Now, two organizations, the African Wildlife Foundation (AWF) and Wildaid have announced a partnership to move beyond anti-poaching efforts and target rhino horn consumption in China.
Banning ivory sales to China could save elephants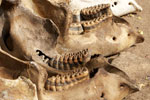 (03/24/2012) Although the international ivory trade has been banned since 1989, last year was the worst ever for elephant poaching, and this year has begun little better as reports come out of Cameroon of hundreds of elephants slaughtered in a single park. What went wrong? According to a new briefing by the Environmental Investigation Agency (IEA), approved legal auctions of ivory by the Convention on International Trade in Endangered Species (CITES) to Japan and, especially, China has fueled, rather than abated as promised, the illegal trade along with mass deaths of elephants across Africa.
Military called in to stop Cameroon elephant slaughter – but may be too late
(03/05/2012) Cameroon's military has been called in to Bouba Ndjida National Park to take on foreign poachers that have slaughtered hundreds of elephants for their ivory, according to the World Wide Fund for Nature (WWF). Reports vary, but between 200-480 elephants have been killed in recent weeks in the park by what is widely assumed to be poachers from Sudan.
Elephant death-toll rises to almost 500 in one park in Cameroon (warning: graphic photo)
(02/29/2012) Wildlife officials have found 458 dead elephants in Cameroon's embattled Bouba Ndjida National Park, reports the AFP. However officials fear the actual number is even higher around 480. Over the last six weeks a well-organized group of poachers has run free in the park, slaughtering elephants for their ivory tusks which will make their way to markets in Asia.