Coal truck in western China. Photo by: Rhett A. Butler.
The average person in China emitted 7.2 tons of carbon last year, according to new figures from BL Netherlands Environmental Assessment Agency and the European commission's Joint Research Centre (JRC). This means that the average Chinese citizen is now very close to the average European, who emits 7.5 tons, in terms of annual emissions. Having been named the world's largest emitter of greenhouse gases in 2009—usurping the U.S. from its long-held position—China continues to lead the pack with emissions that rose 9 percent in 2011.
The report, which does not incorporate emissions from deforestation and land use, blames a rise in fossil fuel energy and breakneck economic growth for China's rise in emissions. At the same time, emissions in Europe continue to fall (down 3 percent last year) due in part to economic downturn but also to government programs to move from fossil fuels to renewable energy. Still China's per capita emissions lag far behind the U.S., whose average citizen emits a whopping 17.3 tons per person. In addition, industrialized nations, including Europe, carry the brunt of historical responsibility for global climate change.
But the contemporary blaming game continues to shift. While China's emissions rose 9 percent last year, they fell 2 percent in the U.S. due to high oil prices, a sluggish economy, and a mild winter according to the report. Neither the U.S. nor China has introduced expansive government policies, such as a tax on carbon or cap-and-trade, to bring down national emissions.
Globally the report found that emissions were up 3 percent, hitting a new record of 34 billion tons. Consumption of coal, the world's most carbon intensive energy source, rose 4 percent. These numbers continue to put the world on track for a rise in temperatures this century that could be well above the 2 degrees Celsius goal agreed on by world nations.
On the plus side ,renewable energy (excluding hydropower) accounted for 2.1 percent of energy last year, doubling from 2005 levels.
Top 5 Emitters in 2011
1) China: 29 percent of global emissions
2) U.S.: 16 percent
3) EU: 11 percent
4) India: 6 percent
5) Russia: 5 percent
6) Japan: 4 percent
Related articles
Republican stalwart calls global warming 'a matter of fact', pushes for carbon tax
(07/13/2012) Former Secretary of State George Shultz is calling for a carbon tax to reduce U.S. greenhouse gas emissions and oil consumption, according to an interview released today by Stanford University.
Deforestation accounts for 10 percent of global carbon emissions, argues new study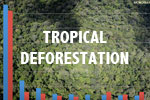 (06/21/2012) Tropical deforestation accounted for 10 percent of global carbon dioxide emissions between 2000-2005 — a substantially smaller proportion than previously estimated — argues a new study published in Science. The paper estimates gross carbon emissions from deforestation at 810 million metric tons (with a 90 percent confidence interval of 0.57-1.22 billion tons) per year from 2000-2005, significantly below earlier calculations. Brazil and Indonesia accounted for 55 percent of gross emissions from tropical deforestation during the study period, while dry forests accounted for 40 percent of tropical forest loss but amounted to only 17 percent of emissions.
Scientists: if we don't act now we're screwed
(06/07/2012) Scientists warn that the Earth may be reaching a planetary tipping point due to a unsustainable human pressures, while the UN releases a new report that finds global society has made significant progress on only four environmental issues out of ninety in the last twenty years. Climate change, overpopulation, overconsumption, and ecosystem destruction could lead to a tipping point that causes planetary collapse, according to a new paper in Nature by 22 scientists. The collapse may lead to a new planetary state that scientists say will be far harsher for human well-being, let alone survival.
Carbon dioxide hits 400 parts per million in Northern Hemisphere
(05/31/2012) Concentrations of carbon dioxide in the atmosphere have risen above 400 parts per million (ppm) in recording stations across the Arctic going as far south as Mongolia, reports the Associated Press. Such levels have not been seen in at least 800,000 years according to researchers. Carbon levels fluctuate depending on the region and the season and scientists say global concentrations will likely remain at around 395 ppm for the time being.
Another record in global carbon emissions puts globe on track for 'devastating consequences'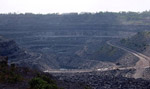 (05/29/2012) Last year global carbon dioxide emissions rose 3.2 percent to a new record of 31.6 gigatons, keeping the planet on track to suffer dangerous climate change, which could propel global crop failures, sea level rise, worsening extreme weather, and mass extinction. According to data from the International Energy Agency (IEA), China's carbon emissions rose the most last year (9.3 percent) while emissions in Europe and the U.S. dipped slightly. China is the currently the world's largest emitter of greenhouse gases, while the U.S. has emitted the most historically.