Directive also freezes demarcation of new indigenous territories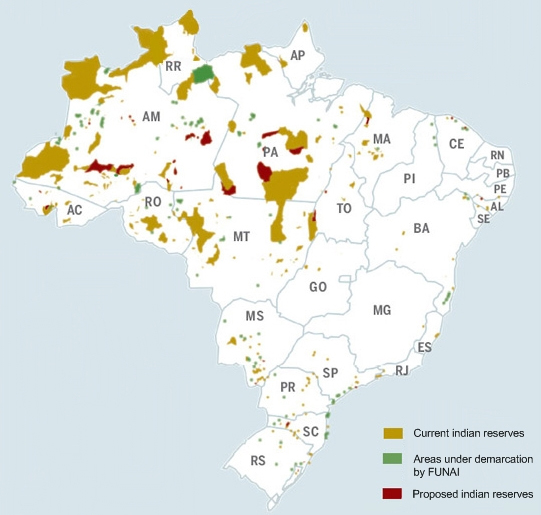 Map of indigenous territories in Brazil as of April 2008. Courtesy of FUNAI
A directive signed Monday by Brazil's Solicitor-General could hamper the efforts of indigenous tribes to win government recognition of their traditional lands, reports Survival International, a human rights group focused on native peoples.
The directive "opens up all indigenous areas to mineral, dams, roads, military bases and other developments of 'national interest' without the need to consult with or address concerns of indigenous peoples", according to an expert familiar with the directive who asked to remain anonymous. It also restricts demarcation of new indigenous territories.
Survival International called the move "disastrous" citing the plight of the Guarani tribe, some members of which are waiting "in roadside camps or overcrowded reserves" for their ancestral lands to be mapped and allocated.
"This directive puts our survival in extreme danger," Survival International quoted a Guarani spokesman as saying. "We are being ignored as human beings, as the first occupants of this land. It is the start of the extermination of indigenous people."
| | | |
| --- | --- | --- |
| | | Kayapo father and son in Brazil. |
According to the indigenous lands expert reached by mongabay.com, the directive was originally intended to overcome issues in implementing the Raposa/Serra do Sol indigenous area in the northern Brazilian state of Roraima, but the powerful ruralista bloc in Congress pushed to apply the directive to all indigenous areas. The ruralistas also successfully pushed for a weakening of the country's Forest Code, which mandates how much forest landowners are required to protect, earlier this year. (The final version of the Forest Code is pending).
However outcry over the directive on Wednesday led Brazil's Public Prosecutors' Office to suspend the measure pending a court ruling on the issue. Survival International and several Brazilian indigenous organizations have called for the directive to be revoked entirely.
The directive was passed only a month after an association of more than 1,200 tropical scientists convening at the annual meeting of the Association for Tropical Biology and Conservation sounded the alarm on the potential development.
Indigenous territories cover roughly 22 percent of the legal Brazilian Amazon. Areas managed by indigenous groups have lower deforestation rates than unprotected forests.
Related articles
Brazil's environmental leadership at risk, warn scientists
(06/26/2012) The Brazilian government is putting its global environmental leadership at risk by ignoring scientific concern on large infrastructure projects and changes in the country's forest laws, warned an association of more than 1,200 tropical scientists gathering last week in Bonito, Brazil on the heels of the disappointing Rio+20 Earth Summit.
Last chance to see: the Amazon's Xingu River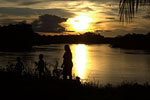 (06/15/2011) Not far from where the great Amazon River drains into the Atlantic, it splits off into a wide tributary, at first a fat vertical lake that, when viewed from satellite, eventually slims down to a wild scrawl through the dark green of the Amazon. In all, this tributary races almost completely southward through the Brazilian Amazon for 1,230 miles (1,979 kilometers)—nearly as long as the Colorado River—until it peters out in the savannah of Mato Grosso. Called home by diverse indigenous tribes and unique species, this is the Xingu River.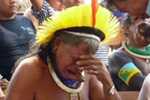 (06/03/2011) As an American I know a lot about shame — the U.S. government and American companies have wrought appalling amounts of damage the world over. But as an admirer of Brazil's recent progress toward an economy that recognizes the contributions of culture and the environment, this week's decision to move forward on the Belo Monte dam came as a shock. Belo Monte undermines Brazil's standing as a global leader on the environment. Recent gains in demarcating indigenous lands, reducing deforestation, developing Earth monitoring technologies, and enforcing environmental laws look more tenuous with a project that runs over indigenous rights and the environment.
Protected areas cover 44% of the Brazilian Amazon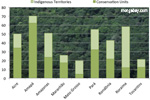 (04/20/2011) Protected areas now cover nearly 44 percent of the Amazon — an area larger than Greenland — but suffer from encroachment and poor management, reports a new study by Imazon and the Instituto Socioambiental (ISA). The report, published in Portuguese, says that by December 2010, protected areas in the Brazilian Amazon amounted to 2,197,485 square kilometers. Conservation units like national parks accounted for just over half the area (50.6 percent), while indigenous territories represented 49.4 percent.
Indians are key to rainforest conservation efforts says renowned ethnobotanist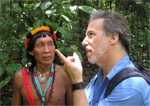 (10/31/2006) Tropical rainforests house hundreds of thousands of species of plants, many of which hold promise for their compounds which can be used to ward off pests and fight human disease. No one understands the secrets of these plants better than indigenous shamans -medicine men and women – who have developed boundless knowledge of this library of flora for curing everything from foot rot to diabetes. But like the forests themselves, the knowledge of these botanical wizards is fast-disappearing due to deforestation and profound cultural transformation among younger generations. The combined loss of this knowledge and these forests irreplaceably impoverishes the world of cultural and biological diversity. Dr. Mark Plotkin, President of the non-profit Amazon conservation Team, is working to stop this fate by partnering with indigenous people to conserve biodiversity, health, and culture in South American rainforests. Plotkin, a renowned ethnobotanist and accomplished author (Tales of a Shaman's Apprentice, Medicine Quest) who was named one of Time Magazine's environmental "Hero for the Planet," has spent parts of the past 25 years living and working with shamans in Latin America. Through his experiences, Plotkin has concluded that conservation and the well-being of indigenous people are intrinsically linked — in forests inhabited by indigenous populations, you can't have one without the other. Plotkin believes that existing conservation initiatives would be better-served by having more integration between indigenous populations and other forest preservation efforts.