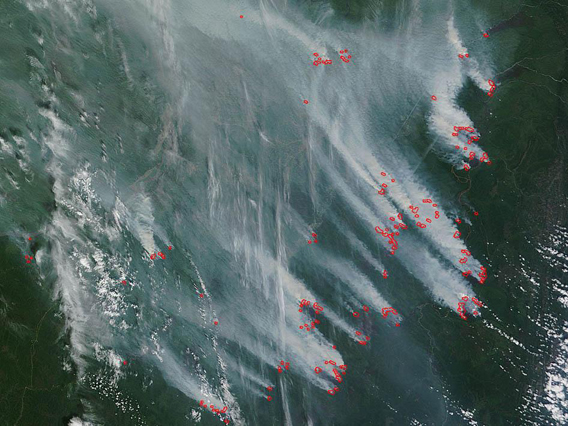 Over 30 fires burning in Eastern Russia yesterday. Photo by: NASA.
It's not only the U.S. that has experienced record-breaking extreme weather events recently, in the last couple months extreme weather has struck around the world with startling ferocity. In addition to the much-covered heatwaves, wildfires, and droughts in the U.S., killer floods struck India, the worst drought yet recorded plagued South Korea, and massive forest fires swept through Siberia to name just a few.
Fires in Siberia: Exceptionally dry and warm conditions have led to hundreds of wildfires in Siberia this summer. Greenpeace has stated recently that the organization believes more forest has burned this year in Russia than the devastating fires of 2010.
Killer Russian floods: Fire is not the only extreme weather event in Russia this summer: an incredible flood killed 171 people in southern Russia, damaged 13,000 homes, and has created a crisis of trust for Russian political leaders. Over two days, the region of Krasnodar Krai saw as much rain as it usually sees in five months. In less than 24 hours 300 millimeters (11.8 inches) of precipitation fell.
Wet Britain: The U.K. saw its wettest June on record, after an already rainy spring, leading to massive floods and property damage. Already, insurers are predicting the flood-heavy season will cost tens of millions of pounds. Forecasters predict more floods this month even as a month's worth of rain fell in 24 hours in southwestern Britain.
Battered Bangladesh: Five days of torrential downpours in Bangladesh resulted in landslides and flooding, killing 100 people and stranding 250,000. The monsoon downpours were some of the heaviest seen in recent years. Most of the fatalities occurred in landslides. Bangladesh is considered among the world's most vulnerable nations to climate change.
Drowning Assam: Tremendous flooding has also struck the Indian state of Assam. To date, the floods have inundated over 4,500 villages and killed at least 125 people. Over a million people have been forced to flee their homes during the deluges. The flooding also swamped one of India's most famous wildlife parks, Kaziranga National Parks, killing 595 animals, including 17 Indian rhinos and two Asian elephants.
Korean drought: Both North and South Korea are suffering from their worst drought on record. The drought is decimating crops and worsening an on-going food crisis in North Korea. Tens of thousands of hectares of crops have already been lost.
Hunger in the Sahel: Officials have been warning for months that weak rains and ongoing drought in the Sahel region of Africa could lead to a famine. UNICEF has said recently that 18 million people are at risk of malnutrition and starvation. The food crisis has been exacerbated by local conflict.
Floods in Nigerian port: The massive port city of Lagos has seen dramatic flooding, as have other parts of southwest Nigeria. Waters submerged houses, the airport, and roads. Seven children were killed after their school collapsed due to the heavy rains.
Meanwhile in the U.S.: Following an unprecedented spring heatwave, the U.S. has just suffered its worst heatwave since the devastating Dust Bowl. Warm temperatures and drought also helped fuel epic wildfires, including the Waldo Canyon Fire in Colorado that forced the evacuation of 36,000 people, destroyed over 300 homes, and killed two people. Meanwhile, New Mexico also had its largest wildfire on record: with 100,000 hectares (247,000 acres) burned in the Gila Wilderness.
Extreme weather: more and meaner in a hotter world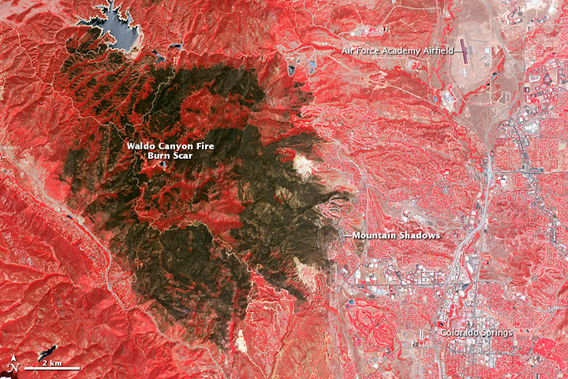 Fire scar from Waldo Canyon Fire in Colorado. Photo by: NASA.
While it's difficult for scientists to connect one weather episode to climate change (though not impossible as recent studies have shown) they have long warned that a hotter planet will likely increase the number and the strength of extreme weather events such as heatwaves, flooding, fires, and drought.
"In the sum of events the link to climate change [and extreme weather] becomes clear. It is not a question of yes or no, but a question of probabilities," Dim Coumou, with the Potsdam Institute for Climate Impact Research (PIK), recently explained. Comparing the impact of climate change on day-to-day weather to rolling a dice, Coumou says "a six can appear every now and then, and you never know when it happens. But now [with climate change] it appears much more often, because we have changed the dice."
Coumou was a lead author of a recent study that found "strong evidence" linking climate change to extreme weather events, such as floods and droughts.
Climatologists are currently working hard to unravel the links between a warmer world and worsening extremes. It's generally accepted that climate change will increase the probability and tenacity of heatwaves and droughts. Given such conditions, worsening wildfires are also expected.
Major flooding may be less intuitive, but a warmer atmosphere over the oceans causes an increase in evaporation, which leads to increased chances for greater floods. This is also why climate change is expected to increase the number of mega-snowstorms. Currently, the atmosphere holds 4 percent more moisture over the oceans than forty years ago.
The climate link to other extreme weather events, such as hurricanes and tornadoes, are less well-understood. Although an earlier spring could mean a longer tornado season, while scientists expect that hurricanes might become fiercer, even if there are fewer overall.
As bizarre as 2012 appears in terms of extreme weather events to date, last year was just as bad: 2011 saw twelve extreme weather events in the U.S. that cost a billion or more dollars in damages; Thailand experienced its worst flood on record, costing $45 billion; while South Korea—which is now dry as a bone—had its wettest summer yet, killing 69 people; and drought, exacerbated by conflict and government instability, pushed Somalia into famine, killing between 50,000 and 100,000 people, half of whom were likely children under five.
"What we're seeing really is a window into what global warming really looks like," said Princeton University climatologist Michael Oppenheimer in response to U.S. extremes. "It looks like heat. It looks like fires. It looks like this kind of environmental disasters."
Globally, climate change has pushed temperatures up 0.8 degrees Celsius (1.44 degrees Fahrenheit) to date, but greenhouse gas emissions continue to rise worldwide. To stop climate change, experts generally recommend moving aggressively from fossil fuels to green energy, vastly improving energy efficiency, and protecting and restoring forests and other carbon-rich ecosystems.
Related articles
Scientist: 'no doubt' that climate change is playing a role in U.S. fires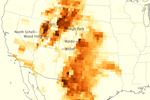 (07/02/2012) A noted climate scientist says there is 'no doubt' that climate change is 'playing a role' in this year's series of record fires in the western U.S. A massive wildfire in Colorado has forced the evacuation of 36,000 people, destroyed over 300 homes, and killed two people. The devastation wrought by the Waldo Canyon Fire even prompted a visit form U.S. President Barack Obama. But this is not the only epic fire in the U.S. this year: less than a month before the Colorado disaster, New Mexico experienced its largest fire on record in Gila Nation Forest; the conflagration burned up 247,000 acres (100,000 hectares). Other major wildfires have occurred in Utah and Wyoming, as well as other parts of New Mexico and Colorado.
As Colorado and New Mexico burn, scientists say prepare for more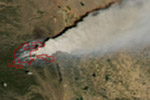 (06/12/2012) A massive wildlife in Colorado still burns after it has killed one person and damaged or destroyed over a hundred structures. The fire, the third largest in Colorado's history, has burned 39,500 acres (16,000 hectares) to date. Meanwhile in central New Mexico, another wildfire has damaged or destroyed 35 structures and burned 34,500 acres (14,000 hectares). This comes just weeks after New Mexico's largest wildfire ever—still going—burned up over 247,000 acres (100,000 hectares) of the Gila Forest. Weeks of heroic efforts by thousands of firefighters have contained this megafire by only 37 percent to date. Now, a new scientific study in Ecospshere has found that North America and Europe must prepare for even more fires as global temperatures continue to rise from climate change.
NASA image: New Mexico suffers record megafire
(06/04/2012) To date, around 250,000 acres (101,000 hectares) of the Gila Forest in New Mexico have burned in the state's largest fire ever recorded. Begun on May 16th due to lightning strikes, the unprecedented fire has likely been made possible by a combination of land-use changes, unflagging drought, and climate change.
Scientists give world leaders 'Fs' on climate change, biodiversity, and desertification
(06/19/2012) It seems world leaders may need to retake environmental studies. As the Rio+20 Summit on Sustainable Development opens, the scientific journal, Nature, has evaluated the progress made on three treaties signed at the Rio Earth Summit in 1992: climate change, biodiversity decline, and desertification. Unfortunately the publication gives progress on all three treaties an 'F', highlighting how little progress has been made on the global environmental crisis.
Experts: ignoring climate change at Rio+20 makes other goals "meaningless"
(06/18/2012) The Climate Change Task Force (CCTF)—made up of 30 climate scientists, other experts and world leaders—warned today that sidelining climate change at the Rio+20 Summit on Sustainable Development threatened progress on the conference's other goals, which includes combating poverty and building economies that value nature. "I am very concerned and worried because the draft final document of the Rio+20 conference does not give proper attention to climate change," says former Russian President Mikhail Gorbachev in a press statement.
Scientists: if we don't act now we're screwed
(06/07/2012) Scientists warn that the Earth may be reaching a planetary tipping point due to a unsustainable human pressures, while the UN releases a new report that finds global society has made significant progress on only four environmental issues out of ninety in the last twenty years. Climate change, overpopulation, overconsumption, and ecosystem destruction could lead to a tipping point that causes planetary collapse, according to a new paper in Nature by 22 scientists. The collapse may lead to a new planetary state that scientists say will be far harsher for human well-being, let alone survival.
Want to stop climate change: buy fossil fuel deposits
(06/07/2012) Governments, NGOs, and others fighting climate change should consider buying coal and oil deposits—not to exploit them, but to keep them from being exploited, according to a bold new policy paper in the Journal of Political Economy. Economist Bard Harstad with the Kellogg School of Management argues that climate coalitions could quickly slash carbon emissions by purchasing and conserving marginal fossil fuel deposits, a strategy that would solve the current problem of carbon leakage, i.e. when cutting emissions in one place pushes others to burn more elsewhere. Given that carbon emissions rose to a new record last year—31.6 gigatons—and carbon has hit 400 parts per million (ppm) in the atmosphere for the first time in at least 800,000 years, Harstad's analysis comes at a time when scientists are warning that urgent and bold action is needed to mitigate global climate change before it becomes irreversible.
Climate change creating "novel ecosystem" in Arctic
(06/06/2012) If melting sea ice and glaciers weren't enough, now climate change is producing what researchers call a "structurally novel ecosystem" in the northwestern Eurasian tundra. Warmer weather and precipitation changes in the region, which covers western Russia into Finland, has allowed shrubs of willow and alder to grow into sparse forests within just forty years, according to a new study in Nature Climate Change. The new ecosystem could have global implications as researchers say it is likely to worsen global warming due to a decline in the region's albedo, i.e. the sunlight reflected back into the atmosphere due to snow cover.
U.S. undergoes warmest 12 months yet
(05/10/2012) Americans would not be remiss in asking, "is it getting hot in here?" According to new data from the National Oceanic and Atmospheric Administration (NOAA)'s National Climatic Data Center, the last twelve months (from May 2011 through April 2012) were the warmest on record for the lower 48 U.S. states since record keeping began in the late 19th Century.
Thousands worldwide to "connect the dots" between climate change and extreme weather this weekend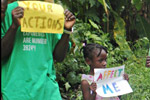 (05/03/2012) On Saturday, May 5th vulnerable populations from the United States to Bangladesh will "connect the dots" between devastating extreme weather and climate change in a global day of action organized by 350.org. The nearly 1,000 events occurring in over half of the world's nations are meant to highlight to governments, media, and the public that climate change is impacting lives through an increase in number and intensity of devastating weather events, such as droughts, heatwaves, and floods.
U.S. suffers warmest March, breaking over 15,000 record temperatures
(04/11/2012) March was the warmest ever recorded in the U.S. with record-keeping going back to 1895, according to new data by the National Oceanic and Atmospheric Administration (NOAA). But the month wasn't just a record-breaker, it was shockingly aberrant: an extreme heatwave throughout much of the eastern and central U.S. shattered 15,272 day and nighttime records across the U.S. In all March 2012 was 0.5 degrees Fahrenheit above the previous warmest March in 1910, and an astounding 8.6 degrees Fahrenheit above the 20th Century average for March in the U.S.
"Strong evidence" linking extreme heatwaves, floods, and droughts to climate change
(03/28/2012) As North America recovers from what noted meteorologist Jeff Masters has called "the most incredible spring heatwave in U.S. and Canadian recorded history," a new paper argues that climate change is playing an important role in a world that appears increasingly pummeled by extreme weather. Published in Nature Climate Change, the paper surveys recent studies of climate change and extreme weather and finds "strong evidence" of a link between a warming world and the frequency and intensity of droughts, floods, and heatwaves—such as the one that turned winter into summer in the U.S.
NASA: 2011 ninth warmest year yet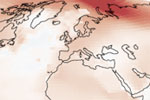 (01/23/2012) Despite being a strong La Niña year, which tends to be cooler than the average year, 2011 was the ninth warmest year on record and the warmest La Niña yet, according to a global temperature analysis by NASA. To date, nine of the world's ten warmest years have occurred since 2000 according to data going back to 1880.