Asia Pulp & Paper's new sustainability commitment represents a scaling back of earlier environmental pledges and does not offer new protection for natural forests in Sumatra, alleges a new report from Eyes on the Forest, a coalition of green groups based in Riau, Sumatra.
The report, titled SMG/APP: The Pulping Continues [PDF] analyzes forest cover and concession data in Riau Province, where Asia Pulp & Paper (APP) and its parent Sinar Mas Group (SMG) have substantial forest holdings, and compares it with APP's recently announced Sustainability Roadmap and its 2004 Sustainability Action Plan. Eyes on the Forest finds that APP significantly "backtracks" on the earlier commitment to phase out sourcing from natural forests by 2015 after the paper giant already missed targets in 2004 and 2007for achieving the same goal. The report notes that APP now plans to continue using fiber produced by logging of natural forests through 2020 via its network of "independent" suppliers.
"SMG/APP's latest Sustainability Roadmap should be viewed as business-as-usual allowing the company to continue feeding its pulp mills with fiber from natural forest clearance," states the report. "Eyes on the Forest believes that SMG/APP's 'new policies' offer no conservation benefits in Riau."
The report warns that Riau could lose up to half its surviving natural forest cover due to pulp and paper production.
"Our analysis found there is no natural forest left to apply their new policies to in Riau Province, since all natural forest in their 'own' concessions had either already been cleared or protected under Indonesian law or APP showcase commitments which are also mostly nothing more than confirmation that the company would obey the law," said Muslim Rasyid, coordinator of Eyes on the Forest member Jikalahari, in a statement.
"We believe that APP's new policies offer no conservation benefit for any forest outside Riau either," he added, alluding to reports that SMG-liked companies are planning to develop 500,000 ha of pulpwood plantations in Papua and new pulp mills in South Sumatra and East Kalimantan.
Eyes on the Forest fears that planned expansion could take a significant toll on key habitats for endangered species, like tigers and elephants in Sumatra.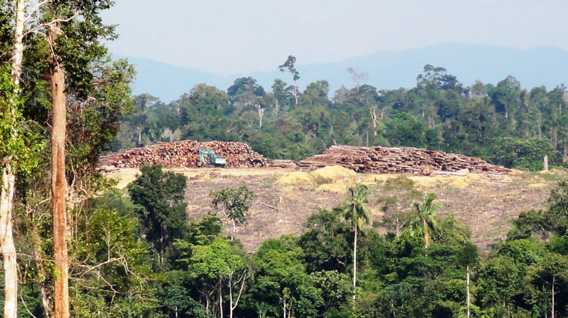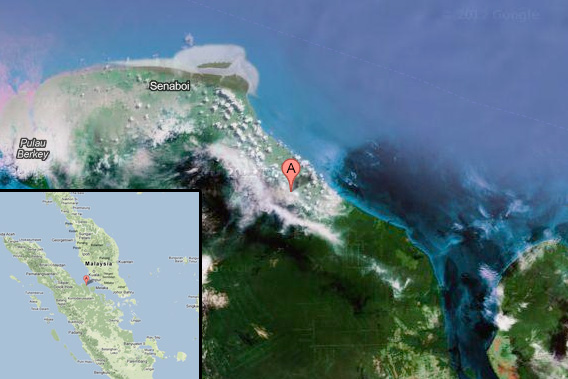 Large trees being stacked in Jambi Province after then APP supplier PT. Tebo Multi Agro cleared Bukit Tigapuluh's dense rainforest, the habitat of Sumatran tigers,
elephants and orangutans. Photo taken by Eyes on the Forest on 1 November 2011. Caption and photo from SMG/APP: The Pulping Continues. Lower image is a Google Earth maps showing the location of the photo.
For its part, APP says it has hired "credible experts" to conduct high-conservation value forest (HCVF) assessments on some of its concessions. But the report notes that APP has done the same in the past, only to clear these areas or fail to protect them from illegal logging. In some several cases these experts "later denounced the claims made by SMG/APP in regard to the certificates and verifications that had been issued," according to Eyes on the Forest. APP has also failed to make these reports public. It did not respond to mongabay.com's request for further comment.
"Given SMG/APP's poor history on protecting HCVF and non-existent transparency, Eyes on the Forest believes that SMG/APP will continue pulping HCVF in its mills for years to come," stated the report.
SMG/APP: The Pulping Continues concludes with a call for companies to avoid buying from APP until it establishes a moratorium on sourcing from natural forests and implements a credible system for excluding such fiber from its supply chain.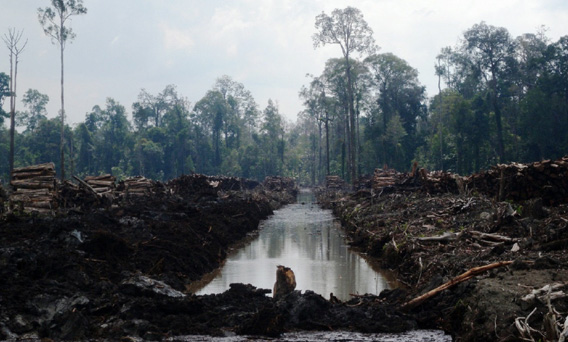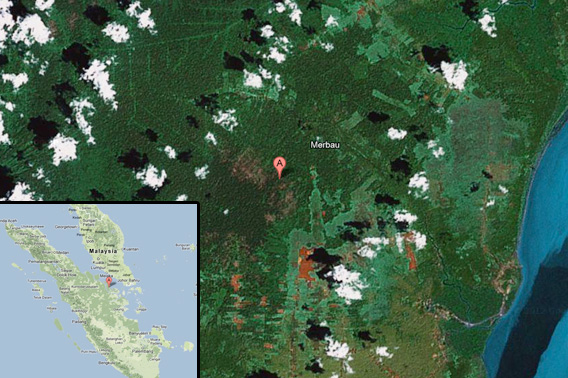 Drainage canals cut into deep peat to clear tropical forest contiguous with SMG/APP's self-declared "Senepis Tiger Sanctuary". Natural forest used to cover both sides of the canal, but PT. Suntara Gajapati deforested the area to supply mixed tropical hardwood (MTH) to SMG/APP's pulp mill. The area is a High Conservation Value Forest, an endangered peat ecosystem that is part of a large forest block with a population of the critically endangered Sumatran tiger. Photo taken by Eyes on the Forest on 18 May 2012. Caption from SMG/APP: The Pulping Continues. Lower image is a Google Earth maps showing the location of the photo.
Related articles