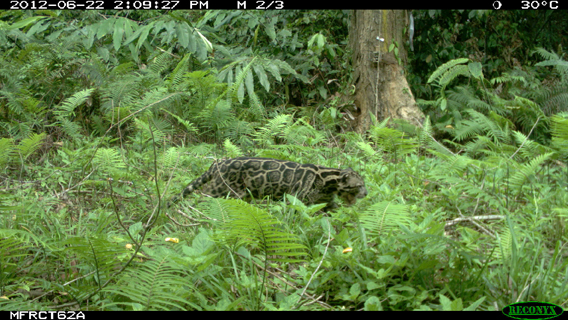 A Sunda clouded leopard caught on camera trap. The Sunda clouded leopard was only recently declared a distinct species from its mainland Asian relative. See close-up below. Photo by: Sabah Wildlife Department.


The Sunda clouded leopard (Neofelis diardi) is the largest wild cat in Borneo and is classified as Endangered by the IUCN Red list of threatened species. Due to their nocturnal and cryptic habits they are seldom observed and very little is known of their basic ecology and distribution. This large Clouded leopard was photographed by remote camera trap in Malua BioBank as part of the Bornean Banteng Program which studies the rare banteng (Bos javanicus lowi); the image was captured during the middle of the afternoon when temperatures are highest; an unlikely time for an observation.


The Bornean Banteng Program is a collaborative study between the Sabah Wildlife Department and Danau Girang Field Centre (Cardiff University), the Sabah Forestry Department, HUTAN, and New Forests Ltd. Baseline data on banteng ecology is primarily collected using remote camera traps kindly provided by Houston Zoo and the Leibniz Institute for Zoo and Wildlife Research. The Bornean Banteng Program is sponsored by Houston Zoo, Malaysian Palm Oil Council, and The Mohamed bin Zayed Species Conservation Fund.


For more information on the Bornean Banteng Program please refer to Danau Girang Field Centre on Facebook. For information on the Sunda clouded leopard please refer to The Bornean Clouded Leopard Program, a collaborative effort of the Sabah Wildlife Department with WildCRU, University of Oxford.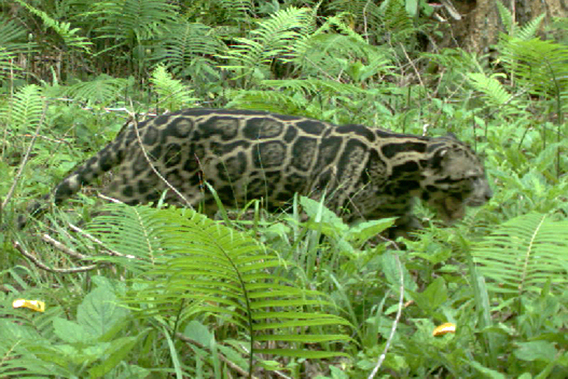 Close-up of Sunda clouded leopard. Photo by: Sabah Wildlife Department.