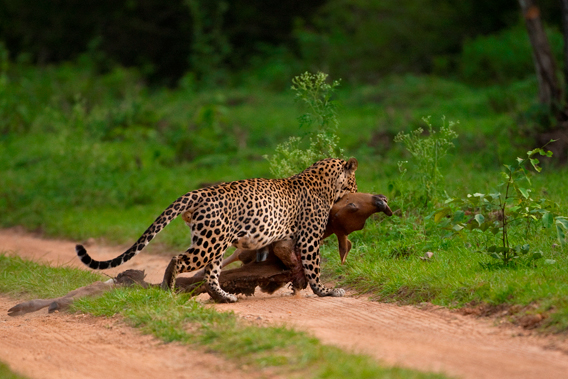 BPL-223 with the carcass of gaur calf, an animal that may be twice the size of the leopard. Photo by: Vinay S. Kumar. Click to enlarge.


It's true: a leopard cannot change its spots—even after eight years! Using a computer program that looks at leopard spot patterns, researchers were able to identify the above leopard, which was snapped by an Indian photographer, with a leopard individual photographed eight years before by camera trap. This Indian leopard (Panthera pardus fusca) is known as BPL-123, and has made its home in India Bandipur Tiger Reserve.
"Photographs can help track the life histories of individual tigers – and as can be seen in this case, leopards," said Ullas Karanth, director of Wildlife Conservation Society's India Programs. "In this context, even photographs taken by tourists can be valuable in providing additional information. As this particular 'catch' shows, BPL-123 is thriving, and his superb condition is perhaps an indicator of the health of his habitat too."
After killing their prey, leopards drag the body into a tree to eat it, allowing the big cats to avoid having their dinner stolen by even bigger cats, such as lions and tigers, or other predators like hyenas and dholes. Although just a calf, the gaur in the above photo likely weighs around 100 kilograms (220 pounds), whereas a full-grown Indian leopard only weighs 50-70 kilograms (110-154 pounds).
Leopards are listed as Near Threatened by the IUCN Red List. The species is threatened by habitat loss and fragmentation, human-wildlife conflict, poisoning, poaching for skin and body parts, and decline in prey.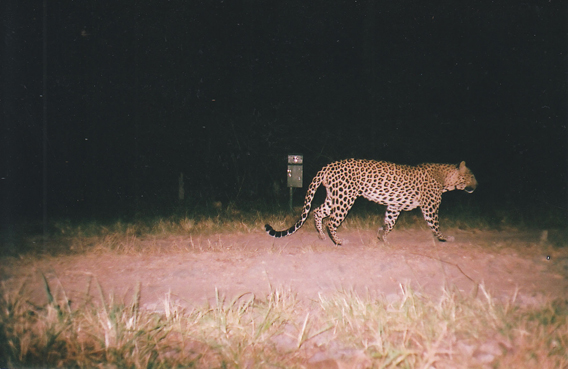 BPL-123 eight years earlier on camera trap. Photo by: Ullas Karanth.