Coquerel's sifakas kissing. Photo by Rhett A. Butler
94 of the world's 103 lemur species are at risk of extinction according to a new assessment by the International Union for Conservation of Nature (IUCN) released by the group's Species Survival Commission during a workshop this week.
Lemurs, a group of primates that is endemic to the island of Madagascar, are threatened by habitat destruction and poaching for the bushmeat trade. The update to the IUCN's Red List of Threatened Species shows that 23 lemurs are now classified as 'Critically Endangered', 52 are 'Endangered, 19 are 'Vulnerable' and three are 'Near Threatened'. Only three lemur species are listed as 'Least Concern'. The new numbers are alarming relative to the last assessment — carried out in 2005 — which identified 10 species as 'Critically Endangered', 21 as 'Endangered', and 17 as 'Vulnerable'.
"The results of our review workshop this week have been quite a shock as they show that Madagascar has, by far, the highest proportion of threatened species of any primate habitat region or any one country in the world," said Christoph Schwitzer, the Head of Research at Bristol Zoo Gardens who serves on the IUCN Species Survival Commission's Primate Specialist Group. "As a result, we now believe that lemurs are probably the most endangered of any group of vertebrates."

The Critically Endangered Indri lemur. Photo by Rhett A. Butler
"This new assessment highlights the very high extinction risk faced by Madagascar's unique lemur fauna and it is indicative of the grave threats to Madagascar biodiversity as a whole, which is vital to supporting its people," added Russ Mittermeier, President of Conservation International (CI) and Chair of IUCN/SSC's Primate Specialist Group. "As the forests go, so do lemurs and a host of benefits derived from them."
The plight of lemurs has significantly worsened since a 2009 military coup plunged the country into a political crisis which undermined its institutions, led to abandonment of conservation initiatives, undercut Madagascar's emerging ecotourism industry, and contributed to a sharp rise in illegal logging and commercial lemur hunting. Andry Rajoelina, the politician who seized the presidency during the coup, remains in power.
But not all the news is bad for lemurs. Nature-oriented tourists and conservation dollars are returning to Madagascar, buoying efforts to protect their habitat and support local enterprises and communities that benefit from Madagascar's incredible biological wealth. Madagascar has the richest primate diversity of any country on the planet.
"Madagascar's unique and wonderful species are its greatest asset and its most distinctive brand and the basis for a major tourism industry that continues to grow in spite of the current political problems," said CI's Mittermeier. CI helped organize and raise funding for the Species Survival Commission's workshop.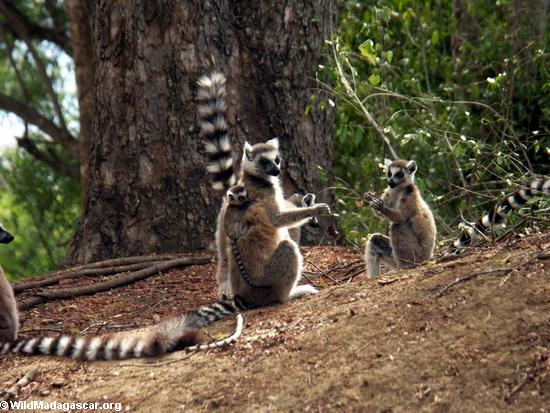 Ringtailed lemurs. Photo by Rhett A. Butler
The IUCN meeting also announced the discovery of a previously unknown species of mouse lemur from the Marolambo area of eastern Madagascar. The species has yet to be formally described and does not yet have a name, but it is the 103 species of lemur known to science. 40 'new' lemurs have been described since 2000.

The Critically Endangered white-ruffed lemur. Photo by Rhett A. Butler
The IUCN meeting comes on the heels of the opening of the Centre Valbio, a high-tech research station on the edge of Ranomafana National Park. Ranomafana has 14 species of lemurs, including the critically endangered white-ruffed lemur (Varecia variegata) and greater bamboo lemur (Prolemur simus) and the endangered golden bamboo lemur (Hapalemur aureus) and Milne-Edwards' sifaka (Propithecus edwardsi).
Related articles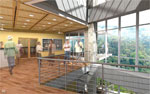 Cutting-edge research center opens in Madagascar rainforest

(07/03/2012) A high-tech research center opened today on the edge of a rainforest in Madagascar. The facility, known as the Centre Valbio, will support efforts to study Madagascar's unique wildlife, deliver health care to impoverished communities, and understand links between the environment and the rural economy. The project was led by Patricia Wright, a Stony Brook University biologist whose 1986 discovery of the golden bamboo lemur led to the protection of a large swathe of rainforest known as Ranomafana.
Coup leaders sell out Madagascar's forests, people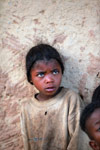 (01/27/2010) Madagascar is renowned for its biological richness. Located off the eastern coast of southern Africa and slightly larger than California, the island has an eclectic collection of plants and animals, more than 80 percent of which are found nowhere else in the world. But Madagascar's biological bounty has been under siege for nearly a year in the aftermath of a political crisis which saw its president chased into exile at gunpoint; a collapse in its civil service, including its park management system; and evaporation of donor funds which provide half the government's annual budget. In the absence of governance, organized gangs ransacked the island's biological treasures, including precious hardwoods and endangered lemurs from protected rainforests, and frightened away tourists, who provide a critical economic incentive for conservation. Now, as the coup leaders take an increasingly active role in the plunder as a means to finance an upcoming election they hope will legitimize their power grab, the question becomes whether Madagascar's once highly regarded conservation system can be restored and maintained.