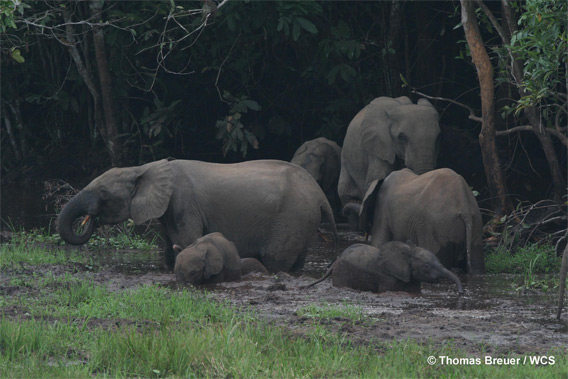 Photo Credit: Thomas Breuer/Wildlife Conservation Society


Elephant numbers in areas surveyed by the Wildlife Conservation Society (WCS) in Central Africa halved between 2006 and 2011, hinting at the carnage wrought by the surging commercial ivory trade and demonstrating a need to boost protection efforts, said the Bronx Zoo-based conservation group.
The number of elephants counted across 10,400 square miles of forest (27,000 sq km) around Republic of Congo's Nouabalé-Ndoki National Park fell from 13,000 individuals to 6,300 during the 5-year period. But the population within the park and an adjacent FSC-certified logging concession that is patrolled by rangers has remained stable, according to WCS.
"The forces of illegal wildlife trade are decimating forest elephants in the Republic of Congo and across Central Africa," said Paul Telfer, Director of WCS's Republic of Congo Program, in a statement. "The remaining populations of forest elephants in protected areas such as Nouabalé-Ndoki are becoming the last strongholds for the entire species."
WCS says the findings underscore the need to support vigilance in the region.
"Pressure from elephant poachers and ivory traffickers has become huge, and the elephants' future, both in the park and in the surrounding area, now hangs in the balance," said James Deutsch, Executive Director of WCS's Africa Programs. "We need to redouble our efforts."
Elephant poaching is driven mostly by demand for ivory in Asian markets. China and Vietnam are major destinations for elephant tusks, although considerable volumes of ivory end up in stores in the United States and Europe.
African forest elephants (Loxodonta cyclotis) are considered a separate species from the larger and better-known savanna elephant (Loxodonta africana). African forest elephants are also found in other Congo basin countries, including Cameroon, Equatorial Guinea, Gabon, Congo (DRC), and Central African Republic.
Related articles
Republic of the Congo expands park to protect fearless chimps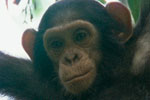 (02/16/2012) The Republic of the Congo has expanded its Nouabalé-Ndoki National Park by 37,295 hectares (144 square miles) to include a dense swamp forest, home to a population of chimpanzees (Pan troglodytes) that show no fear of humans. Known as the Goualougo Triangle, the swamp forest is also home to forest elephants (Loxodonta cyclotis) and western lowland gorillas (Gorilla gorilla gorilla). The expansion of the park to include the Goualougo Triangle makes good on a government commitment from 2001.
Forest elephant populations cut in half in protected area
(11/14/2011) Warfare and poaching have decimated forest elephant populations across their range with even elephants in remote protected areas cut down finds a new study in PLoS ONE. Surveying forest elephant populations in the Okapi Faunal Reserve in the Democratic Republic of Congo, researchers have found that the population has fallen by half—from 6,439 to 3,288—over the past decade in the park.
Unsung heroes: the life of a wildlife ranger in the Congo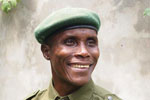 (11/01/2011) The effort to save wildlife from destruction worldwide has many heroes. Some receive accolades for their work, but others live in obscurity, doing good—sometimes even dangerous—work everyday with little recognition. These are not scientists or big-name conservationists, but wildlife rangers, NGO staff members, and low level officials. One of these conservation heroes is Bunda Bokitsi, chief guard of the Etate Patrol Post for Salonga National Park in the Democratic Republic of the Congo. In a nation known for a prolonged civil war, desperate poverty, and corruption—as well as an astounding natural heritage—Bunda Bokitsi works everyday to secure Salonga National Park from poachers, bushmeat hunters, and trappers.
Elephants: the gardeners of Asia's and Africa's forests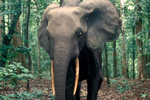 (04/25/2011) It seems difficult to imagine elephants delicately tending a garden, but these pachyderms may well be the world's weightiest horticulturalist. Elephants both in Asia and Africa eat abundant amounts of fruit when available; seeds pass through their guts, and after expelled—sometimes tens of miles down the trail—sprouts a new plant if conditions are right. This process is known by ecologists as 'seed dispersal', and scientists have long studied the 'gardening' capacities of monkeys, birds, bats, and rodents. Recently, however, researchers have begun to document the seed dispersal capacity of the world's largest land animal, the elephant, proving that this species may be among the world's most important tropical gardeners.
Vanishing forest elephants are the Congo's greatest cultivators
(04/09/2009) A new study finds that forest elephants may be responsible for planting more trees in the Congo than any other species or ghenus. Conducting a thorough survey of seed dispersal by forest elephants, Dr. Stephen Blake, formerly of the Wildlife Conservation Society (WCS) and now of the Mac Planck Institute for Ornithology, and his team found that forest elephants consume more than 96 species of plant seeds and can carry the seeds as far as 57 kilometers (35 miles) from their parent tree. Forest elephants are a subspecies of the more-widely known African elephant of the continent's great savannas, differing in many ways from their savanna-relations, including in their diet.
Africa gains new elephant species
(01/19/2011) DNA evidence has shown that the forest elephant-Africa's smaller, shyer pachyderm-is indeed a separate species from the much more well-known savanna elephant. While scientists have long debated the status of the forest elephant (should it be considered a separate population, a subspecies, or a unique species?) a new study in the open-access journal PLoS Biology finds that genetically the forest elephant is unarguably a new species. If conservation authorities accept the new study, it will change elephant conservation efforts throughout Africa.
Protected areas vital for saving elephants, chimps, and gorillas in the Congo
(05/10/2010) In a landscape-wide study in the Congo, the Wildlife Conservation Society (WCS) found that core protected areas and strong anti-poaching efforts are necessary to maintain viable populations of forest elephants, western lowland gorillas, and chimpanzees—all of which are threatened with extinction.
Elephants populations in the Congo drop 80 percent in fifty years
(03/11/2009) According to the conservation organization Wildlife Direct , Wildlife Direct a recent survey of elephants in the Democratic Republic of Congo reveals that populations have dropped 80 percent in fifty years. The survey was conducted by John Hart using forest inventories, aerial surveys, and interview with local peoples.
Wildlife trade creating "empty forest syndrome" across the globe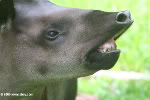 (01/19/2009) For many endangered species it is not the lack of suitable habitat that has imperiled them, but hunting. In a talk at a Smithsonian Symposium on tropical forests, Elizabeth Bennett of the Wildlife Conservation Society (WCS) outlined the perils for many species of the booming and illegal wildlife trade. She described pristine forests, which although providing perfect habitat for species, stood empty and quiet, drained by hunting for bushmeat, traditional medicine, the pet trade, and trophies.
Forest elephants learn to avoid roads, behavior may lead to population decline
(10/27/2008) Forest elephants in the Congo Basin have developed a new behavior: they are avoiding roads at all costs. A study published in PLoS One concludes that the behavior, which includes an unwillingness to cross roads, is further endangering the rare animals which are already threatened by poaching, development, and habitat loss. By avoiding roads, the elephants are increasingly confining themselves to smaller areas lacking enough habitat and resources.