Marine fish populations in the U.S. are generally recovering, according to a new report by the National Oceanic and Atmospheric Administration (NOAA). Last year six fish populations reached healthy levels in the U.S., boosting the total number of fish populations that have recovered to 27 since 2000. The success is due to the implementation of science-based annual catch limits which regulate how many fish are caught every year.
"With annual catch limits in place this year for all domestic fish populations and the continued commitment of fishermen to rebuild the stocks they rely on, we're making even greater progress in ending overfishing and rebuilding stocks around the nation," said Samuel Rauch, acting assistant NOAA administrator for fisheries, in a press release.
Many of the U.S.'s fish population collapsed after decades of over-fishing. But with regulations, some fish populations have rebounded quicker than expected.
Monitoring 258 marine fish populations in the U.S., the report finds that 21 percent are overfished, down one percent from the 2010 report. Currently, the NOAA has recovery plans in place for 51 populations and is developing plans for six more.
The establishment of annual catch limits has been good for the economy, according to the report, which estimates that the recovered fish populations will bring in $31 billion annually and add half a million jobs.
Related articles
BP Deepwater Horizon deformities: eyeless shrimp, clawless crabs
(04/24/2012) Two years after the BP-leased Deepwater Horizon drilling rig exploded in the Gulf of Mexico, killing eleven and causing an oil spill that lasted three months, scientists say the impacts on the Gulf ecosystem are only beginning to come to light and the discoveries aren't pretty.
Whole Foods bans 'red' fish from its stores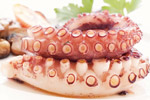 (04/10/2012) Whole Foods has announced it will be the first grocery chain in the U.S. to no longer sell any seafood in the "red." Based on sustainability ratings by the Monterey Bay Aquarium and Blue Ocean Institute, fish labeled red are those that are considered either overfished or fished in a manner that impacts other species or damages marine ecosystems. Beginning Earth Day, April 22nd, Whole Foods will no longer be selling Atlantic halibut, grey sole, skate, octopus, tautog, sturgeon, among others. Already, the store doesn't sell some unsustainable catches such as bluefin tuna and orange roughy.
Featured video: the oceans and Rio+20
(05/10/2012) A new video by Pew Environment Group and the Zoological Society of London (ZSL) hopes to convince policy-makers attending the Rio+20 Summit on Sustainable Development this summer that urgent action is needed to save the ocean's from an environmental crisis.
Three U.S. retailers pledge to avoid fish from embattled Ross Sea
(03/14/2012) The Ross Sea, a massive bay off Antarctica, has been dubbed the world's last ocean due to its pristine state, long-untouched by industry and fisheries. However, over the last 15 years New Zealand commercial fisheries have entered the sea, seeking the slow-growing Antarctic toothfish which is usually sold as the high-end Chilean sea bass. Now as conservation groups plead for nations to grant the Ross Sea protected status, Greenpeace has begun a campaign to get good retailers to steer clear of stocking Antarctic toothfish. To date, Safeway, Wegmans, and Harris Teeter has all pledged not to source from the Ross Sea.
Alaskan fishermen tell government to focus on salmon, not logging
(03/12/2012) Alaskan fishermen and tour operators visited Washington D.C. last week to urge the federal government to shift the focus from logging to conservation in the Tongass rainforest. Local Alaskans along with NGOs Trout Unlimited, Alaska Program, and Sitka Conservation Society, made the case that conservation, including the restoration of fish habitat, was a far better strategy for the local economy and jobs than logging. The Tongass rainforest is currently the subject of a controversial logging proposal by the government for the indigenous-owned company, Sealaska.