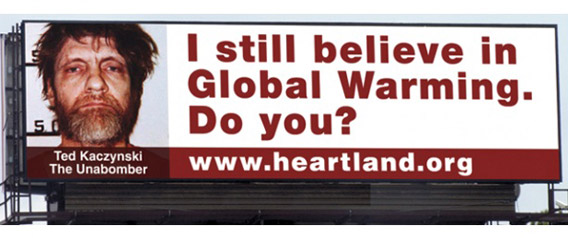 The Heartland Institute's billboard campaign, which was pulled after 24 hours, has led to repercussions for the climate-denialist group.
The Heartland Institute has lost two corporate supporters since it unveiled a billboard campaign that compared those who accept the science of climate change to mass murderer Ted Kaczynski also known as the Unabomber. Yesterday, State Farm Insurance confirmed it was severing ties with the group, while on Sunday, Diageo, a major alcoholic drink company, announced it was also cutting its support of the conservative think tank. Even before this, General Motors (GM) cut ties with the group over its climate stance. The exodus of the three corporate supporters has lost the Heartland Institute an estimated $180,000 for 2012, according to fundraising documents leaked to the media.
The campaign began over the weekend when the Heartland Institute unveiled a new billboard in Chicago that showed a grizzled mugshot of Ted Kaczynski followed by the line, "I still believe in Global Warming? Do you?" The group, known for its denial of climate change, had planned to follow-up this billboard with others featuring Fidel Castro, Osama Bin Laden, Charles Manson, and hostage-take James J. Lee, however they pulled the billboard campaign after 24 hours. Not surprisingly the campaign was met with disdain by climate change advocates and scientists, but it was the furor it raised with Heartland Institute's own supporters that pushed the group to pull the campaign.
U.S. GOP Representative James Sensenbrenner pledged not to speak at the Heartland's upcoming summit on climate change, known as the Seventh International Conference on Climate Change, if the group did not end the billboard campaign. Sensenbrenner has now confirmed he will attend the summit, but another key speaker, Donna Laframboise, has written she will no longer be speaking a the summit which gathers together prominent climate change deniers. Notably, according to a list of speakers on Heartland's website, Laframboise was to have been the only woman speaking.
Earlier this year, fundraising and budget documents were leaked to the media by climate scientist, Peter Gleick, who obtained the documents via email by pretending to be a board member. He has since stated he regrets his actions. The documents, however, show that between 2010 and 2011 State Farm and State Farm Mutual Automobile Insurance gave the Heartland Institute $464,200. The company was expected to give the think thank $155,000 this year. Diageo, which owns Guinness, gave the group $10,000 in 2010 and was expected to do the same this year. Meanwhile, General Motors had donated $15,000 in 2010 and again in 2011, and was expected to give the same in 2012.
"Radical fringe of society"
When the Heartland Institute rolled out its ill-fated billboard campaign it sent out a press release that highlighted the group's thinking.
"What these murderers and madmen have said differs very little from what spokespersons for the United Nations, journalists for the 'mainstream' media, and liberal politicians say about global warming," the Heartland Institute said, adding that "the people who still believe in man-made global warming are mostly on the radical fringe of society."
Despite the group's claims, the vast majority of climate scientists agree that climate change is occurring and due to greenhouse gas emissions. In addition all of the world's major scientific bodies have produced statements that agree with this.
But it's not just scientists, religious leaders from Pope Benedict XVI to the Dalai Lhama to Desmond Tutu have spoken passionately on the moral need for global society to tackle climate change.
In 2009, the Pope, who has called tackling climate change a "moral obligation," said the Catholic Church must "protect earth, water and air as gifts of God the Creator meant for everyone, and above all to save mankind from the danger of self-destruction."
The world's governments have also agreed that climate change is an urgent problem, though measures taken to stop it are still being negotiated. However, the world's leaders have pledged to keep the Earth from warming above 2 degrees Celsius.
"Here in the U.S., seven out of ten Americans think global warming played a part in the weird weather over the last year. We're the mainstream. The radical fringe is people who put mass murderers on billboards to 'start a discussion,'" Jamie Henn with climate advocacy group, 350.org, told mongabay.com over the weekend.
For more on the Heartland Institute's billboard scandal: Fallout for Heartland Institute after it likens those who accept climate change to 'murderers' and 'madmen'
Related articles
Fallout for Heartland Institute after it likens those who accept climate change to 'murderers' and 'madmen'
(05/07/2012) According to the Heartland Institute, a conservative think tank, those who accept the science of climate change are 'on the radical fringe' with the movements most 'prominent advocates' being 'murderers, tyrants, and madmen.' The Heartland Institute's statements came as it launched a billboard campaign featuring notorious mass-murderer, Ted Kaczynski also known as the Unabomber, on a billboard in Chicago that read 'I still believe in Global Warming? Do you?' The Kaczynski billboard remained live for 24 hours before widespread condemnation, including from the Heartland Institute's own supporters, pushed the group to pull the billboard. It has now suspended the short-lived campaign which was also going to feature similar billboards with Fidel Castro, Osama Bin Laden, and hostage-taker James J. Lee.
General Motors cuts funding to Heartland Institute due to climate change denialism
(04/02/2012) After being outed as a financial contributor to the conservative advocacy group Heartland Institute, known for its denial of global climate change, General Motors has faced harsh criticism from environmentalists. The car company, which is pushing its new all-electric model, the Chevy Volt, has now announced it will no longer be contributing to the Heartland Institute.
Mexico passes aggressive climate bill
(04/23/2012) Last week, Mexico's Senate passed an aggressive and comprehensive climate change bill, making it the first developing nation and only the second country to do so, after the UK. The bill, which far outshines anything achieved by its far wealthier northern neighbors, sets ambitious targets for cutting emissions while creating new incentive programs for clean energy. Largely dependent on fossil fuels, Mexico is approximately the 11th highest greenhouse gas emitter in the world.
For Earth Day, 17 celebrated scientists on how to make a better world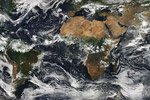 (04/22/2012) Seventeen top scientists and four acclaimed conservation organizations have called for radical action to create a better world for this and future generations. Compiled by 21 past winners of the prestigious Blue Planet Prize, a new paper recommends solutions for some of the world's most pressing problems including climate change, poverty, and mass extinction. The paper, entitled Environment and Development Challenges: The Imperative to Act, was recently presented at the UN Environment Program governing council meeting in Nairobi, Kenya.
U.S. suffers warmest March, breaking over 15,000 record temperatures
(04/11/2012) March was the warmest ever recorded in the U.S. with record-keeping going back to 1895, according to new data by the National Oceanic and Atmospheric Administration (NOAA). But the month wasn't just a record-breaker, it was shockingly aberrant: an extreme heatwave throughout much of the eastern and central U.S. shattered 15,272 day and nighttime records across the U.S. In all March 2012 was 0.5 degrees Fahrenheit above the previous warmest March in 1910, and an astounding 8.6 degrees Fahrenheit above the 20th Century average for March in the U.S.
"Don't be so silly" about climate change: Mohamed Nasheed on The Daily Show
(04/04/2012) Mohamed Nasheed, former president of the Maldives, told the world on The Daily Show Monday night: "Just don't be so silly" about climate change. Nasheed, who in February was forced to resign his presidency, is visiting the U.S. to meet with government officials as well as to push for climate action during the release of a new documentary film about his presidency, entitled The Island President.
Massive coal mine in Australia beats back climate change legal challenge
(04/03/2012) An Australian court last week ruled that climate change was not reason enough to halt the $6.3 billion Wandoan coal mine in Australia in a landmark case. Swiss coal mining company Xstrata succeeded in defeating a challenge from the environmental NGO Friends of the Earth and local farmers, which argued that the mine should be halted due to its resulting carbon emissions.
Oceans heating up for over 100 years
(04/02/2012) In 1872 the HMS Challenger pulled out from Portsmouth, England to begin an unprecedented scientific expedition of the world's oceans. During its over three year journey the HMS Challenger not only collected thousands of new species and sounded unknown ocean depths, but also took hundreds of temperature readings—data which is now proving invaluable to our understanding of climate change.
"Strong evidence" linking extreme heatwaves, floods, and droughts to climate change
(03/28/2012) As North America recovers from what noted meteorologist Jeff Masters has called "the most incredible spring heatwave in U.S. and Canadian recorded history," a new paper argues that climate change is playing an important role in a world that appears increasingly pummeled by extreme weather. Published in Nature Climate Change, the paper surveys recent studies of climate change and extreme weather and finds "strong evidence" of a link between a warming world and the frequency and intensity of droughts, floods, and heatwaves—such as the one that turned winter into summer in the U.S.