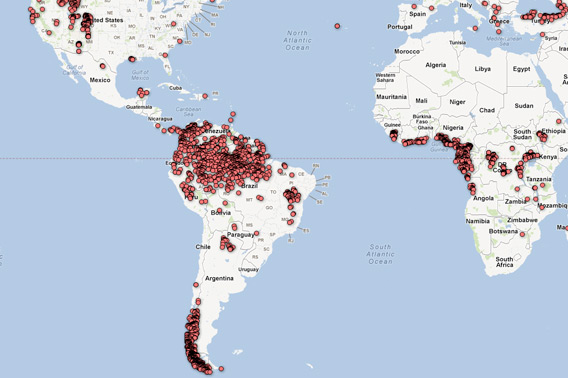 Mongabay.com is pleased to announce the beta version of a global forest disturbance alert system (GloF-DAS) developed in partnership with Cal State Monterey Bay and NASA Ames Research Center. The tool offers the potential to pinpoint areas that are being deforested on a quarterly basis.
GloF-DAS is based on a new product derived from satellite data from NASA's Moderate Resolution Imaging Spectroradiometer (MODIS). The product, developed at NASA Ames Research Center by the Carnegie-Ames-Stanford Approach (CASA) ecosystem modeling team, is based on comparison of MODIS global vegetation index images at the exact same time period each year in consecutive years. It registers change when more than 40 percent of a five x five kilometer surrounding forest area has lost greenness over the previous 12 months. Seasonal variation is generally mitigated through the product's quarterly baseline.
GloF-DAS could help users detect deforestation shortly after it occurs, offering the potential to take measures to investigate clearing before it expands.
"We hope the timeliness of these forest change observations will provide stakeholders in forest conservation more opportunities to make sustainable management decisions," said Christopher Potter, Senior Research Scientist at NASA Ames Research Center.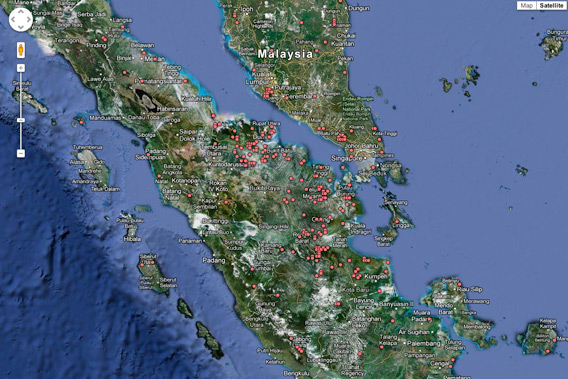 Close-up of Sumatra, Indonesia on GloF-DAS, which is built on the Google Maps platform. Note that the underlying satellite imagery is generally older than the MODIS-based GloF-DAS data, so Google Earth's image may not reflect the current state of forest cover.
Over coming months, the recently launched Indonesian version of Mongabay.com (mongabay.co.id) aims to establish a pilot program using local correspondents to investigate some deforestation hotspots identified in Indonesia by GloF-DAS. The ground-truthing program could help improve transparency around forest use in Indonesia, which is experiencing high rates of deforestation due to mining, conversion for oil palm estates and pulp and paper plantations, and agriculture. The program could also improve the accuracy of GloF-DAS, which has launched as a beta.
Mongabay.com plans to add an SMS-based alert system whereby a user could sign up to receive a text message when forest change is registered in a specified protected area, regency/municipality, state, or country.
GloF-DAS is freely available at rainforests.mongabay.com/deforestation-tracker/
Related articles