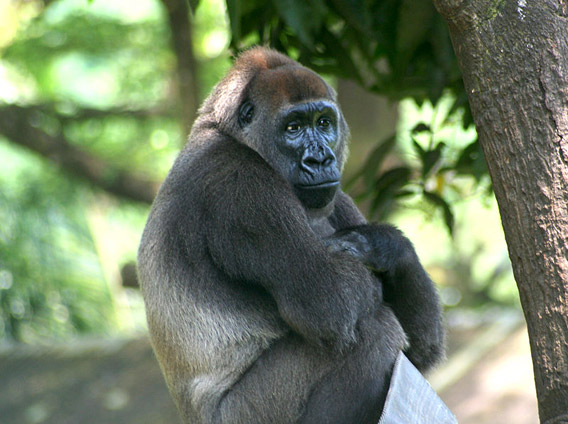 Captive Cross River gorilla at Limbe Wildlife Center, Limbe, Cameroon. Photo by: Julie Langford.
Ever wonder what it would be like to be charged by a male gorilla? A new video (below) released by the Wildlife Conservation Society (WCS), gives one a first hand look. Shot in Cameroon's Kagwene Gorilla Sanctuary, the video is the first camera trap footage of the incredibly rare Cross River gorilla subspecies (Gorilla gorilla diehli); listed as Critically Endangered, the subspecies is believed to be down to only 250 individuals.
"The video represents the best images to date of Cross River gorillas, normally shy animals that flee at the slightest hint of human presence," explains Christopher Jameson, director of WCS's Takamanda Mone Landscape Project where the Cross River gorilla lives, in a press release. "The footage provides us with our first tantalizing glimpses of Cross River gorillas behaving normally in their environment. A person can study these animals for years and never even catch a glimpse of the gorillas, much less see anything like this."
According to the researchers, one of the gorillas in the footage appears to be missing a hand. A sign that it was likely injured by a snare probably set for other animals.
"Cross River gorillas occur in very low densities across their entire range, so the appearance of a possible snare injury is a reminder that continued law enforcement efforts are needed to prevent further injuries to gorillas in the sanctuary," said Dr. Liz Macfie, Gorilla Coordinator for WCS.
Cross River gorillas are found along the border of Nigeria and Cameroon, a region also home to the Nigeria-Cameroon chimpanzee (Pan troglodytes ellioti), a subspecies of chimp listed as Endangered. Deforestation for grazing and agriculture, hunting, low genetic diversity, and fragmentation of gorilla populations imperils the species.
Related articles
(05/02/2012) A new study confirms that bigger and stronger silverback gorillas have more success finding mates and raising offspring.
Oil exploration approved in Africa's oldest park, Virunga National Park
(03/19/2012) Permits for controversial oil exploration in Virunga National Park have been released after request by NGO Global Witness. Oil company, SOCO International, has confirmed it has received two permits to undertake preliminary exploration, including seismic tests, in the UNESCO World Heritage Site. Located in the Democratic Republic of Congo (DRC), Virunga is famous for its population of the Critically Endangered mountain gorillas (Gorilla beringei beringei).
Without data, fate of great apes unknown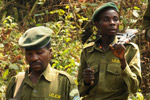 (03/12/2012) Our closest nonhuman relatives, the great apes, are in mortal danger. Every one of the six great ape species is endangered, and without more effective conservation measures, they may be extinct in the wild within a human generation. The four African great ape species (bonobos, chimpanzees and two species of gorilla) inhabit a broad swath of land across the middle of Africa, and two species of orangutans live in rainforests on the islands of Borneo and Sumatra in Southeast Asia.
Republic of the Congo expands park to protect fearless chimps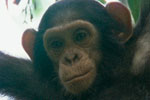 (02/16/2012) The Republic of the Congo has expanded its Nouabalé-Ndoki National Park by 37,295 hectares (144 square miles) to include a dense swamp forest, home to a population of chimpanzees (Pan troglodytes) that show no fear of humans. Known as the Goualougo Triangle, the swamp forest is also home to forest elephants (Loxodonta cyclotis) and western lowland gorillas (Gorilla gorilla gorilla). The expansion of the park to include the Goualougo Triangle makes good on a government commitment from 2001.