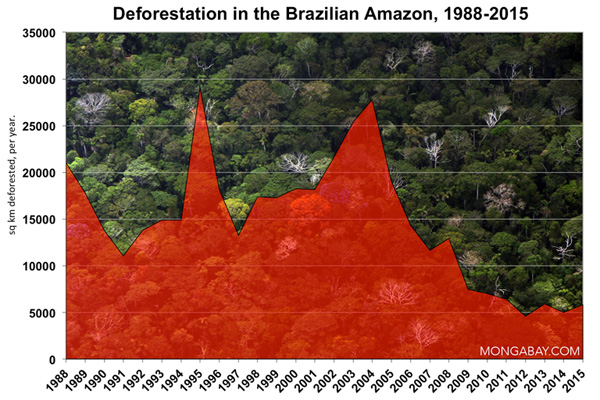 Deforestation in the Brazilian Amazon
Brazil's Congress on Wednesday approved controversial changes to the country's Forest Code, a move supporters argue will simplify environmental laws and ease agricultural expansion, but environmentalists say will spark deforestation and grant amnesty for past illegal logging. The measure needs to be approved by President Dilma Rousseff to become law.
The Forest Code reform legislation — which passed 274-184 — includes amendments that would reduce the amount of land farmers and ranchers are required to preserve as forest and cut reforestation mandates. While details on the new bill are still emerging, it is clear the measure contains weaker protections for forests than a version that passed the Senate in December.
The bill represents a setback to Rousseff's Administration, which had been pushing for the Senate bill. President Rousseff will now need to decide to veto the bill or block certain changes.
Green groups immediately condemned the new bill and called for a veto.
"Brazil has taken a decisive step backwards," said Paulo Adario, Greenpeace Brazil's Amazon Campaign Director. "The approval of the changes to the Forest Code is a defeat for the Amazon forest and for President Dilma. This new law flies in the face of Dilma's promises to oppose granting amnesty for past forest crimes and to prevent more forest loss. President Dilma must regain control and veto the new Forest Code."
"WWF looks to President Rousseff to resist the short-sighted and senseless reform to the forest law that has been passed by the Brazilian House of Representatives today," said Jim Leape, Director General of WWF International.
The move by Congress puts President Rousseff in a difficult position. Brazil is scheduled to host the Rio+20 conference on sustainable development in less than months and has been hailed as the global leader on the transition toward a green economy, with supporters hampioning a 78 percent decline in deforestation since 2004. But scientists and conservationists warn the new legislation could trigger a rise in forest destruction.
"The government's vote on the changes to the Forest Code has cast a dark shadow across Brazil's reputation as a global leader in the fight against deforestation and climate change," said Greenpeace's Adario. "This new law puts at risk the progress Brazil has demonstrated over the last years by growing economically, increasing exports and decreasing forest loss."
Increased deforestation could hurt the reputation of Brazilian products in key export markets and undermine the services afforded by Earth's largest rainforest. Brazilian agriculture is highly dependent on rainfall generated by the Amazon rainforest.
The reform bill was pushed aggressively by the ruralistas, a bloc of agroindustrial interests. The ruralistas gained ground when in recent years government agencies stepped up crackdowns on illegal deforestation. By weakening the Forest Code, a larger share of deforestation would be legalized. Supporters of the revised Forest Code point out that landowners would need to register their properties and commit to compliance with environmental laws.
But environmentalists note that most landowners would be exempt from fines for past deforestation and wouldn't need to come into compliance with forest cover requirements. Meanwhile large landowners may be able to get around the rules by dividing their holdings into smaller properties under different owners.
In either case, surveys have shown that changes to the Forest Code have been generally supported by big agriculture and opposed by the general public, a discrepancy seized upon by NGOs.
"The rural sector has hijacked the Brazilian political process," said Greenpeace's Adario. "Far from following the Brazilian public's desire to see the Amazon protected, the parliament has surrendered to a self-interested few."
"President Rousseff should respect the views of the vast majority of the Brazilian public that wants an end to Amazon deforestation and veto this bill," added Steve Schwartzman, Director of Tropical Forest Policy of the Environmental Defense Fund.
Related articles
Rally calls on Brazil President to veto new forest code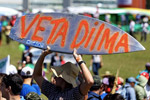 (03/07/2012) A coalition of 200 organizations, known as the Comitê Brasil in Defense of Forests and Sustainable Development, rallied today in Brasilia against proposed changes to Brazil's Forestry Code. The code, which was supposed to be voted on this week but has been delayed to shore up more support, would make changes in over 40-year-old code that some conservationists fear could lead to further deforestation in the Amazon. Protestors called on the President of Brazil, Dilma Rousseff, to veto the bill as it stands now, holding signs exclaiming, "Veta Dilma!" ("Veto it Dilma!").
Is the Russian Forest Code a warning for Brazil?
(12/19/2011) Brazil, which last week moved to reform its Forest Code, may find lessons in Russia's revision of its forest law in 2007, say a pair of Russian scientists. The Brazilian Senate last week passed a bill that would relax some of forest provisions imposed on landowners. Environmentalists blasted the move, arguing that the new Forest Code — provided it is not vetoed by Brazilian President Dilma Rousseff next year — could undermine the country's progress in reducing deforestation.
Brazil passes controversial Forest Code reform environmentalists say will be 'a disaster' for the Amazon
(12/06/2011) The Brazilian Senate tonight passed controversial legislation that will reform the country's 46-year-old Forest Code, which limits how much forest can be cleared on private lands. Environmentalists are calling the move "a disaster" that will reverse Brazil's recent progress in slowing deforestation in the world's largest rainforests.
Science has been nearly silent in Brazil's Forest Code debate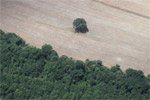 (08/09/2011) A recent push to revise Brazil's forest code has emerged as one of the more contentious political issues in the country, pitting agribuisness against environmentalists trying to preserve the Amazon rainforest. Historically, the forest code has required private landowners to maintain a substantial proportion of natural forest cover on their properties, though the law has often been ignored. While both sides claim to be basing their recommendations on the 'best science' available, Brazilian scientists say they haven't had much of a voice in the debate. In fact, says Antonio Donato Nobre, a researcher at the Amazon Research Institute and Brazil's National Space Research Institute, 'throughout the development of the said revisions, Congress has neither invited nor commissioned a coordinated and serious contribution from the scientific community.'